About this Event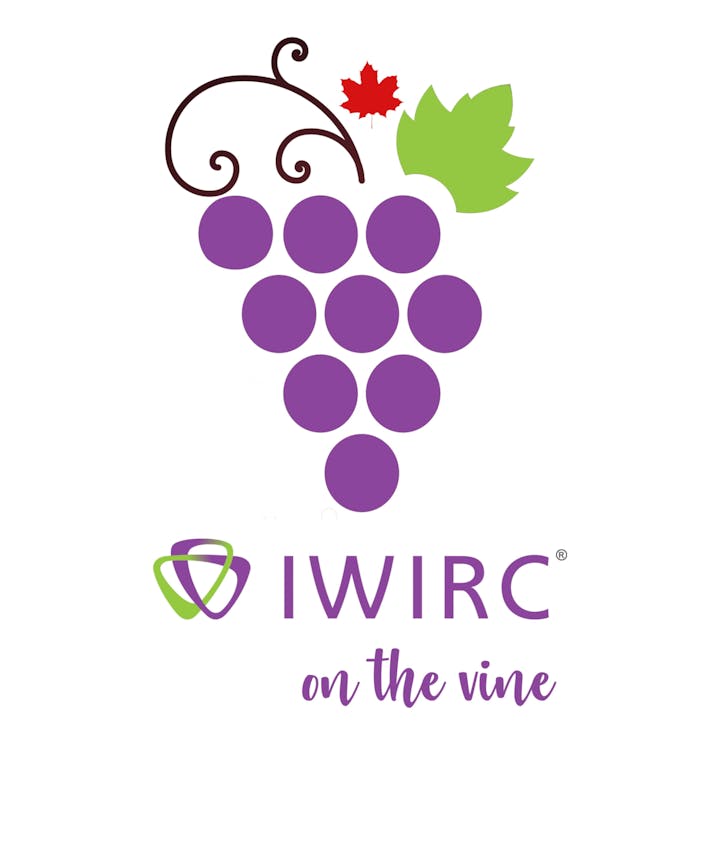 GENERAL INFORMATION:
Please join us on September 27-29, 2019 in the gorgeous Okanagan Valley wine region (centered in Kelowna, British Columbia) for the 2nd Annual IWIRC on the Vine Conference, hosted by the Western Canada, Northern California, Southern California, and Mountain/Desert Networks! The Okanagan Valley is a temperate mountain valley, located a short flight from Vancouver, and is home to nearly 200 licensed wineries and hundreds of vineyards.
The conference is open to all IWIRC members and non-members. The conference fee is USD$350 for general members and non-members (USD$175 for government employees) and includes a welcome reception, breakfast and lunch on Saturday, professional development sessions, wine tasting at local wineries and a closing reception and dinner (see agenda below for more details).
The conference will be held at the Delta Hotels by Marriott Grand Okanagan Resort in downtown Kelowna, British Columbia. A special room rate has been offered to IWIRC, subject to availability (see Hotel information below for a link to this special group rate and reservations).
This conference will bring together professionals and thought leaders from across the globe to further IWIRC's mission of advancing and promoting women in insolvency and restructuring.
We look forward to seeing you in beautiful Kelowna, British Columbia!
CONFERENCE AGENDA:
Friday, September 27, 2019
5:30-7:00 pm - Poolside welcome reception
7:00-10:00 pm - Dine-about dinners
Saturday, September 28, 2019
8:15-8:30 am - Conference kick-off and ice-breaker exercise
8:30-9:30 am - Breakfast & Keynote - "Women, Power and Leadership: New Paradigms, Old School Ideas"
Speaker: Tracy Theemes, Sophia Financial Group (Vancouver)
9:30-10:30 am - Panel #1: Technology and Insolvency Law
Join experts in a discussion of the intersection between technology and insolvency law; from how technological innovation impacts the practice, to issues related to enforcement and privacy, and recent developments regarding cryptocurrencies in insolvency proceedings.
Panelists: Cindy Cheuk, Dentons Canada LLP (Vancouver), Stephanie De Caria, Miller Thomson LLP (Toronto), Kimberley Robertson, Lawson Lundell (Vancouver), Kimberly Lam, Bachecki, Crom & Co., LLP (San Francisco)
10:30-11:00 am - Mid-morning break
11:00-12:00 pm - Panel #2: Cannabis
What challenges are faced by insolvency professionals when dealing with a controlled and/or regulated substance such as Cannabis? Join our experts from Canada and the US in a discussion of the unique difficulties associated with the Cannabis industry, including issues related to licensing, cross-border considerations and enforcement of security.
Panelists: Elaine Carey, FTI Consulting (California), Holly Palmer, E&Y (Vancouver), Lisa Hiebert, Borden Ladner Gervais (Vancouver), Kristin Gray, The Bowra Group (Edmonton)
12:00-12:30 pm - Grab 'n Go lunch and head to shuttle for afternoon activities
12:30-6:15 pm - Lunch and Wine Tasting at local wineries
7:00-10:00 pm - Closing reception and dinner at Oak + Cru
Sunday, September 29, 2019
Breakfast and departures
HOTEL:
Book your hotel reservation at the Delta Hotels by Marriott Grand Okanagan Resort with our group rate for September 27-29 now! (Group rate is subject to availability, and is valid through August 29, 2019.)
AIR TRAVEL:
Book your flight on Westjet, a local airline carrier with our available promo codes! Visit www.westjet.com/conventions to make a booking online. For travel from September 20 to October 6, use coupon code T87IZ63 (Guest web/Travel Agent web) or WLL60 (Travel Agent GDS only).
SPONSORSHIP OPPORTUNITIES:
Sponsorship opportunities are now available at the levels listed below. Contact the IOTV 2019 Sponsorship Chair, Valerie Bantner Peo (vbantnerpeo@buchalter.com), for more information.
1. Grand Cru: $1,000
Recognition in all brochures and website;
Registration for 2 attendees;
Brand ownership of Saturday night reception and dinner, including keynote;
Swag in welcome bag
2. Premiere Cru: $600
Recognition in all brochures and website;
Registration for 1 attendee;
Swag in welcome bag
3. Village Cru: up to $250 or in-kind
Recognition in all brochures and website;
Swag in welcome bag
WE WISH TO THANK OUR EARLY SPONSORS:
Grand Cru:
Buchaltar
Miller Thomson LLP
Canadian Association of Insolvency & Restructuring Professionals (CAIRP)
Premier Cru:
Barron Business Consulting
IWIRC Mountain Desert Network
Bachecki Crom
Lawson Lundell LLP
O'Melveny
PwC
MNP Ltd.
Village Cru:
IWIRC SoCal Network
Smily Wang-Ekvall