10 species....6 weeks of fishing!
About this event
OWA 2022 Ice Fishing Challenge 
Join us for six weeks of ice fishing, targeting your choice of ten species. Sign up for as many species that you want to fish for. A minimum of two species must be selected:
Black Crappie
Brook Trout
Lake Trout
Northern Pike
Rock Bass
Splake
Sunfish (Bluegill, Pumpkinseed or Hybrid)
Walleye
Whitefish
Yellow Perch
Prizing:
In each pool, the 1st place winner will receive 70% of the total amount raised for that species. The 2nd place winner will receive the remaining 30%.
All prizes will be paid out in the form of a gift card from a business or service of the participant's choice (e.g. Bass Pro Shop, Amazon, Canadian Tire, Loblaws, fishing companies, etc.)
The number of participants in each pool will only be known by the tournament committee and will not be disclosed until the end of the tournament.
At the end of the tournament, all participants will be entered into a draw for a fishing prize package worth $200:
Shimano Sienna Ice Rod & Reel Combo
Shimano Baltica Tackle Bag
Rod Glove
Although this is an individual tournament, for safety reasons and to witness the catch, participants should fish with a family member or someone in their social circle.
Entry Fee: $10 per person plus $5 for each species chosen (2 species minimum)
When: Tuesday, February 1 - Sunday, March 13, 2022
Location: Any body of water in Ontario, Manitoba and Quebec
***2022 Membership to Ontario Women Anglers is required. ***
Registration opens Tuesday, January 11 at 1:00 p.m. and closes on Sunday, February 6 at 11:59 p.m.
https://www.eventbrite.ca/e/2nd-annual-owa-2022-ice-fishing-challenge-registration-241138219907
TOURNAMENT RULES
Open to paid 2022 OWA members, 18 years of age or older.
Current COVID-19 precautions, as determined by your province and/or health district, are to be followed.
Teams can fish on any body of water in the provinces of Ontario, Manitoba and Quebec.
Only the 10 species listed above are eligible.
Entries should be sent in as soon as possible after they are caught.
Participants can upgrade their catches throughout the tournament.
All submissions must be received by 11:59 p.m. on Sunday, March 13. Late entries will not be accepted.
Tournament entries are on the Honour System. Falsified entries will be rejected and the participant disqualified.
Both artificial and live bait can be used.
Help from fishing guides (paid or unpaid) is prohibited.
Ice huts rentals are permitted as long as guiding services are not included.
Take lots of pictures, be safe and HAVE FUN!!!
HOW TO ENTER YOUR CATCHES
Fill out the submission form on the OWA website. The link will be provided at the start of the tournament.
Mail two pictures to: ice.owa101@gmail.com
1st picture - fish on the bump board/measuring device
2nd picture - angler holding the fish
Feel free to post your angler photos on social media but DO NOT include measurements or measurement photos.
MEASURING FISH
Fish must be measured on a bump board or measuring device (e.g. metal measuring tape) that clearly shows the entire length of the fish and the measuring device. The mouth must be closed and at the zero (0) end of the board. The tail must be pinched (see sample photos below).
Do not use fabric or paper measuring tapes.
Fish should be measured to the closest 0.5 cm or 1/8 inch. No rounding up.
If you have any questions, contact me by phone/text: Yvonne Brown (905) 447-7879 or via e-mail at events.owa101@gmail.com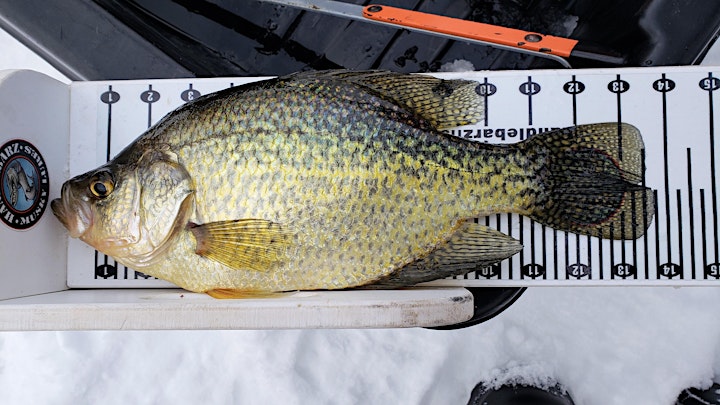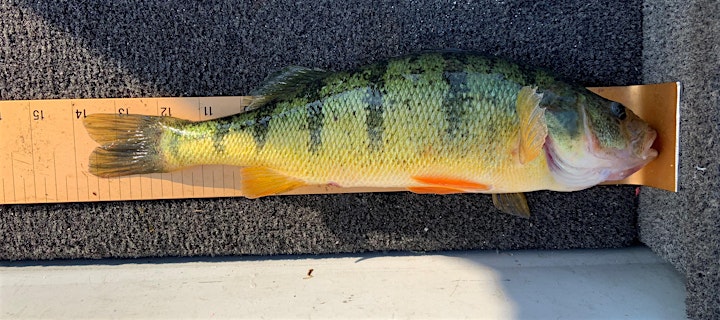 Organizer of 2nd Annual OWA 2022 Ice Fishing Challenge
Ontario Women Anglers is an organization that provides a variety of programs aimed at getting more women and children outdoors and involved in fishing. Through anglers' education workshops, hands-on activities, fishing excursions, community events and mentorship, Ontario Women Anglers provides opportunities for both new and experienced female anglers to increase their fishing skills and to network with others that share this passion. 
We are completely non-profit, volunteer driven and receive the generous support of individuals and businesses in the fishing industry.