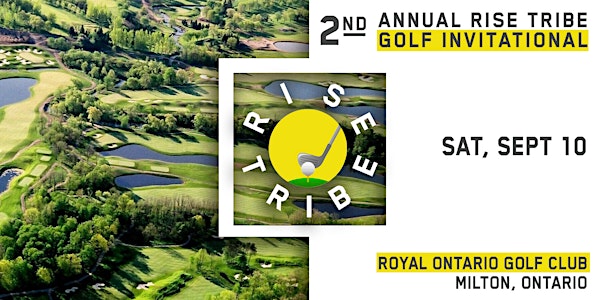 2nd Annual Rise Tribe Golf Invitational
2nd Annual Rise Tribe Golf Invitational, taking place at Royal Ontario Golf Club.
When and where
Location
Royal Ontario Golf Club 6378 Trafalgar Road Milton, ON L0P 1E0 Canada
About this event
RISE TRIBE GOLF INVITATIONAL
Hello everyone! We are excited to host and have you participate in the Second Annual RISE TRIBE Golf Invitational at Royal Ontario on Saturday, Sept 10, 2022.
Below you will find info on the tournament rules, raffle prizes, hole winners, food and tee times.
***Please arrive 30 mins before your scheduled tee time to sign in and pick up welcome pack (consisting of water, snack)***
TEE TIMES:
Shotgun rules so everyone will start at 1 pm
POST-TOURNAMENT:
All winners to be announced at the patio and we will stay back for dinner. Food to be purchased individually.
SCRAMBLE TOURNAMENT RULES
Tournament will be played from the BLUE tees
Women may play from the RED tees
All team members will tee off each hole
The team will choose the shot that gives them the best opportunity
The 3 other players will pick up their ball and hit their 2nd shot from that same spot
This process continues up until the ball is on the putting green, and all four players have the opportunity to sink the putt
Each team member has an opportunity to make the first putt, if everyone misses, the second putt will be taken from the best ball. If the second putt is missed, the next putt is conceded for a maximum three-putts per hole.
Each team member's tee shot must be used at least three (3) times per round and identified on the scorecard
One score is registered per team per hole
In the event of a tie, the team with most eagles (worth 3 points), then birdies (worth 2 points), then pars (1 point) wins
There will be no mulligans and no gimme putts
The Pace of Play is expected to be a Maximum of 10 minutes per hole
MAIN PRIZES - After completion of tournament
RAFFLE PRIZES
We will also be raffling off prizes provided by our sponsors. Raffle tickets can be purchased for $10 prior to the tournament on our Eventbrite or on site via e-transfer, or in person via cash.