Virtual Masterclass that will get you equipped with the Resume/LinkedIn/Interview skills to land a professional job in Canada faster
About this event
Job search is barely ever easy. I've been exactly where you are 5 years ago when I first entered the Canadian job market with no experience or professional network.
Since starting my career as a Recruiter, I've worked for some major employers, like Seneca College, Randstad and hired 400+ professionals and helped 100+ job seekers to land the opportunity with UHN, EA Games, Metrolinx, TD bank and other well-known companies.
Today, I am inviting you to join a 3-Days Online Masterclass to get on the path that led 100s of others to multiple job interviews & offers from reputable Canadian employers.
What will you be able to achieve in 3 days?
Build a competitive, eye-catchy Resume compliant with Applicant Tracking System (ATS) parameters and CPA standards (Career Professionals Of Canada)
Establish a powerful & unique professional brand on LinkedIn attracting Employers & Recruiters
Develop confidence for the Job interviews, by getting the insights & tips from the Recruiter from the backstage of the hiring process
The attendees will be provided with the following resources:
Fillable Resume template
LinkedIn Checklist
Face-to-face/Virtual Interview preparation checklist
The event will be taking place on 3 consecutive days (3 PM - Toronto time):
June 23, 2021 - Resume Workshop
June 24, 2021 - LinkedIn Workshop
June 25, 2021 - Interview Workshop
Once registered, you'll get the link for ALL 3 workshops, no need to worry about registering for every single one :)
I am very much excited to become a part of your success story!
Looking forward to greeting you at the event!
Sincerely,
Julia Shmelkova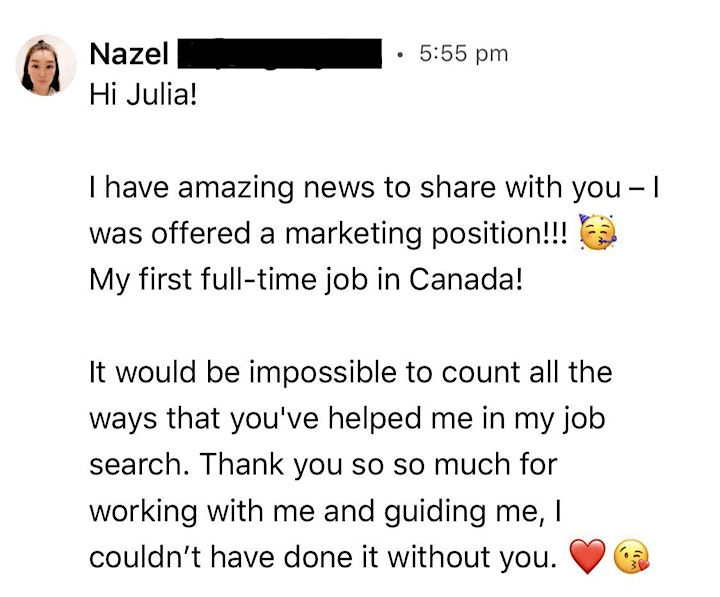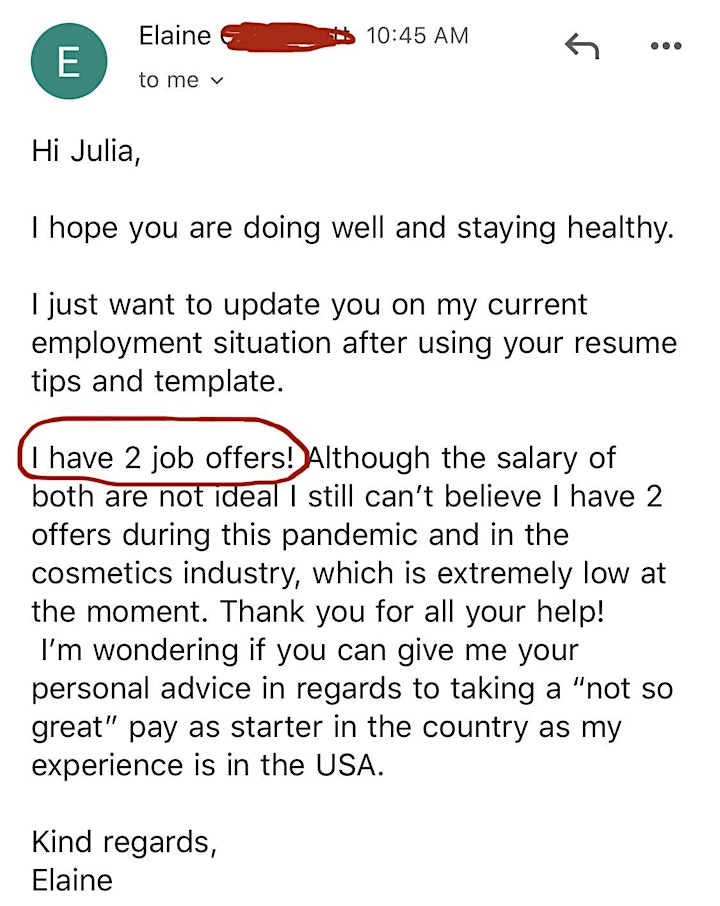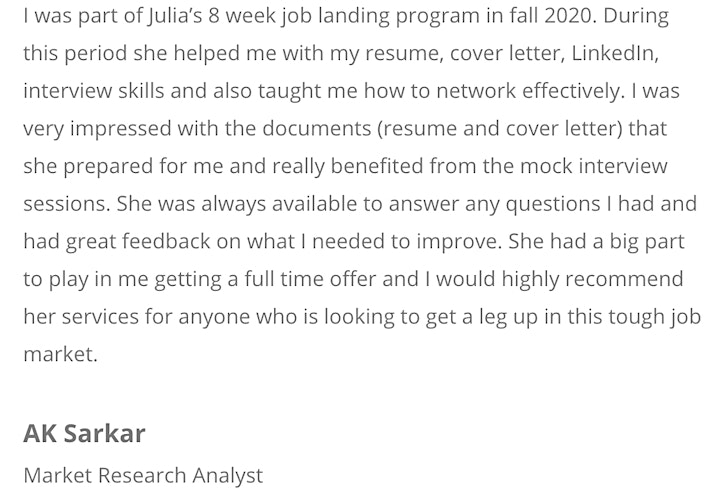 Organizer of 3-Days Job Search Revamp for Students/Newcomers/Immigrants (Online)
Canadian Immigrant with over 3 years of experience hiring specialists for 5 industries, including finance, sales, customer service, healthcare, education. As a Job Search Consultant helped dozens of clients to be interviewed and landing jobs with major Canadian banks, UHN, SAIT, Government of Alberta, Bombardier and other private sector companies.