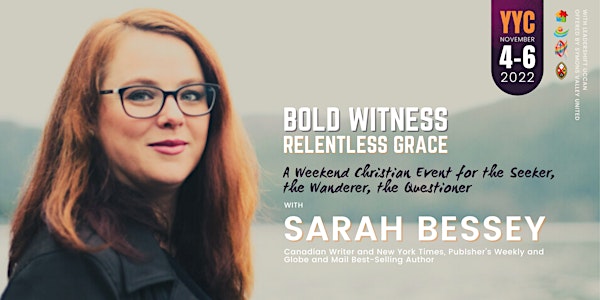 3 Days with SARAH BESSEY :: BOLD WITNESS, RELENTLESS GRACE Conference
Location
Symons Valley United Church
38 Kincora Rise Northwest
Calgary, AB T3R 0A3
Canada
A weekend conference in Southern Alberta, celebrating Christian faith lived boldly, with grace!
About this event
In Person • November 4-6, 2022 • Symons Valley United Church • Calgary AB/ Treaty 7/ Métis Nation of Alberta, Region 3
Be immersed in faithful Community, hearing wisdom and witness from best-selling author, Sarah Bessey, and other exceptional leaders in the church. Hosted by the Community of Symons Valley United Church and Sponsored by LeaderSHIFT who exist to support church leaders in managing change and leading faithfully through challenge, we're are so excited for these three, inspiring, late-autumn days. It is time set apart to celebrate Christian faith and community with you, in the company of visionary leaders and friends! (Plus, snacks.)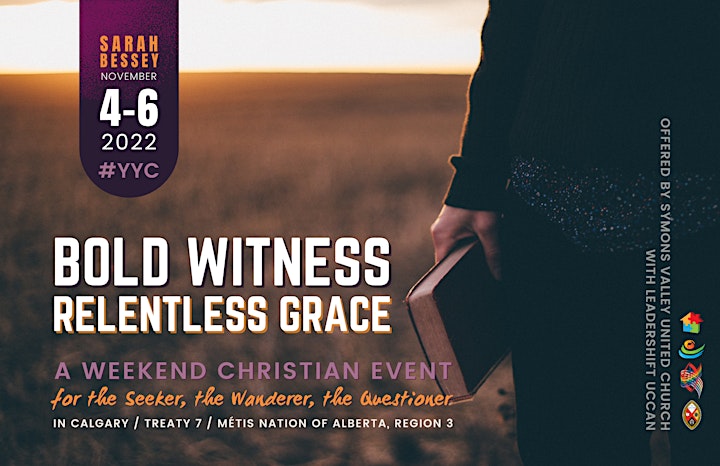 Hear the wisdom and witness of Keynote Sarah Bessey, and Panelists Dr. Monetta Bailey, Tony Snow, Rev. Jake Van Pernis, Keith Murray, with Music & Worship offered by Andrew Nicholson, Donna Williams and Rev. Vicki McPhee.
Get to know The Leaders
Enjoy Keynote and Panelist presentations balanced with scheduled breaks, a longer mid-day pause for discussion or reflection opportunities and get your lunch, and access to a quiet space. Come Sunday, worship with the community of Symons Valley United — Sarah Bessey preaching, and Rev. Vicki McPhee presiding.
Browse The Schedule
And Friends, we want you to trust — We expressly affirm, all genders and sexualities, colours and ethnicities are called into leadership in God's church, and Belonging as one of God's beloved. We celebrate and give thanks and speak up in support for the expansiveness ways that gender, affection and identity are gifted by God. As follower's of Jesus we know, and affirm again, that God's kin-dom on earth is enlivened by our rich diversity.
Visit the website of our Host, our Sponsor, our Supporter, our Denomination
The Seeker, the Wanderer, the Questioner — this event is for all. We are so excited to be sharing it with you!
Click here for all the FAQs.