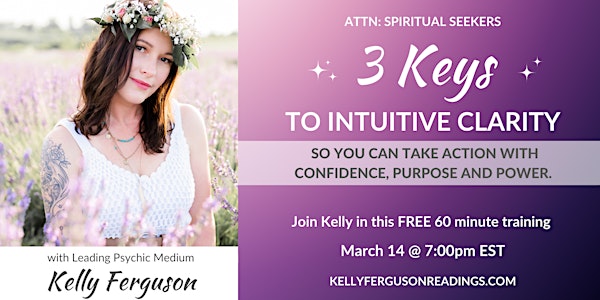 3 Keys to Intuitive Clarity
Discover 3 keys to intuitive clarity so you can take action with confidence, purpose and power.
When and where
Date and time
Tue, Mar 14, 2023 4:00 PM - 5:00 PM PDT
About this event
Have you ever DOUBTED your gut instincts and then later discovered your intuition was right all along?
Have you found yourself saying: "I KNEW that was going to happen" or "I was just thinking that" or "I saw that coming"?
You are not alone! This FREE masterclass is for you if you're ready to trust your intuition so you can start using it with confidence in everyday life!
>>> 3 Keys to Intuitive Clarity <<<
A FREE 1 hour training to help you:
*Understand how to connect with your natural instincts.
*Learn techniques to gain clarity from your intuitive feelings.
*Feel safe and confident using your intuitive senses.
*Trust your intuition when making decisions.
This is a safe space where you're free to be yourself and connect with others learning about their sacred skills too! Come by yourself or bring a friend who's intuitive-curious too!
I can't wait to see you there!
Kelly
About the organizer
Kelly is an accomplished spiritual coach and teacher. She offers a variety of workshops designed to guide and support you, while walking your own spiritual path. Whether you are a beginner, or more advanced in your spiritual growth, Kelly has workshops and private coaching sessions to help guide you in your highest good.
Are you a beginner? Are you looking to identify and uncover your own spiritual gifts? Start by taking Kelly's Psychic Strengths Quiz and find out what your strengths are!
Kelly has beginner workshops designed to help you establish safe and solid foundations to explore your own spirituality, and to help identify your natural intuitive abilities. You might want to try her Psychic 101 for Beginners, or her Pendulum workshop.
Are you further along your spiritual path? Kelly can guide you in connecting to your personal psychic skills and to strengthen your abilities through her experience and activities. She has workshops designed to help you safely explore your skills and create a strong relationship with yourself, and with Spirit. Try Kelly's Oracle Card Workshop, or her Psychic 101 for Intermediate/ Advanced psychic development workshops and her "Psychic University" program.
Coaching and Mentoring? Kelly offers the Psychic Medium Mastermind program, specifically designed to launch you from a confused or struggling psychic into a full blown highly accurate professional psychic medium!