Gain the skills and confidence you need to make biking your go-to fitness. There are so many beautiful places to ride!
About this event
Cycling Skills for Recreational Road Riding is 1 of 4 Women's Fall Cycling Series.
Location: North McIntyre Rec Centre - 2051 Government Rd, Thunder Bay, ON P7B 2E9
Make road cycling your go-to fitness this fall, and forever! With so many beautiful places to rides outside of the city, it's important that you feel safe and confident while you're out there.
This workshop will teach important road cycling skills, from how to ride your bike more efficiently, how to safely increase your distance, what to wear, being prepared, best places to go, what your rights as a cyclist are and of course how to stay safe when sharing the roads with vehicles. Learn how to navigate potholes, train tracks and traffic!
We will be on our bikes lots, so make sure you bring your helmet and riding clothes! Please also bring a water bottle and snacks.
Taught by Safe Cycling instructors Janet Sillman, Tannis Schibler and Leanne Coward, you'll be learning from the best.
This workshop is for women of all identities (cis, trans and those non-binary) riding levels and abilities. This is the perfect workshop to take in preparation for the 4th workshop in this series: a 25km Rural Group Discovery Ride!
The Women's Fall Cycling Series includes:
#1 Nitty Gritty Bike Cleaning Workshop
#2 Better Your Bike Workshop
#3 Skills for Recreational Road Cycling Workshop
#4 Rural Group Discovery Ride Workshop
Questions? Email kelsey@ecosuperior.org or call (807) 624-2144.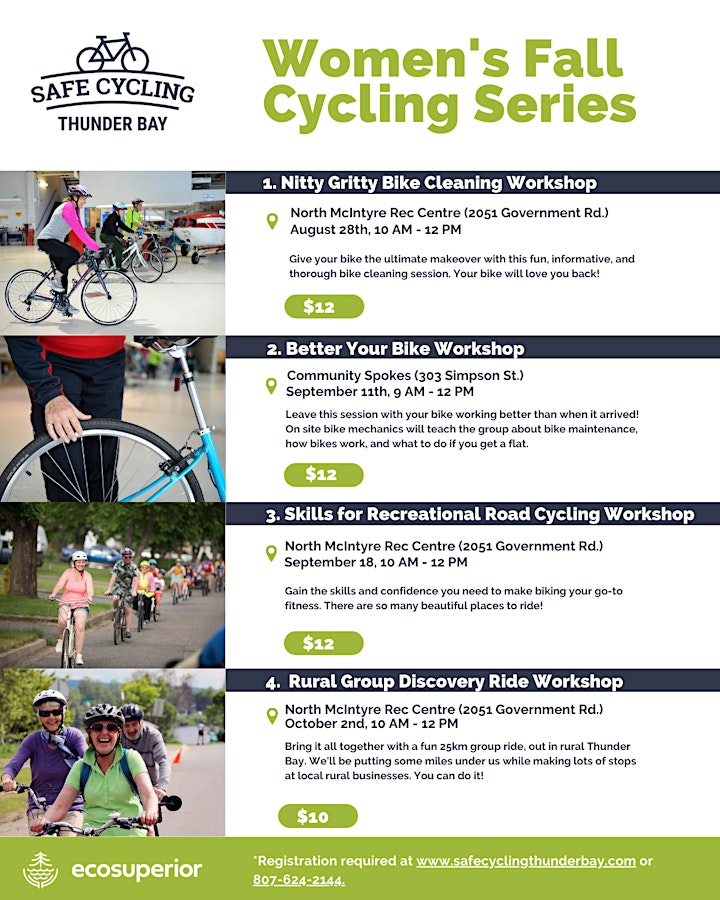 Organizer of 3. Skills for Recreational Road Cycling Workshop