Sales Have Ended
Registrations are closed
The ticket sales ended. To get notified of future events, please follow the Introverts Academy profile on Etsy or subscribe to our newsletter https://introvertsacademy.org/subscribe
Sales Have Ended
Registrations are closed
The ticket sales ended. To get notified of future events, please follow the Introverts Academy profile on Etsy or subscribe to our newsletter https://introvertsacademy.org/subscribe
The challenges encountered in Interpersonal Communication could be great teachers! Do you love to learn? :-)
About this event
Join us on May 15 to learn:
What Interpersonal Communication challenges can teach you
3 strategies that make communicating with others more effective and meaningful.
This webinar is based on concepts from Organization & Relationship Systems Coaching (ORSC).
ORSC is an integrated and robust coaching model based on Systems Theory, Process Work, Family Systems Therapy, Alternative Dispute Resolution, Quantum Physics, Co-Active Coaching™, and more.
Prepare your questions and join us for this insightful webinar!
---
This is the 7th webinar in the series Introvert Tools for Navigating Challenging Situations. This series presents high-level strategies related to the different areas of the Introverts Academy's Curriculum Wheel for individuals (see image below):
All Areas (1st webinar): 3 Key Strategies to Get the Most of These Times
Relationship with Self (2nd webinar): Know Yourself – A Self-Confidence Tool (includes complementary innate strengths of introverts and extroverts)
Career/Business (3rd webinar) : 3 Key Elements to Build a Meaningful Professional Life
Environment (4th webinar): 7 Environments That Can Weaken or Empower You
Health (5th webinar): Holistic Health – The Often Overlooked Components
Personal Development (6th webinar): Personal Growth – Benefits and Pitfalls
Relationships with Others (7th webinar): 3 Strategies to Enhance Your Interpersonal Communication
Passion/Hobbies (8th webinar): Hobbies – Untapped Potential to Improve Your Life and Career
Money (9th webinar): Money Mindset – The Less Known Spiritual Concept
The participants to each webinar will also get access to the recordings of the previous webinars.
---
Webinar leader: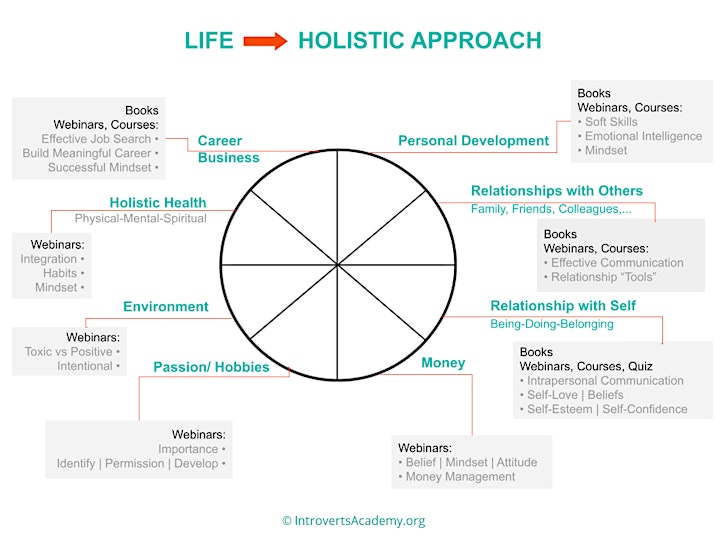 Organizer of 3 Strategies to Enhance Your Interpersonal Communication