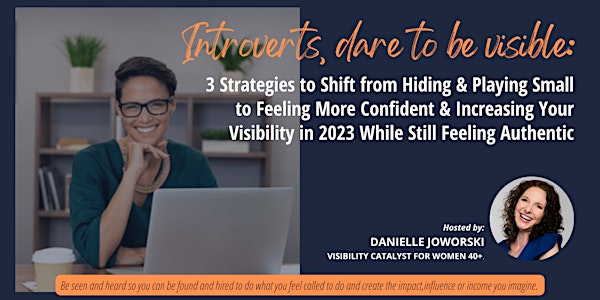 3 Strategies to Feel more Confident and Be More Visible in your Biz in 2023
It's a perfect time to reflect, reframe, and re-energize your vision for what you want, and how you want to show up (and where!) in 2023.
Refund Policy
Contact the organizer to request a refund.
Eventbrite's fee is nonrefundable.
About this event
DAYTIME WORKSHOP - EVENING WORKSHOP AVAILABLE - FOLLOW ME AND LOOK UNDER MY EVENTS
Holding back and playing small, or hiding behind your work or your laptop is not what you're here to do.
And you know it.
You intuitively know that you can be doing more. You're aware that 'what is' in your business is no longer enough.
But let's face it.
Being seen today is not like it was a few years ago. Technology, perceived expectations, especially in an online world, and how work is done have radically changed.
You're feeling a struggle between who you perceive you need to be, what you want to do, and a desire to show up feeling authentic to who you are. Yet, you know that now is the time for you to change all that, and you're ready to start showing up:
✅ Feeling secure about your appearance - how you look and sound.
✅ Believing that taking aligned actions will make being visible easier, safer, and more fun.
✅ Feeling confident even though you don't have everything figured everything out first.
Take your first step towards transforming how you feel about showing up and becoming more visible as the expert you are in 2023.
This workshop is designed around the values of community, collaboration and building connections. You are going to:
1️⃣ Learn how to out-smart SMART goals and create you-centric goals using a modern goal-setting approach. You can't achieve new, expansive goals using old, restrictive goal processes.
2️⃣ Become more aware of what 'being more visible' means to you and identify strategies that actually feel good and you feel excited to take so you stop spending time, money and energy on strategies that aren't working.
3️⃣ Create your own visibility board! It's like a vision board but with a visibility twist! You'll work on creating a visibility board that is personalized to your wishes and the audiences you want to be in front of as identified in part 1️⃣.
Get ready to start being seen and heard in a whole new way - starting with this workshop where your participation and voice will be encouraged!
Who is this workshop for?
Introverted and impact-driven women entrepreneurs at all stages who:
1️⃣ Struggle showing up and marketing themselves and their business
2️⃣ Feel inauthentic or like an imposter when trying new strategies to increase their visibility
3️⃣ Experience doubts, worries and fears around their appearance, or that that they aren't good enough, or hold back because they haven't got everything figured out
How will this workshop benefit you and your business?
LEARN a modern, repeatable & proven process for creating the clarity you need around what you want to achieve in your business in 2023. Save time, energy and frustration as you stop taking detours, and get off the round-about. This is your roadmap or north star that is crucial for moving forward with more ease & flow.
BE ABLE TO identify personalized and best-fit visibility strategies to promote yourself based on who you are and where you are in your business and visibility journeys today. Ditch cookie-cutter strategies that haven't worked for you. This is where you identify personalized and aligned actions that feel good (even if they stretch you outside your comfort zone).
FEEL A GREATER AWARENESS of what being visible truly means to you and how to take aligned steps so that showing up and being seen & heard feels good, not overwhelming or like an imposter.
GROW YOUR NETWORK of other like-minded women who are driven to create impact and value community, conversations and connections. Because when we help each other, we all soar higher & faster.
______________________________________________________________________________
TERMS OF SERVICE and PRIVACY POLICY:
By purchasing this workshop you are agreeing to the Terms of Service and Privacy policy as shared at https://daniellejoworski.com/policies/terms-of-service and https://daniellejoworski.com/policies/privacy-policy.
REFUNDS
You can cancel your ticket via Eventbrite without penalty up until December 15, 2022 at 9:30am Eastern. Tickets are non-transferable.
REPLAY
Yes, there will be a replay sent out to registered attendees only for a limited time.