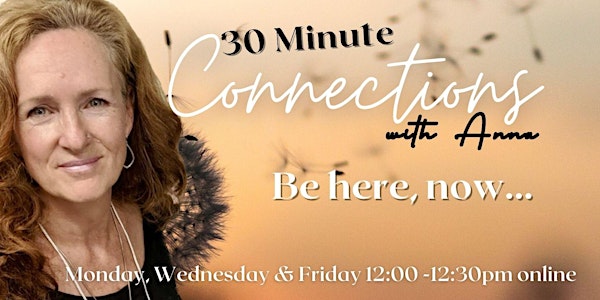 Multiple dates
30 Minute Connections with Anna
30 minute Connections - Breathe, Feel, Awaken
Date and time
February 6 · 11am - June 14 · 11:30am PST
About this event
Use this link to join the meeting -
Join Zoom Meeting
https://us02web.zoom.us/j/88180905258?pwd=QjhuTnRPUkdDenhROVpqcjdrZE5kUT09
Do you find you want to take time to connect to yourself but you just can't find the time?
Join me Anna Beaumont on Wednesday's to Connect and feel good in your body with 30 minute Connections 1 or 2x a week.
Connect to your energy centres.
Vocal tone your body alive.
Activate your vagus nerve.
Balance your nervous system.
Each 30 minute session is a seamless experience of moving from various mini meditations, toning, vagus nerve activations and gentle movements for you to connect and feel good in your body.
Hi everyone, I've been working with the voice & body and developing very simple exercises to do quick Connections for many years now and I'm really good at it.
As a singer and voice teacher I quickly learned over the years that getting connected to ourselves is key to a free and beautiful singing voice and life.
You can just sit back and let me guide you for 30 minutes and then notice the difference in your day and your week and your life!
Please feel free to email me at anna.beaumont@gmail.com or call me (780) 499-6707 if you have any questions.
Connect and feel good in your body, wherever you are in only 30 minutes.