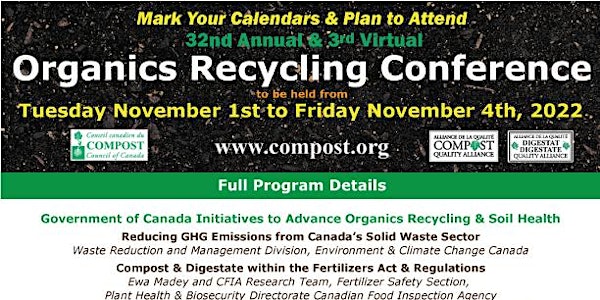 32nd Annual & 3rd Virtual Organics Recycling Conference
32nd Annual & 3rd Virtual Organics Recycling Conference Tuesday November 1st to Friday November 4th, 2022
Refund Policy
Contact the organizer to request a refund.
Eventbrite's fee is nonrefundable.
About this event
Full Program Details:
Government of Canada Initiatives to Advance Organics Recycling & Soil Health
Reducing GHG Emissions from Canada's Solid Waste Sector
Waste Reduction and Management Division, Environment & Climate Change Canada
Compost & Digestate within the Fertilizers Act & Regulations
Ewa Madey and CFIA Research Team, Fertilizer Safety Section, ?Plant Health & Biosecurity Directorate Canadian Food Inspection Agency
Agriculture & AgriFood Canada's Living Labs The New Brunswick Initiative
Cedric MacLeod, MacLeod Agronomics Ltd.
Global Advances to Fully Capture the Enormous Potential for Organics Recycling
Organic Fertilizers & Amendments within the International Network on Fertilizer Analysis
Vinisa Saynes-Santillan, Food & Agriculture Organization of the United Nations
Developing Sustainable Cities through the Flow of Natural Resources: Progress and Perspective
Daniel Hoornweg, OntarioTech University
Updates from the Members of the International Compost Alliance
Percy Foster, CRÉ: Composting & Anaerobic Digestion Association of Ireland
Frank Franciosi, US Composting Council
Jane Gilbert, Biological Treatment Working Group, International Solid Waste Association
Jenny Grant, Organics & Natural Capital, REA: The Association for Renewable Energy & Clean Technology
John McKew, Australian Organics Recycling Association
Stefanie Siebert, European Compost Network
Best Management Practices for Composting & Anaerobic Digestion
Tom Ferencevic, FITEC
Brian Fuchs, W.L. Gore
Paul Larouche, BROME
Jocelyn Molyneux, Wastenot Farms
Dale Overton, Overton Environmental
Baraka Poulin, Engineered Compost Systems
Research Discoveries to Support Organics Recycling IC&I & Municipal Initiatives
Fundamentals in Compost Research: Essential Ingredients based on 30+ Years of Research
Tom Forge, Summerland Research Station, Agriculture and Agri-Food Canada
Soil Carbon Sequestration and Reduction of CO₂ Emissions
Louis-Pierre Comeau, Agriculture and Agri-Food Canada
From Nutritional to Productivity Increases – The Power of Compost
Lord Abbey, Dalhousie University
Composted Biosolids for Soil Improvement: A Multi-site Study of Nutrient Use Efficiency and Greenhouse Gas Emissions
Grant Clark, McGill University
Anaerobic Digestion Efficiency for Production of Biohydrogen and for Conversion of Specified Risk Materials into Biogas
Brandon Gilroyed, University of Guelph
Composting of Aquaculture Wastes from Recirculating Aquaculture Systems and from Mussel Processing in PEI
Gordon Price, Dalhousie University
Deactivation of BSE Prions Through Composting: Updated Results
Shanwei Xu, Morden Research & Development Centre, Agriculture and Agri-Food Canada?
The Power of Organic Amendments in the Soil to Cycle and Store Carbon
Christine Brown, Ontario Ministry of Agriculture, Food & Rural Affairs
Certified Compostable Packaging Developments & Marketplace Conditions
Canada Plastics Pact: Direction & Action
Chris McKillop, Club Coffee L.P.
Updates & Initiatives from Compostable Certifying Bodies
Compostable 101
Compostable Working Group, The Compost Council of Canada
The Italian Way: The Incorporation of Compostables in the Italian Organics Recycling Infrastructure
Global Members and Associates of Novamont Group
Facility Tours Virtual-Style
Come travel with us as we tour the following facilities and initiatives
Eco360
Moncton, New Brunswick
Walker Environmental
Thorold and Arthur, Ontario
Convertus Group
Surrey, British Columbia
City of Medicine Hat
Medicine Hat, Alberta
Toilet Tech including the EcoWashroom in Utopia
Hamlet of Tulita
Northwest Territories
Highfield Regenerative Farm
Calgary, Alberta
Utopia Farmland
Utopia, Ontario