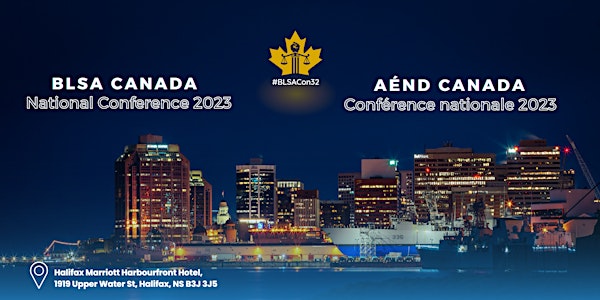 32nd Annual BLSA Canada Gala / 32ème Gala annuel de l'AÉND Canada
Join Black law students across Canada in February 2023 in Halifax, NS.
When and where
Location
Halifax Marriott Harbourfront Hotel 1919 Upper Water Street Halifax, NS B3J 3J5 Canada
About this event
32nd Annual BLSA Canada Gala | 32ème Gala annuel de l'AÉND Canada
The Gala is the crowning event of the BLSA Canada National Conference. Our Gala is a black-tie dinner affair featuring a keynote address, awards honouring members of the legal community, exciting evening entertainment, and dinner.
Le gala est l'événement phare de la conférence nationale de l'AÉND Canada. Il s'agit d'un dîner en tenue de soirée qui comprend des allocutions, des prix honorant des membres de la communauté juridique, des divertissements passionnants et un dîner.
COVID Regulation | Règlement Concernant La COVID
There are no COVID-19 restrictions at this time. However, we will continue to monitor the situation and adjust accordingly to be in alignment with public health recommendations and compliant with government mandates and regulations.
Il n'y a pas de restrictions concernant la COVID-19 à l'heure actuelle. Cependant, nous continuerons à surveiller la situation et à nous adapter en conséquence afin d'être en accord avec les recommandations de santé publique et de nous conformer aux mandats et règlements gouvernementaux.
Travel Discount Codes | Réduction avec le code de réduction
➟ Air Canada: 15% off with Discount Code: EACYKX21. To book a flight with your promotion code, access www.aircanada.com and enter your promotion code in the search panel.
➟ Flair Airlines:
Discount: 10% off the base fare applicable on all Flair network.
Booking window: up to November 15, 2022
Travel period: Feb 15 to Feb 20, 2023
Code: BLSA10
➟ Westjet: Use code 2B6Y5XC for 5% off Econo and 10% off EconoFlex and Premium fares for travel within Canada.
➟ Via Rail: 10% off the best available fare in Economy, Economy Plus, Business, Business Plus, Sleeper class. Participants must reference the event's VIA convention. Discount is not applicable to any Escape fares and Prestige class.
Discount Code: 14321.
➟ Air Canada : 15% de réduction avec le code de réduction : EACYKX21. Pour réserver un vol avec votre code promotionnel, accédez à www.aircanada.com et entrez votre code promotionnel dans le panneau de recherche.
➟ Flair Airlines :
Réduction : 10% de réduction sur le tarif de base applicable sur tout le réseau Flair.
Fenêtre de réservation : jusqu'au 15 novembre 2022
Période de voyage : Du 15 février au 20 février 2023
Code : BLSA10
➟ Via Rail : 10 % de réduction sur le meilleur tarif disponible en classe économique, économique plus, affaires, affaires plus, classe couchette. Les participants doivent faire référence à la convention VIA de l'événement. La réduction ne s'applique pas aux tarifs Escape et à la classe Prestige.
Code de réduction : 14321.