Description
Learn the skills to create professional 3D models with our Introductory 3D Modeling Workshop. Join us for an accelerated weekend course on using the industry's best tools Autodesk Maya 2016 and Substance Painter 2 hosted by the Academy of VR in the University of Calgary's ICT Building - Room 121. No previous 3D modeling experience is required.
Friday (February 17th) 7:00pm - 9:00pm
Saturday-Sunday (February 18th and 19th) 9:00am - 5:00pm
Register with the code "OCULUSYYC" and we will enter you into a draw for a free Oculus Rift VR headset valued at $1100! Simply click 'Enter Promotional Code' at the time of checkout.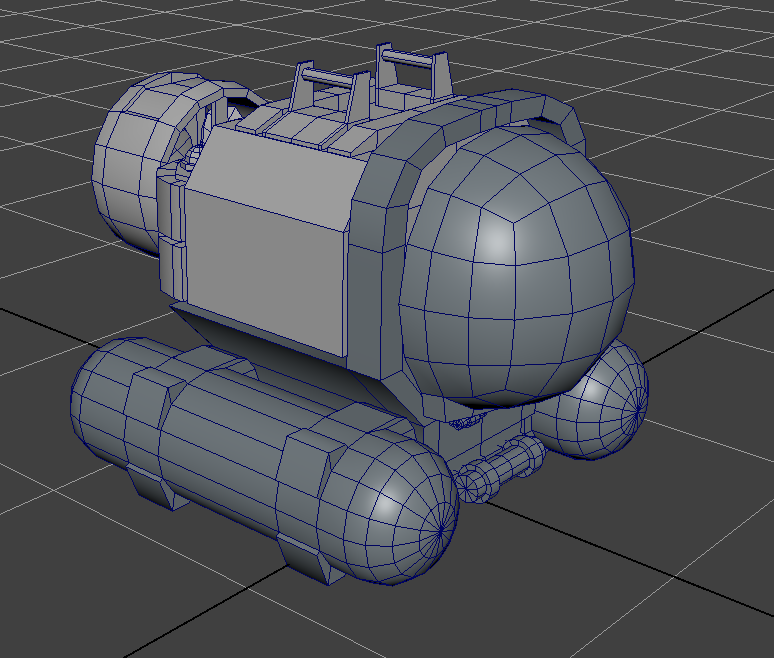 What you get with the workshop:
2 full days of hands on 3D modeling training

Access to expert 3D modeling instructors

Unlimited opportunity to play virtual reality games and demo's on the Oculus Rift and HTC Vive

A free Google Cardboard VR headset

A catered dinner Saturday evening plus various snacks throughout the weekend

What you'll learn:

Introduction to Autodesk Maya 2016 (the industry's standard 3D modeling tool)

Introduction to Substance Painter 2 (the industry's leading 3D texturing tool)

How to design amazing 3D models to professional industry standards

Importing and viewing your models in a 3D environment
Requirements:
A laptop or computer compatible with Autodesk Maya 2016 and Substance Painter 2. Please install both programs (Maya 2016 and Substance Painter 2) before attending the weekend workshop (refer to the Autodesk Maya 2016 website for minimum computer requirements)

Both Autodesk Maya 2016 and Substance Painter 2 offer free student versions we may use for the purpose of this course. Follow this video: https://www.youtube.com/watch?v=n_SjClie5bw&t=5s for Maya 2016 and this link for Substance Painter 2: http://bit.ly/2jutZBR under the heading "Students & Teachers".

A mouse for your computer

*NOTE, we have extra computers! If you do not have a computer that meets the requirements for Maya and Substance Painter, please email support@academyofvr.com with the subject headline "Extra Computer" and we can supply you one!

Weekend Schedule:

Instructor:
Academy of VR's leading 3D Art instructor Brenton Smith has worked on films including Guardians of the Galaxy, Assassins Creed, the Lego Movie, Fantastic Beasts and Where to Find Them, and the Great Gatsby. He had over 4 years of teaching experience in the Advanced Game Development stream at the Academy of Interactive Entertainment before beginning with Academy of VR.
Sponsors:



FAQs
Who should attend?
Anyone interested in learning 3D modeling and creating 3D artwork. This course is perfect for many levels from beginners new to 3D modeling to people looking to learn how to create 3D models optimized specifically for the game industry.
What should I bring to the event?
Your laptop or computer with Autodesk Maya 2016 and Substance Painter 2 installed. Instructions for installing the latest version of each program can be found under the Requirements section above. Student versions of Maya 2016 and Substance Painter 2 are free on 3 year and 1 year licences respectively. If you need a computer for the workshop, please email support@AcademyofVR.com with the headline "Extra Computer" and we can supply you one!

Do I need experience with 3D modeling, Maya 2016 or Substance Painter 2 before taking this workshop?

Nope! This is an introductory level workshop, we will go over basic 3D modeling concepts, resources and how to get the most out of Autodesk Maya, the ultimate 3D modeling tool.
Why VR?
Forbes quotes VR being a $20 billion dollar market by 2020 that will revolutionize industries including entertainment, education, healthcare, construction and commerce and new VR job postings we're up over 800% last year. Companies like Facebook, Google and Unity plus game studios like Cloudhead Games and Archiact are currently hiring people who understand how to develop experiences for VR.
Do I get a VR headset with this course?
Yes! We will provide everyone who signs up with a FREE Google Cardboard to work with for the day and take home.
Where can I contact the organizer with any questions?
Contact us with questions anytime at support@AcademyofVR.com
What food will be provided?
AcademyofVR.com will be providing a catered dinner on Saturday and snacks throughout the weekend. Please bring your own meals or money to purchase food for the other meals. If you have dietary restrictions, email support@AcademyofVR.com and we will make sure we get meals you can eat!
Can we follow up after the course?
Yes! Academy of VR would love to hear from you and help answer any questions you may have. Similarly, we will be offering future workshops and online courses that dive deeper into 3D modeling and VR development on platforms like the Oculus Rift and HTC Vive. Stay tuned to academyofvr.com for details.
What can you do after taking this course?
Our experienced group of instructors are going bring you quickly up to speed on the industry's best practices for creating 3D models using Maya. You will have a grasp on the foundational skills needed to develop 3D artwork and can begin bringing your own ideas to life in this new medium. For more advanced topics, there are resources available which we will direct you towards.

Is there an age limit?
Nope! The only requirement is that you are interested in learning to create 3D models.

Why the price $ for the workshop?
We have to cover the costs of the venue and are providing meals throughout the workshop. We're working to bring you amazing instructors which we have to incorporate into the cost of the event. The price for a 4 week, 12 hour course in Seattle is over $800 and many in person live training courses cost over $1000. We're offering a much higher amount of training for less then a 1/4 of the price!

What if I'm not happy with my workshop experience?
If you're not overly satisfied with your experience at the workshop we will happily refund you 100% of your ticket price. Contact support@AcademyofVR.com at anytime and we will issue a full refund through Eventbrite.
Do you offer any other courses in VR development?
We are offering future workshops in both 3D modeling and programming that dive deeper into VR development on platforms like the Oculus Rift and HTC Vive signup for our mailing list at AcademyofVR.com for info!