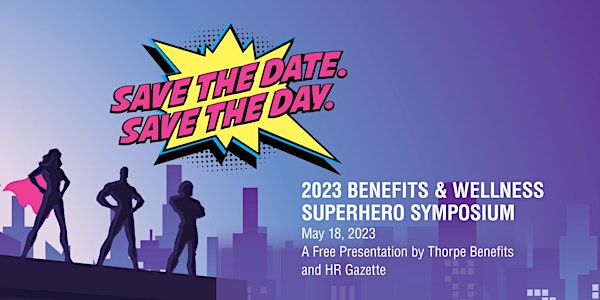 3rd Annual Benefits and Wellness Superhero Symposium
Discover how to become a superhero in the eyes of employees and management at this evening event presented by Thorpe Benefits and HR Gazette
By Thorpe Benefits and The HR Gazette
Date and time
Thu, May 18, 2023 5:30 PM - 9:00 PM EDT
Location
Spaces 180 John Street Toronto, ON M5T 1X5 Canada
About this event
3 hours 30 minutes

Mobile eTicket
Learn from experts about how you can become a superhero in the eyes of your employees and management team. This evening event is presented by Thorpe Benefits and supported by HR Gazette.
Agenda
5:30-6:30 pm - Networking
6:30 pm onwards:
Session #1: Future Trends in Benefits & Wellness
The Benefits & Wellness area is changing fast with so many innovations and improvements being added to the mix each day. Want to keep up with what's happening? Our experts will outline how plans are evolving and where they are heading. You'll discover:
How carrier offerings and benefits consultants/brokers fit into your plans for success
New HR trends such as AI, wellness vendor consolidation, gender affirmation, fertility support and others that need to be considered within your group benefits offering
Session #2: Designing the Best Group Benefits Plan You Can Imagine
A Group Benefits plan is only as good as its design. It needs to be developed with your budget in mind and allocate/prioritize resources to ensure you can achieve your objectives. Our experts will provide valuable tips and share proven best practices on this topic. You'll learn:
What you need to re-evaluate the complement of benefits you currently have and how to reallocate your dollars based on both employer and employee needs
Why it's important to consider employees' experiences (UX) once they are onboard, to retain them
How Thorpe's modeling tool can help you with Group Benefits design
How to prevent surprises by understanding the impact your budgets will have on your plans
Session #3: What Employees Really Want in the Area of Health & Wellness
It goes without saying that the happier employees are, the more productive they will be. Part of helping them achieve this, is providing the health & wellness benefits they want, ones they will truly wish to take advantage of. That's why it is so important to attend this session, which will provide:
Which health & wellness benefits work, and which do not
The latest findings on how to launch and manage a successful wellness offering
An action plan on how to get started and how to keep your health & wellness program running smoothly
Session #4: A Trick of the Trade: A Unique Tool For Group Benefits Success
The Thorpe Benefits Success Score was launched a little while ago. Since then, it has helped organizations measure the success of their Group Benefits plan. This session will provide an inside look at this tool and show the top ways you can use it to improve your own plan. You'll receive:
A review of the Benefits Success Score and what it shows you
Information on the most popular mistakes or missed opportunities organizations make that we have discovered through our tool
What areas of success (design, communication, admin, wellness) the tool has identified as those ripe for improvement and an "easy win"
Session #5: Panel - Developing the Best Possible Relationship with Your Benefits Consultant/Broker
The Group Benefits business is all about relationships. The better the relationship you have with your consultant/broker, the more effective your plan will be developed, communicated, and managed. A panel of clients will share their knowledge and experiences in this critical area. You'll find out:
What people like you usually need and want from their consultant/broker and how client expectations have changed
How to create the right balance between your carrier and consultant/broker for the services you need
How a strong benefits consultant/broker can be an asset to you
What advice you should give to anyone re-evaluating their benefits consultant/broker relationship
Don't miss out on this opportunity to learn from experts and connect with other people in your industry*
Unable to attend the live event? Simply register and you will automatically be invited to join us for the virtual symposium that will take place two weeks later.
Please note: Admission to this event will be subject to any Covid-related legal requirements in place on May 18th, 2023 and may also require recommended preventive measures. This may include wearing a face mask or showing proof of vaccination. Please do not attend the event if you are experiencing Covid-19 symptoms. We respect and encourage attendees to take the precautionary practices that make them most comfortable.
* Registering for this event does not guarantee entry. Capacity is limited and this event is specifically designed for HR pros and leaders in medium-large organizations. If you do not fit the criteria, your application to attend may be rejected.
About the organizer
At Thorpe Benefits, we only concentrate on one thing – Group Benefits, a highly specialized and complex area that includes Wellness. And we are experts in our field. We do not do retirement planning, life insurance or investment counselling. We leave that to general life insurance brokers.
We are senior consultants that understand Group Benefits inside out. Our customized solutions are cost-effective, incorporate Wellness and are designed to promote employee health, maintain employee loyalty, increase retention and enhance your company's culture and overall appeal.
The HR Gazette is a Toronto-based online business magazine offering fresh perspectives on topics including HR Technology, Talent, Performance, Learning, Strategy and Leadership. Along with partners such as WorkingTech, innovateworkTO and DisruptHR, the publication provides podcasts, interviews, opinion, and reviews from the brightest minds in and around HR. Contact editor@hr-gazette.com to learn more. The HR Gazette is owned by Iceni Media Inc.