About this Event
Clearwater Regional Fire Rescue Services (CRFRS) is a regional fire service that provides protection to citizens of Clearwater County, Town of Rocky Mountain House, the Village of Caroline, and the Summer Village of Burnstick Lake. Our service to the community includes rescue, fire suppression, prevention, and education.
The Protecting our Professionals Conference was established in 2017 with the focus on cancer prevention in the fire service by maximizing training dollars to enhance our safety and leadership skills.
The high caliber of presenters at this conference will discuss topics that are at the forefront of fire service protection, highlighting our values of accountability, integrity, and quality of service.
Tickets include meals, conference admission, hands on training session and follower ship to leadership lecture (limited spots available).
You must purchase general admission to be included in the hands on training session (HOTS) and follower ship to leadership lecture.
Hotel recommendation:
Canalta (https://canaltahotels.com/explore-hotels/rockymountainhouse-canalta) Conference rater per night: $143.10
For more information, contact fireadmin@clearwatercounty.ca or call 403-845-4444 .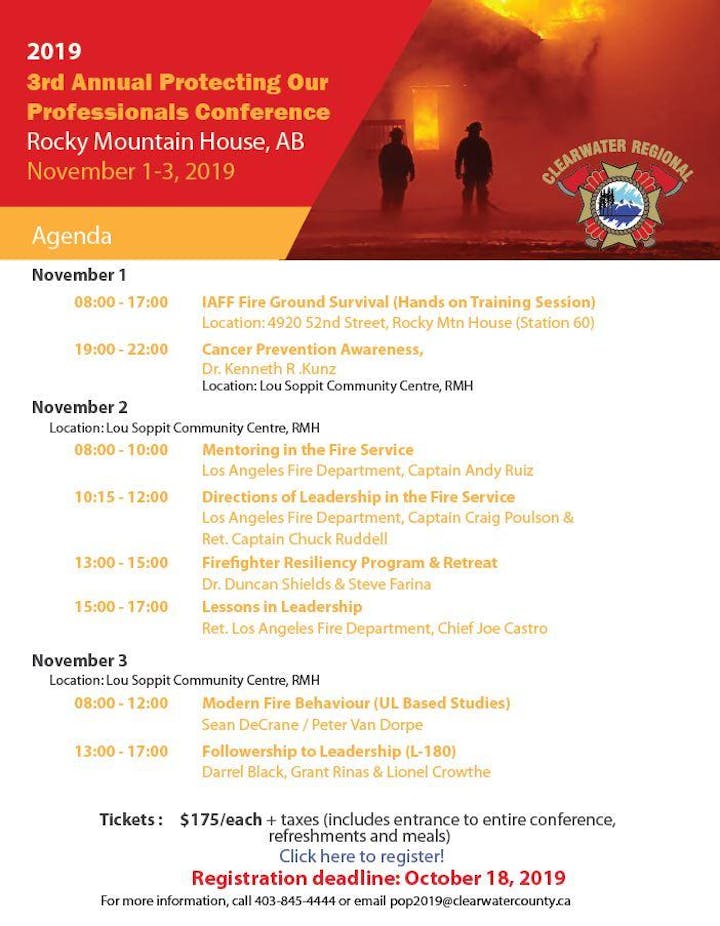 Speaker Biographies
(in order of appearance)
Doctor Kenneth R. Kunz
Dr. Kenneth R. Kunz completed a B.Sc. degree and won the university gold medal in chemistry from the University of Winnipeg in 1982. He then went on to studies in medicine, and in 1987 finished a medical degree and rotating internship at the University of Manitoba Health Sciences Centre. Dr. Kunz was then awarded a Medical Research Council Scholarship to complete Ph.D. studies at the University of Arizona in Tucson, Az. His research is in the field of medicinal chemistry as applied to cancer chemotherapy.
Additionally, Dr. Kunz completed training in general internal medicine and then subspecialty training in medical oncology at the Arizona Health Science Centre and Arizona Cancer Centre. He has experience working in private practice and academic medicine, and clinical trials design for investigational new drugs. Dr. Kunz currently works as an independent medical oncology researcher and consultant, and lives in Victoria BC, with his two children. He has developed an interest in firefighter health and wellness, and enjoys educating firefighters, first responders, physicians, health care workers and the general public about cancer and cancer-related issues concerning those who work in the fire service.
"Although wonderful advances have been made in the understanding and treatment of cancer, cancer is like fire: the best way to deal with is simply to not let it happen."
LAFD Captain Craig Poulson
LAFD Captain Paulsen has worked for the Los Angeles Fire Department for the past 25 years. He is a Captain assigned to Fire Station 8. For the last 6 years Craig has been a facilitator for the Los Angeles Fire Department's Leadership and Sciences Program. He has been involved in several programs through the years. Those programs include: Fire ground survival with the IAFF as well as the LAFD. Smoke recognition and Rapid intervention instructor. Ventilation practices and interior firefighting. Craig was assigned to the LAFD's In-Service Training Section for 3 years. He also has been assigned to the LAFD's Drill Tower as a per-Group instructor.
Ret. LAFD Captain Chuck Ruddell
On December 14th, 1980 (yes, the infamous class of '80) Chuck began his 36-year career and then started working his way up the ladder. Chuck has held the rank of Apparatus Operator (A/O for you truckies) Captain I, and currently Captain II. During his tenure on the LAFD Chuck has worked as a Drill Master, Master Instructor for In Service Training, Lead Instructor for the LAFD Leadership Academy, and was awarded the CSFA Instructor of the Year in 2007. Chuck has specialized in US&R, Swift Water, and coordinator of the LAFD Bike Team. He has been deployed to many disasters in our state and across the country such as Hurricane Katrina. Chuck has spent many hours teaching and mentoring members of the LAFD and many other agencies throughout the state.
Captain II Charles Ruddell of Fire Station 89-C was honored as that exemplary candidate.
On Wednesday, March 22, 2017, the Los Angeles Firefighters Association held its 50th annual "Firefighter of the Year" luncheon recognizing Captain Ruddell.
LAFD Captain Andy Ruiz
Captain Ruiz is a 24-year Fire Service Veteran. He has worked with the Los Angeles City Fire Department (LAFD) for the past 21 years. He is a Captain II and is the Station Commander at Fire Station 35, in East Hollywood, California. Captain Ruiz has been involved in many LAFD training programs. He was a part of the In-Service Training Section as a Training Officer 2006. He continues to assist in training to this date. Captain Ruiz recently held the rank of Drill Master for the LAFD Recruit Training program - "Rookie School". Outside of the LAFD, Andrew is a Master Instructor for the IAFF's Fire Ground Survival program and has taught internationally. In addition, he also works as a Lead Instructor for the Rio Hondo Fire Academy in Southern California. Andrew has an extensive background in training and is committed to Firefighter Safety.
Doctor Duncan Shields
Dr. Duncan Shields is an Adjunct professor in the Faculty of Medicine at the University of British Colombia, and a clinician specializing in the treatment of post trauma and operational stress injuries, and the support and maintenance of resilience under operational load. Duncan codeveloped a national group-based program for helping military and police veterans in their transition to civilian life and, in 2015, he cofounded The Men's Initiative (TMI), an endeavor to enhance the integrity and well-being of men for the benefit of families, communities and the world. As part of this work he is currently developing and evaluating a First Responder Resiliency Program to support men and women in public safety roles who are coping with operational stress injuries, and to create a more inclusive and supportive work culture. He has published and presented his work internationally and is the recipient of a number of awards and recognitions for his research and service.
Steve Farina
Steve Farina began his career as an on-call firefighter with the Township of Langley Fire Department in 1992 and five years later, joined the Coquitlam Fire Rescue full-time. He was elected to the executive board of IAFF Local 1782 (Coquitlam) in 2005 and was promoted to Captain in 2015. In addition, Steve is a VP on the BC Professional Fire Fighter Association (BCPFFA) which represents over 4,000 professional firefighters across BC. He chairs both the BCPFFA's Health and Safety Committee and their Mental Health Task Force.
Steve is a member of Coquitlam Fire Rescue's Critical Incident Stress Team and has taken the lead in defusing a multitude of critical incidents. He also serves as a Peer Supporter for his co-workers and has organized and hosted several mental health awareness nights for firefighter spouses and partners.
Steve represents the BCPFFA on the BC's First Responder Mental Health Steering Committee, chaired by WorkSafeBC.
Ret. LAFD Chief Deputy Joe Castro
Chief Castro is a 38-year veteran of the Los Angeles Fire Department. He retired from active service April 1st, 2017. He has held the ranks of Firefighter, Apparatus Operator, Captain I, Captain II, Battalion Chief, Deputy Chief and Chief Deputy.
Chief Castro's last assignment was the Commander of Emergency Operations. Chief Castro's command was organized into four geographical Bureaus, 14 Battalions, and 106 stations with over 3,000 members, and on an annual operating budget of approx. $600 million dollars. This position is second in Command of the Los Angeles Fire Department.
Emergency Services also is in Command of the Metropolitan Fire Communication Dispatch Center. Homeland Security Division, Air Operations, Arson-Counter Terrorism Section and the emergency resources that protect Los Angeles International Airport and the Port of Los Angeles.
Chief Castro has been assigned at many of the most active areas in the City of Los Angeles and has been in command at thousands of emergency incidents. He has been the Incident Commander at Major Emergency fires as well as a myriad of "All Risk" type emergencies in addition to functioning as a Unified Commander at multi-agency, multi-jurisdictional incidents. Chief Castro's career has seen him in command positions at many of the So Calf. Wildfire campaigns, major earthquakes, floods, structure fires, riots, and civil disturbances to name a few.
Chief Castro has received his department's highest honor, the LAFD Medal of Valor for bravery, and an EMMY award for his participation in an LAFD News television program.
Sean DeCrane
Sean DeCrane retired as a 25+ year veteran of the Cleveland Division of Fire. He served in various roles including the Director of Training and Chief of Operations. He retired as a Battalion Chief covering Cleveland's Westside. Sean is currently the Manager of Industry Relations for the Underwriters Laboratories Building Life Safety, Security and Technologies Division.
Sean has been very involved in the research at Underwriters Laboratories and the National Institute of Standards and Technology. He serves on the UL Fire Council and is a member of the UL Fire Fighter Safety Research Institute's Advisory Board.
Chief DeCrane also represented the International Association of Fire Fighters in the International Code Council process and has served on the 2009, 2012, 2015, and 2018 Fire Code Developing Committee and as Chair for 2015 and 2018. Sean served on the NFPA 1 Technical Advisory Panel, NFPA Research Foundation on Tall Wood Buildings and is serving as the Chair of the Fire Test Work Group for the ICC Tall Wood Buildings Ad Hoc Committee.
Peter Van Dorpe
Peter Van Dorpe worked with the Chicago Fire Department for 33 years, retiring in 2013 as the Director of Training. He then served the Algonquin-Lake in the Hills Fire Protection District through April 1, 2019. He holds a bachelor's degree in Fire Science Management from Southern Illinois University. He has made presentations on modern fire ground challenges at FDIC, Firehouse Expo and world, Fire Rescue International and the National Fire Academy. In 2012 he delivered the General Session Keynote at FDIC and addressed the U.S Senate Appropriations Subcommittee on the "Flammability Standards and Flame-Retardant Chemicals."
In addition to his work as a Field Instructor for the Illinois Fire Service Institute, he has been a lead instructor for the Chicago Fire Department's Fire Officer School and has taught building construction for the fire service through the City Colleges of Chicago. He is a member of the Advisory Board for Underwriters Laboratories' Firefighter Safety Research Institute and a Vice President for the International Society of Fire Service Instructors (ISFSI).
He has participated as a Subject Matter Expert for UL's research on Firefighter Safety, NIST's, "Evaluating Firefighting Tactics Under Wind Driven Conditions," and the IAFF "Firefighter Safety and Deployment Conditions," the IAFF buildings, and several NIOSH Line of Duty Death Investigations.
Chief Van Dorpe is the 2016 recipient of the Fire Engineering/ISFSI George D. Post Instructor of the Year award.
Grant Rinas
With 37 years in emergency services, Grant brings a wide range of experiences to his sessions. He is currently a Captain with the Calgary Fire Department, serving at Station 19. He joined CFD in 1995 following a career with various fire and EMS agencies. Grant has also had the pleasure of serving with San Diego Fire Rescue where he was first introduced to the NWCG Leadership courses. In addition to being L-180 Human Factors Instructor and L-280 Followership to Leadership Instructor-Trainer, he also instructs the CFD Company Officer's course in Leadership, and Incident Command/Incident Management Systems. Rinas has also had extensive experience leading firefighters in the high-risk worlds of air, aquatic, and high angle rescue. He also currently serves as an IAFF Fire Ground Survival Instructor. As a member of the CFD Honor Guard, Grant also instructs the Commander's Course at the Canadian Police Ceremonial Training Course.
L-180 Course Description
The L-180, Human Factors in the Wildland Fire Service, involves a few short lecture and video segments while the primary content is supported with small group exercises. Topics include situational awareness, basic communication responsibilities, attitude and stress barriers, decision-making process, and teamwork principles. The course is specifically designed for entry-level operational personnel; however, this course also applies to all fire service personnel, including non-operational personnel.
Objectives:
Introduce human performance factors in high-risk work environments and add this knowledge to student's skill set
Students will demonstrate an understanding of their responsibilities to address human performance issues so they can integrate more effectively into crews/teams operating in high-risk, dynamic work environments.
Provide opportunities to explore human performance concepts and the related vocabulary.
Reinforce professional responsibility to address human performance issues while on the job.
Darrell Black
Darrell Black is a sought-after creator and author of the 1:100 Leadership Solution, presenter and facilitator throughout Canada, the U.S., Australia and New Zealand specializing in leadership, particularly during crisis.
Through 30 years of experience in leadership in very chaotic times and circumstances, he recognizes that crisis can be personal, professional and organizational. The characteristics are often the same: stress, analysis paralysis, self-doubt and a lack of compassion are examples.
Darrell believes the answer to bring out the best in ourselves and others lies in leadership.
It is, and always will be, about the human factor.