3rd Annual Social Inclusion Summit/Troisième Sommet annuel sur l'inclusion...
Description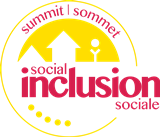 Increasing the amount and affordability of housing in the city is an important part of the City of Moncton's social inclusion plan. The community has done much progress over the years; however the need for affordable and safe housing continues to be a challenge for some Monctonians.
The Moncton Social Inclusion Committee invites members of the greater Moncton community to a panel discussion on Housing: The spectrum of affordability in housing within our communities at the Community Lions Senior Center, located at 473 St. George Blvd, in Moncton, on September 26th, 2017.

Panelists will share their thoughts and expertise, as well as highlight resources available to Greater Moncton residents faced with the complex issues related to affordable housing options.
The panel will be preceded by a Meet & Greet and light refreshments at 6:00 p.m. Welcoming remarks will begin at 6:30 p.m. with a brief presentation on the Housing Study and moderated panel discussion to start shortly thereafter.

..............................
Augmenter la quantité et le caractère abordable de logements dans la ville constitue une partie importante du plan d'inclusion sociale de la Ville de Moncton. La collectivité a fait beaucoup de progrès au fil des ans; toutefois, le besoin de logements abordables et sécuritaires continue d'être un défi pour certains résidants de Moncton qui vivent dans la pauvreté.
Le Comité sur l'inclusion sociale de la Ville de Moncton invite les membres de la collectivité du Grand Moncton à une discussion de groupe sur le logement : L'éventail de logements abordables et l'appui continu à ce chapitre au sein de nos collectivités, qui se déroulera au Centre des aînés du Centre communautaire Lions, situé au 473, rue St. George, à Moncton.
Avant d'entamer la discussion, il y aura une séance d'accueil et des rafraîchissements légers à 18 h, puis un mot de bienvenue à 18 h 30. Une présentation sur l'étude de logement et la discussion de groupe avec modérateur commencera tout de suite après.