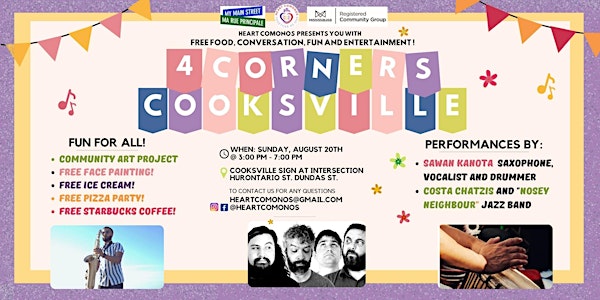 4 Corners Cooksville- Free Food, Conversations, Music, Dance and Wellness!
A free event to experience amazing musical talent, community connections and art. Fun, inspiration, food & new friendships for everyone!
When and where
Location
Southeast Hurontario Street & Dundas Street Corner 10 Dundas Street East Mississauga, ON L5A 1W2 Canada
About this event
*AUGUST 20TH REGISTRATION*
Hey Cooksville-Mississauga! Join us for entertainment by jazz band Nosey Neighbour with @chatzismusic and swing your hips to music by Sawan Kanota @sawankmusic - a Mississauga saxophonist accompanied by vocalist Divine Lightbody @divinelightbody and drummer Dhaivat Jani @janidhaivat! As we gather, we will also have engaging conversation circles and partake in a unique community art project by STEPS Public Art. PLUS, free face painting, ice cream, Starbucks and pizza for everyone who attends!!!
For the past two years, our ability to meet and connect with others was disrupted and opportunities were sparse. However, on Saturday August 20th from 3PM to 7PM, join us at the Cooksville Sign on Hurontario St. and Dundas St. for art, dance, music, and conversations! We're all eager to get past the 2 years of isolation, and get involved again within our community. We hope to see you and your families there, and everyone is welcome.
This is a FREE event. Donations are welcomed and will go toward supporting the suffering people in Ukraine. Non-perishable food items are welcomed for the Free Food Cupboard project.
This event is sponsored by Heart Comonos and the City of Mississauga.We thank all our partners for making this happen! Thank you to Mr.Iceberg for providing ice cream and to Starbucks for donating coffee & tea!
Heart Comonos (@heartcomonos) is a nonprofit organization in Cooksville, Mississauga that engages with residents on a grassroots level. We collaborate with individuals and organizations to create projects and programming that contribute to the many dimensions of wellness. Check us out atwww.heartcomonos.ca for more information.