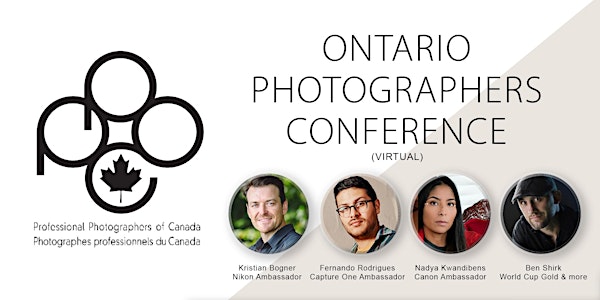 4030-0011 Ontario Photographers Conference
Join us for the inspirational event of the season! Two days, 4 award winning speakers who will open your eyes to the possibilities.
About this event
Online Event
Recordings of the sessions will be available for 30 days for paid attendees
Saturday October 16, 2021
2 – 3:30 pm
Capturing the Moment with Extreme Sports Photographer Kristian Bogner
Nikon Ambassador and Master Photographer Kristian Bogner will share his wealth of knowledge and experience as an extreme sports photographer. Kristian has photographed the Olympics and expeditions across the globe. https://kristianbogner.com/
4 – 5:30 pm
Projects: A Creative Overview with Fashion photographer Fernando Rodriguez
Capture One Ambassador Fernando Rodriguez is a fashion and editorial photographer based in New York City. His imaginative use of color, perspective and sources of light have propelled him onto the international and digital stage. http://www.nobodystudio.us/
Sunday October 17, 2021
2 – 3:30 pm
The Power Of Photography To Disrupt Narratives with Nadya Kwandibens
Canon Ambassador Nadya Kwandibens founded Red Works Photography a dynamic photography company empowering contemporary Indigenous lifestyles and cultures through photographic essays, features, and portraits. Nadya will speak to her powerful storytelling projects including "The Red Chair Sessions". https://themusekenora.ca/exhibit/nadya-kwandibens-the-red-chair-sessions/
4 – 5:30 pm
Creating Visually Stimulating Art with Photographic Artist Ben Shirk
World Photographic Cup Gold Medalist Ben Shirk, M.Photog.M.Artist.Cr., is internationally recognized for being on the forefront of creating artistic images. His work demonstrates limitless creativity and astonishing Photoshop skills. Photographers from around the world have been asking Ben for help in taking their images to the next level. https://shirkphotography.com/
Each of these extraordinary photographers will provide us with a visionary 1 hour presentation followed by a 30 minute opportunity for questions.