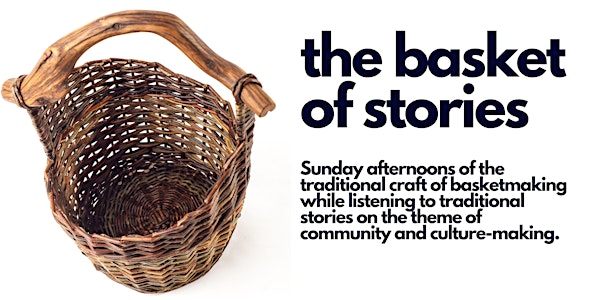 Multiple dates
The Basket Of Stories
Afternoons of the traditional craft of basketmaking while listening to traditional stories on the theme of community and culture-making.
Date and time
Sun, Dec 18, 2022 2:00 PM - Sun, May 14, 2023 5:00 PM PST
Location
Lila Music Studio 3228A Gibbins Road Duncan, BC V9L 1G8 Canada
About this event
The Stories:
December 18th - The Beatin' Stick (Scottish Traveller Story)
January 29th - The King's Lamp (Scottish Traveller Story)
February 19th - The Clever Daughter (Scottish Story Collected In Nova Scotia)
March 5th - Ivan and the Tsar's Dream (Russian Story)
April 23rd - The Two Brothers (Part I) (German Story Collected by the Brother's Grimm)
May 14th - The Two Brothers (Part II)
Note: You can come to whichever dates you want - no need to RSVP for the entire series.
*
These afternoons, held in a cozy yurt in Duncan, will be two parted. In the first part, you will be engaged in the process of basket making, weaving together real baskets, by hand with real plants. Don't worry if you have no skill. You will learn.
The second part of the afternoons will be hearing and exploring the troubles and tributaries, travails and triumphs of community through the medium of an old, European folk tale.
About The Money Raised: 50% of the money raised during these afternoons together will go to support the work of Kakisimo Iskwew, an indigenous, cultural activist in Alberta who is rebuilding her home after she lost it to a fire in the Spring of 2022.
About The Baskets Made: The baskets will be given away for gifts for the Quw'utsun Elders as part of the 4th Q'ushin'tul Ancestors Walk, June 29th to July 2nd,2023
*
Many of us live in a time and place with so little of the basket of community left to carry us and to give us a place to thrash about in.
Maybe you've seen it in the broader culture around you and certainly on social media - the divisiveness, the polarization, the meanness and the piling on. And this is amongst 'the good guys'. It's easy to lose hope that we'll ever get anywhere
Ignoring it doesn't work.
But many have begun to wonder if the call outs and cancellings, the shamings and shunnings work any better in the end. Much of it feels 'off' somehow but there's a fear of voicing this lest we are next.
These gathering offers little hope, few solutions, no easy-fixes and a likelihood of a deepening into the cultural poverties of our times. You won't learn how to hold a healing circle or the 'four steps to holding someone accountable' but you might learn a great deal about why those things happen so seldom despite many of us yearning for them so badly. Very few 'how to's' but plenty of wonderings on 'how come?'
About Cari Burdett - Host and Basketweaver:
Cari is grateful for living beside the Quw'utsun River and for the generous teachings from the local Quw'utsun elders and teachers that generously share their wisdom with the community at large. Cari commits her time between farm, family, and community, building community through song and nature connection.
Cari spent the last few years deep in the forests, beside the rivers and the Salish Sea, deepening her connection with nature. She is grateful for her mentors Jean – Claude, Ingrid and Arnaud, with whom she complete the year long Deep Nature Immersion course with Wisdom of the Earth on Salt Spring Island.
The following year, Cari was mentored again by Arnaud and became an apprentice/mentor for Thriving Roots Wilderness school, This year, Cari is a mentor at the Thriving Roots Nature School, nature and has began offering Deep Nature Connection in a new monthly Series on her farm, Backyard Sessions, where families and community members come together to learn crafts and build village around the fire.
Tad Hargrave - Storyteller (pictured below):
For over a decade, Tad has found himself drawn to conversations about how we might tend to the harm that's done in communities in ways that leave the community stronger and more whole at the end - not more shattered.
Between Sept 2004 – Feb 2006, Tad dedicated himself to learning his ancestral language, Scottish Gaelic, in both Nova Scotia and Scotland. He can speak Gaelic with conversational fluency. He also runs a blog called Healing from Whiteness as well as a Facebook group of the same name. He is a co-founder of the Nova Scotia Gael's Jam and co-starred in Canada's second Gaelic language film The Fiddler's Reel.
Tad currently lives in Duncan, BC, though he hails from Edmonton, AB (traditionally known, in the local indigenous language of the Cree, as Amiskwaciy (Beaver Hill) and later Amiskwaciwaskihegan (Beaver Hill House) and his ancestors come primarily from Scotland with some from the Ukraine as well. He is drawn to conversations around politics, history, ancestry, healing and how those all intersect.
You can read his writings on substack.
*
Parking:
If you can carpool with people from your hood, that's ideal. If not, Cari Burdett, on whose land we'll be having our gathering, will direct you as to where to best park your vehicle.
The address is Lila Music Centre, 3228a Gibbins Rd, Duncan, BC, V9L1G8.
As you drive up Gibbins Rd. from downtown Duncan/the highway, you'll see a pink sign for Lila Music Studio on your left. There's a wee, gravel narrow dirt road there. You'll likely miss it the first time. It's across from Carmel Drive.
Lila Music Centre's long gravel driveway is located in between a new tricoloured house/mailbox on one side and a large Douglas Fir/ town house entrance on the other.
Then you drive all the way down to where you see another sign saying "Lila Music Centre", with an arrow and turn right there. Please follow arrows to keep traffic in one direction.