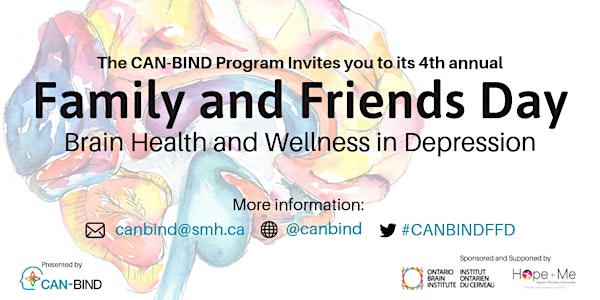 4th Annual CAN-BIND Family and Friends Day - Brain Health & Wellness in Depression
When and where
Location
We Global Learning Centre Toronto, ON M5A 1S9 Canada
Description
Now in its fourth year, CAN-BIND Family and Friends Day is a free, annual outreach event. At this appreciation event, we share research updates and resource tools, and host hands-on wellness workshops for our study participants, their loved ones and the wider community.
Inspired by Brain Awareness Week (March 11–17, 2019) this year's theme will highlight different aspects of brain health and discuss changes that can lead to improvements in depression care and treatment.
Who Should Attend:



Individuals who participate(d) in any CAN-BIND research, their families and/or friends, partners, advocates, researchers, clinicians in mental health and anyone (public or otherwise) who would like to learn more about depression research and brain health.
Preliminary Event Schedule:
5:00pm-5:15pm
Registration for pre-event Wellness Workshops 1 and 2
5:15pm-5:55pm
Workshop 1: Beginner Martial Arts (30 min) - Lead: Ms. Alisa Gayle
*Workshop 2: Expressive Arts Therapy (40 min) - Lead: Ms. Ximena Moreno, OEATA
*Please note, Expressive Arts Therapy Workshop is now full.
5:15pm-6:00pm
Registration, Information Booths and Light Reception*
6:00pm-8:30pm
Welcome and Guest Speaker Talk Sessions
8:30pm
Closing Remarks and Raffle Draw
*Light complimentary refreshments will be provided.
Information booths Include:
Centre for Depression and Suicide Studies (CAN-BIND and ASR Suicide and Depression Studies Program)
Ontario Brain Institute (OBI)
Hope and Me - Mood Disorders Association of Ontarion (MDAO)
#BrainAwarenessWeek photo booth

Dr. Jane Foster Lab - Microbes and Mood

WE Wellbeing
Stella's Place
Family Navigation Project
Distress Centres of Greater Toronto
Ontario Expressive Arts Therapy Association (OEATA)
Lived Experience Talks:
Topic: Hope is a Four Letter Word

Topic: Studies and Experiments for Dummies!
Research Talks:
Dr. Kate Harkness, Queen's University
Topic: Effects of childhood maltreatment on depression
Mr. Andrew Kcomt and Ms. Janice Pong
Topic: The CHOICE-D patient and family guide to depression treatment
Dr. Francesco Leri, University of Guelph
Topic: Addiction and anhedonia in depression
Dr. Shane McInerney, St. Michael's Hospital
Topic: Wellness, cognition and the CAN-BIND-1 study
Dr. Sakina Rizvi, University of Toronto
Topic: Neuroimaging and depression
Dr. Claudio Soares, Queen's University
Topic: M-health technologies for mood disorders
Small Travel Reimbursements

Thanks to generous event funding from the Ontario Brain Institute (OBI), we are pleased to offer travel reimbursements of up to $100 for up to 10 CAN-BIND study participants/family members and/or friends living outside of Toronto. These will be provided on a case-by-case basis. Maximum 2 x $100 reimbursements per study participant. Please email the Outreach Coordinator, Anum for more information at shivjiarwana@smh.ca.
FAQs
What time do the doors open?
Doors will open at 5:00pm for attendees wishing to participate in one of the wellness workshops. Each session will run in parallel from 5:15pm-5:55pm. Doors and registration for the main event will open at 5:30pm. The main event will run from 6:00pm-8:30pm. Volunteers will be present to direct you to the exhibition space. Please try to arrive a few minutes early to register and pick up your information package, visit our information booths and enjoy light refreshments.
Where is the event?
The We Global Learning Centre (339 Queen St E) is located just west of Queen St E & Berkeley St intersection in downtown Toronto.
Driving & Parking
Parking options include a public lot at Queen and Berkeley and Queen Richmond as well. There is Green P parking on the North side of Queen Street. There's also parking one street north of Queen street on Shuter street.
Accessibility
The We Global Learning Centre is accessible from street level.
What is CAN-BIND Family and Friends Day?
More information about Family and Friends Day can be found here: https://www.canbind.ca/education-outreach/community-engagement-initiatives/family-friends-day/.
I have a question, who can I reach out to?
For questions, please contact the CAN-BIND Outreach Coordinator, Anum for more information at shivjiarwana@smh.ca.