Win $100 For the Best Costume! At the 4th Annual Halloween Ball - Presented by: Diversify Entertainment An All 90's / 2000's Vibe. Old Skool
About this event
Win $100 For the Best costume!
The 4th Annual Halloween Ball is Back, and we are going with the 80's 90's and early 2000's theme. Yes we are going to play all the popular club anthems of the yesteryear and probably what you were listening on your old Walkman or Discman! From classic R&B and Hip Hop to Classic House and Dance Anthems. Exclusively by Diversify Entertainment.
Our Guests Features ANALOG SOUNDSYSTEM from Guelph, VERSE ONE from HAMILTON, DJ NAVIN and MIC ONE from KITCHENER. All will be bringing to you all some of the best of the best in Old Skool Throwbacks and much more.
Prizes - First Off we have Raffle Tickets for a chance to Win a Bluetooth Speaker System. Later on that evening we will be doing our famous costume contest for a 3rd, 2nd and 1st place prize winner. 1st Place Winner receives $100.
We have Food and Drinks Avaialable courtesy of Kings Sports Bar, and the Kitchen will be open till 12AM.
Come Be A Part of the Fun on OCTOBER 31st 2021 at the Kings Sports Bar Guelph Ontario.
$10.00 Admission
Infoline: 226-500-6075 | www.analogsoundsystem.com | instagram: @diversifyentertainmentofficial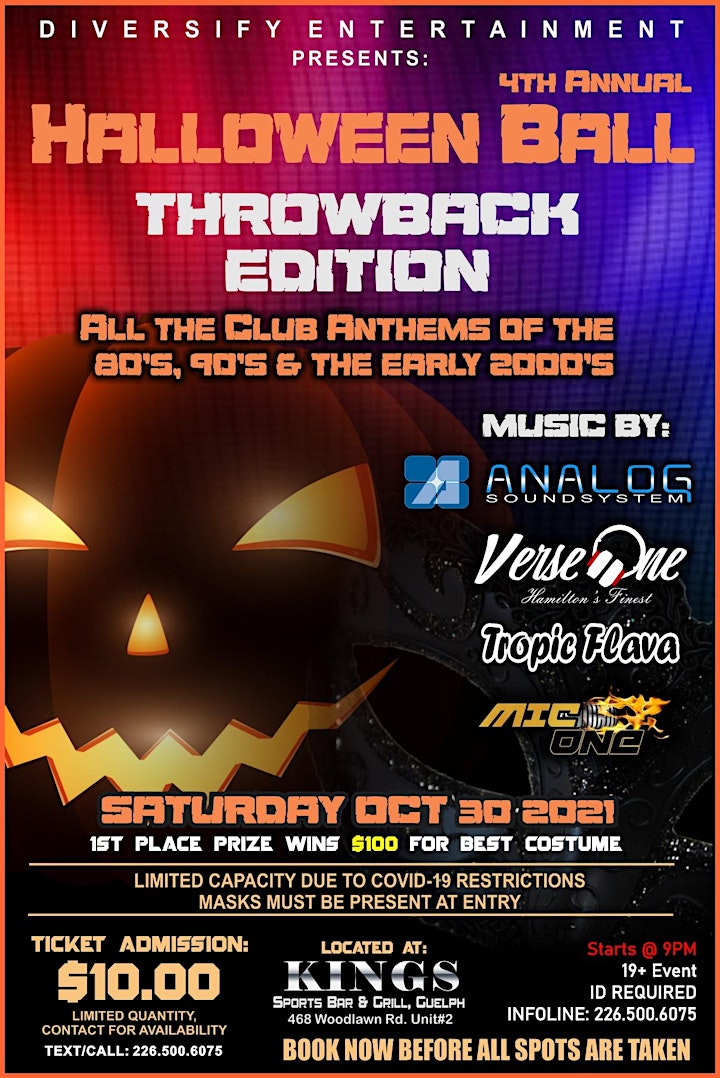 4TH ANNUAL HALLOWEEN BALL
KINGS SPORTS BAR : GUELPH,ON
INFOLINE: 226.500.6075 | Instagram: @diversifyentertainmentofficial
Organizer of 4th Annual Halloween Ball
Diversifty Entertaiment: Launched In 2015 by Todd Manning who wanted to bring quality entertainment in all aspects from art, music, live theatre, comedy etc. In 2017, Diversify Entertainment hired Owen Collins as its P.R. department which has helped put Diversify Entertainment in the forefront of the city.
Diversify is proud to bring to you this wonderful event, House Of Reggae III to Guelph, filled with Great Music, Entertainment, and Food. Not to mention the many drinks you can have.