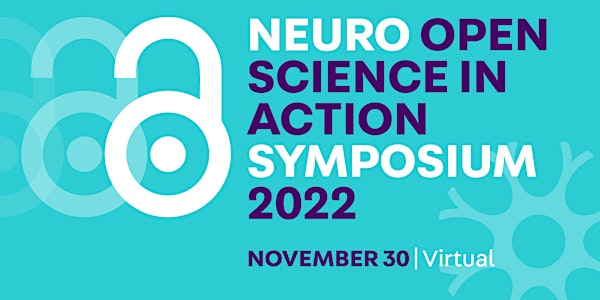 4th Annual Neuro Open Science in Action Symposium 2022
Leading by example: How Open Science is Changing the Status Quo
When and where
Location
Montreal Neurological Institute – Hospital 3801 Rue University Montréal, QC H3A 2B4 Canada
About this event
4th Annual Neuro Open Science in Action Symposium 2022
Leading by example: How Open Science is Changing the Status Quo
Hybrid event organized by the Tanenbaum Open Science Institute (TOSI) at The Neuro
November 30, 2022
This year's symposium will focus on how academic institutions can pave the way for the future of open research. This theme will be explored in three virtual panel discussions. Expert panelists will showcase new ways of recognizing and enabling open research, the efforts of Canadian and international institutions to promote open science, and how collective action within and among academic institutions is enabling a more open future.
The symposium will close with the presentation of the Neuro-Irv and Helga Cooper Foundation Open Science Prizes. Awardees of the International and Trainee prizes will accept their awards and present their projects at The Neuro.
To visit the OSIA webpage, follow this link:  https://www.mcgill.ca/neuro/open-science/4th-annual-neuro-open-science-action-symposium-2022
4e symposium annuel sur la science ouverte en action du Neuro – édition 2022
Donner l'exemple : Comment la science ouverte modifie le statu quo
Événement hybride organisé au Neuro par l'Institut de science ouverte Tanenbaum (ISOT)
Le 30 novembre 2022
Cette année, le symposium portera sur la façon dont les établissements universitaires peuvent tracer la voie de l'avenir de la recherche ouverte. Trois tables rondes virtuelles d'experts exploreront ce thème. Les experts invités présenteront de nouvelles façons de reconnaître et de favoriser la recherche ouverte, parleront des efforts déployés pas des établissements canadiens et étrangers pour promouvoir la science ouverte et discuteront de la façon dont l'action collective menée au sein des établissements universitaires et entre ces établissements contribue à assurer un avenir plus ouvert.
Le symposium se terminera par la remise des Prix de la science ouverte du Neuro et de la Fondation Irv et Helga Cooper. Les lauréats du Prix international et des Prix de stagiaire accepteront leur prix et présenteront leur projet au Neuro.