Multiple Dates
4th Annual Youth Gavel Clubs Speech & Evaluation Contests
Description
Join us to be entertained and amazed by the public speaking talent of our young members in the Bramalea, Brampton, Junior Masters and Mississauga Gavel Clubs!
Our participants are winners of their respective club contests and will be showcasing their Inspirational Speeches and Evaluation skills at this next level of competition. Come and show them your support!

Sign up to one or both our contests:
- Inspirational Speech Contest: 9:00 am to 1:25 pm (Lunch at 12:25 pm)
Contest Levels: Grades 5-8 and Grades 9-12
- Keynote Speech & Evaluation Contest: 12:25 pm to 3:45 pm (Lunch at 12:25 pm)
Contest Levels: Grades 5-8 and Grades 9-12

Keynote Speakers: FATIMA & AMNA SULTAN - Canada's Youngest Social Entrepreneurs!
At the ages of 10 and 8, these are two sisters on a mission to make a real difference!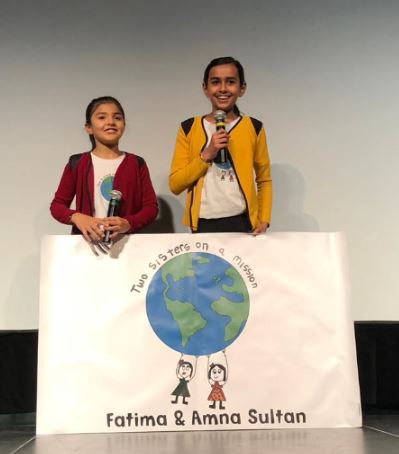 They run www.twosistersonamission.com, an online art store with a mission to bring the stories, the struggles and the talent of artists from remote parts of the world to life, creating significant and positive impact for them.
Their business pitch and model has been ranked amongst the top presentations in multiple startup competitions against serial entrepreneurs three times their age.
Having been keynote speakers in over 25 industry conferences, university events and startup competitions across Canada and after winning awards across the country, they are about to take on the Dragons in Dragons Den!
Fatima and Amna believe the world will not change if we all wait for others to act, so they decided to take the initiative. They may be young, but they have big dreams!

Join us on May 26 to support and learn more from these young, inspiring and remarkable agents of positive change!
Limited Seating! Make sure to register before May 20 to save your spot.
If you are attending both contests, please make sure to register for both time options.
To do this, simply click again on the 'Eventbrite' link you received, and register for the second time option. You will only need to pay the $5 fee once.


Looking forward to having you with us!


---
"We do not compete because we're the best; we become our best because we compete!"
David Brooks – 1990 Toastmasters World Champion of Public Speaking