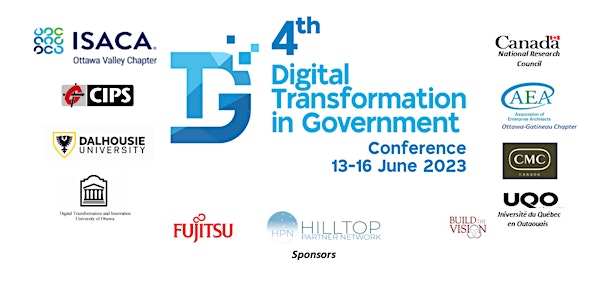 4th Digital Transformation in Government Conference 13-16 June 2023
Digital Transformation (DT) is key to modernizing Government. Speakers will provide global case studies and lessons learned.
By ISACA Ottawa Valley and AEA Ottawa-Gatineau
Date and time
June 13 · 5am - June 16 · 1:30pm PDT
Refund Policy
Refunds up to 7 days before event
Eventbrite's fee is nonrefundable.
Agenda
Agenda
13 June 2023
14 June 2023
15 June 2023
16 June 2023
8:10 AM - 5:00 PM
Please look at the individual agendas for each day. Enjoy and Learn.
About this event
3 days 8 hours

Mobile eTicket
" 90% of Digital Transformation Efforts Fail" (Ramesh and Delen, IEEE Engineering Management Review September 2021)
This not for profit conference targets global government digital transformation efforts with senior public servants and academics presenting policies, specific case studies, research findings, and lessons learned. It is a collaboration between governments, professional and standards associations, universities, NGOs, and international organizations such as the European Union, United Nations, and World Bank.
KEY FACTS
Conference Dates and Format: 13-15 June 2023 – VIRTUAL and RECORDED - 16 June 2023 – IN PERSON and RECORDED / Hybrid – Presentations, Panels, Workshops & Networking (Ottawa)
Registrants will have Links to Sessions (using Zoom) and recordings, at https://digitaltransform.ca/2023/
Ticket types vary for Government (public servants), professional associations, academia, and consultancies. There is also an extra cost for attendance in person on the 16th of June (includes lunch and coffee breaks).
For professional associations members can claim up to 40 CPEs or equivalent.
DETAILED DESCRIPTION
Conference Aim: This not-for-profit conference brings together government professionals, non-government agencies, private sector practitioners, and academia to share experiences, innovation and emerging standards and technologies in support of both government digital transformation (strategic effectiveness) and digitization (operational efficiency) initiatives. Focus is on Lessons Learned and Re-usability of approaches and solutions. A major conference objective is to assist the United Nations and The Open Group in helping international governments starting their digital transformation journey. Conference presentations will be recorded, and registrants can listen to them at their convenience. None of the presentations require technical expertise. Consultancy attendance can provide insights into government digital transformation initiatives across the globe.
This Conference is hosted by ISACA Ottawa Valley Chapter, the University of Ottawa, and the Association of Enterprise Architects (AEA) Ottawa-Gatineau Chapter, and is conducted in partnership with Dalhousie University, the Canadian Information Processing Association (CIPS) and the Canadian Association of Management Consultants (CMC).
Attendees will be able to claim at least 40 CPEs, PDUs, CPDs and/or CEUs.
Conference Content. Over the years we have had up to 700 registrants and 50 speakers (see below for list from last year) from the UN, EU, India, EC, US (NASCIO, NIST) and, of course the Government of Canada. Info is being posted to https://digitaltransform.ca/2023/ for this year. Note that the title, bios, presentations and recordings are being bundled and transformed into Open Educational Resources (OER) for global search engines.
Conference themes include:
Leading Digital Transformation in Government; Cyber-Security and Privacy; Workforce of the Future; Sharing Information/Services; Promoting Women in STEM / Cyber / AI; DT in Multi-National Organizations; Ethics / Responsible Use of AI; Creating Reusable Patterns for e-Government; Government Design & and Innovation Using EA; DT in Emerging Nations; AI and Knowledge Management; Advanced Technologies; and Business Technology Management
Confirmed Speakers 2023 (up to 16th of May)
1. Catherine Luelo – Deputy Minister / Chief Information Officer – Government of Canada
2. Dr. Yolanda Martinez - United Nations - International Telecommunications Union
3. Dr. Jay Liebowitz – Professor of Data Science – Tufts University (US)
4. Mark Lerner, Director - Technology and Innovation – (US) Partnership for Public Service
5. Dr. Ott Velsberg – Chief Data Officer - Government of Estonia
6. Yvonne Gallagher, Director Digital Corporate Group – UK National Audit Office
7. Ima Okonny – Chief Data Officer - Employment and Social Development Canada (ESDC)
8. Julie Champagne - Chief Data Officer – Bank of Canada
9. Dr. Raul M. Abril – European Commission - Interoperability
10. Philippe Johnston- Chief Information Officer – National Research Council of Canada
11. Rachel Porteous – Chief Information Officer - FINTRAC
12. BGen (Retd) David Anderson - Snr Advisor Digital Transformation – National Defence (DND)
13. Dr. Meng-Chyi Mickey Harn - City of Taipei - EA Director of the City Digital Innovation Office
14. Benoit Deshaies – Director – Data and AI – Treasury Board of Canada
15. Sahar Nezami-Tafreshi - Senior Director, Analytics, and Insights - Bank of Canada
16. Dr. Pallab Saha – The Open Group - Manager India and Asia
17. Hani Eskandar – United Nations – International Telecommunications Union
18. Vikash Madduri – United Nations – International Telecommunications Union
19. Melissa Fraser – Senior Strategic Advisor – National Research Council of Canada
20. João Ricardo Vasconcelos- World Bank – Senior Governance Specialist – GovTech Initiative
21. Youngseok Kim – World Bank – Interoperability Specialist
22. Deniz Susar – United Nations - Digital Government Branch DESA (e-Gov Survey)
23. Dr. Guy Vincent Jourdan - University of Ottawa Co-Director Cyber Range
24. Dr. Vio Onut – IBM - Co-Director Cyber Range
25. Yvan Gauthier – Head AI Accelerator Program – National Research Council of Canada
26. Marina Van Koughnett – Head Compliance – TransAlta (Energy)
27. Dr. Stephane Gagnon – University of Quebec - Business Technology Management Program
28. Dr. Elaine Mosconi – Scientific Director Createch Research Centre on Intelligent Organizations
29. Dr. James Denford – Royal Military College of Canada - Professor MIS – Global AI Capabilities
30. Jac Van Beek – UOttawa – Director of Graduate Programs (Engr Mgt) Telfer School of Management
31. Dr. Danica Marsden - Principal Data Scientist -Bank of Canada
32. Dr. Stenio Fernandes - Assistant Director, Data Science Innovations - Bank of Canada
33. Erik Balodis - Director, Analytics & Decision Support - Bank of Canada
34. Dr. John Halligan - University of Canberra - Professor - Centre for Change Governance
35. Sharat Sahai Mathur – Centre for Railway Information Systems (India) – Group General Manager
36. Murray Kronick - University of Ottawa – Telfer School of Business - Professor
37. Dr. Kimiz Dalkir – McGill University – Director School of Information Studies / KM
38. Boitumelo Molete- Senior Manager – Enterprise Architecture – University of the Witwatersrand
39. Guy Pearce –Director ISACA Valley Chapter – IT Governance and Audit
40. Greg Lane – CEO Canadian Information Processing Society (CIPS)
41. Eric Sweden – Director EA and Governance – National Association of State CIOs [NASCIO]
42. John Parker – Zero Trust Architecture - Canadian Centre for Cybersecurity
43. Larry Stoddard – Threat Assessment Tools - Canadian Centre for Cybersecurity
44. Brian Thompson - Lead Developer of ASTRA – Canadian Centre for Cybersecurity
45. Angela McAllister – Government Cyber-Security Training - Canadian Centre for Cybersecurity
46. Jacques Trottier – Transport Canada - Manager of the Automation Center of Excellence
47. Najah Mary El-Gharib – PhD (Candidate) – Researcher - Process Mining and RPA - UOttawa
48. Alec Blair – Enterprise Architecture – Alberta Health Services
49. Don Clysdale – Fujitsu – Chief Technical Architect – Federal Government & The Open Group
50. Caleb Walker – WithYouWithMe – Senior Vice President of Strategic Pursuits
51. Dr. Robert Weisman – Professor - University of Ottawa / ISACA / AEA / The Open Group
About the organizer
Robert Weisman PhD, PEng, PMP, CD President ISACA Ottawa Valley and President AEA Ottawa-Gatineau Chapters