4Xperience Bootcamp is a workshop to learn and put your Customer CX, Employee EX, Brand BX or Innovation IX Experience plan into action!
About this event
If you are responsible for driving and implementing customer experience transformations in your organization and need a hand to take your plan into ACTION, this interactive workshop is for you!
By attending the 4Xperience Bootcamp workshop you will gain professional training in the 4Xperience pillars (Customer, Employee, Brand and Innovation) and leave with a PLAN OF ACTION to move your experience design forward.
The workshop topics may include (based on the attendees key-interests):
- Voice of the Customer (VoC) framework
- Metrics and how to go beyond them
- 7 steps to map the customer and employee journey connection
- Survey design best practices and closing the loop
-4 Steps to design-thinking methodology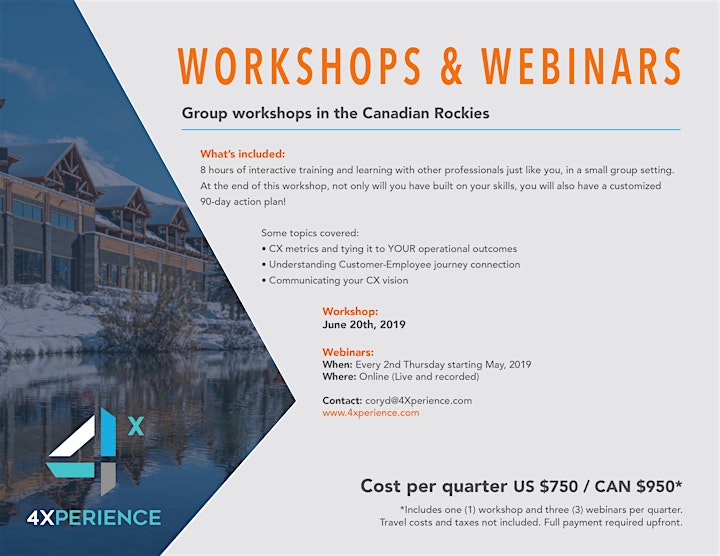 Want a deeper dive and take a 90-Day Bootcamp?
Contact us to inquire and talk about your goals: coryd@4Xperience.com
This package includes:
- Baseline current state assessment to set your 90-Day goals
- 12 hours of consultation (weekly 1-hour consultation sessions)
- 3 Webinars
- Event pass for the 8-hour workshop on June 20th in the majestic Canadian Rockies!