Event Information
Refund policy
Refunds up to 7 days before event
Eventbrite's fee is nonrefundable.
5-hr Opening your Private Practice as a Registered Psychotherapist, Counsellor and Social Worker is the best move after graduating!
About this event
1-day 5-hr
Opening your Private Practice as a Registered Psychotherapist, Counsellor and Social Worker is the best investment you can ever make!
This 5-hour workshop will leave you confident that at least the first step has been taken, you have a plan of action, and you are now one educated prospective business owner. This is good for anyone opening a private practice in the industry anywhere in the world.
In this workshop, we all work collectively to figure out what we need to start the business, how to target our market, brand our private practice, create marketing campaigns, meet the regulatory guidelines, insurance, retention, software, emails and so on.
We would also work on everything from registration to website to marketing to CRPO approved progress notes, supervisor, direct client hours, email formats, communication with clients, customer service versus therapy work, and so much more.
This will be a workshop where we open the business collectively. Instead of just talking, we will be doing it. A simulation of sorts, you will know what to do when the time comes to LAUNCH your business. There are a lot of things to do in the background before you launch. We have to work on things such as registration, marketing, learning about our own focus in terms of modalities, getting ready to launch and expect neccessary changes to be made and confront them head on without being scared of risk or change.
You are basically birthing your new baby, or your new company. There are lots of things to cover and a lot of those things come up during the process itself. This is why I want to work with you in the workshop collectively and on a one-on-one basis. I will be taking myself around the 'room' per say and answering questions you may have in the process as we work on opening the business live.
We will also have a question-and-answer segment twice in the workshop. You will be given a particular time in which to ask your questions within a considerate time frame.
If you live in a different province, not to worry. We will work with you in figuring out the best business strategy there, along with other peers who may be able to share their experience. If you live in a different country, again, not to worry. All we need to know is the regulatory body in that area, if any, and work with their rules. It is not a big deal at all. Business is universal, it is exactly the same procedure to open one anywhere in the world.
Who am I? What can I teach you?
My name is Maryam Raquel Shirazi-Soteldo. I am currently a Registered Psychotherapist (Qualifying), a Certified Canadian Counselor, an Applied Behavioural Analyst, and a Project Management Professional. I have being the top researcher for Academia.Edu since 2010. I have been running and operating a Business Plan Writing business since 2010 under the name of Toronto Creative Writing Services, that continues to run today. I graduated from Yorkville University's Masters of Counseling Psychology program in March 2020. It took me about 5 years to complete that. I was running the business from the very moment I graduated. I never applied for a job with any agencies. I opened my own practice and today, almost the end of 2021, I have my full practice and I am looking to teach others how I did it. I have been teaching people about business plans for more than a decade now and my private practice is just one of the ways to show my skill set in the industry.
I have been working with organizational or business psychology for the last 12 years. I have been observing the market map from different psychological lenses. I have been testing many marketing strategies across the industry, with different target markets, at different targeted hours, in different strategic ways with a separate approach. My market research has now evolved and it includes the private practice as a psychotherapist sector since I have been able to manage its birth and current stability, with incredible feedback from supervisors, since 2020 (almost 2 strong years). I want to share my information with you and maybe help you in birthing your own beautiful and successful private practice.
My future goals include opening a clinic by 2025 and having several RPs and student interns work there. I am also planning on becoming a supervisor for RPs after attaining my doctorate at Yorkville University starting in 2022.
Sources:
A lot of the stuff I wrote for people and businesses that I managed to open are under confidentiality clauses. However, here is a source with some of the clients that gave me permission to publish the work I ghostwrited online.
Academic.edu My Portfolio
https://yorku.academia.edu/ExpertBusinessPlanWriter?from_navbar=true
All of my current private practice information will be shared in the workshop.
Have an amazing day!
See you on the 21st of November at 9 am SHARP! Let's get to learning!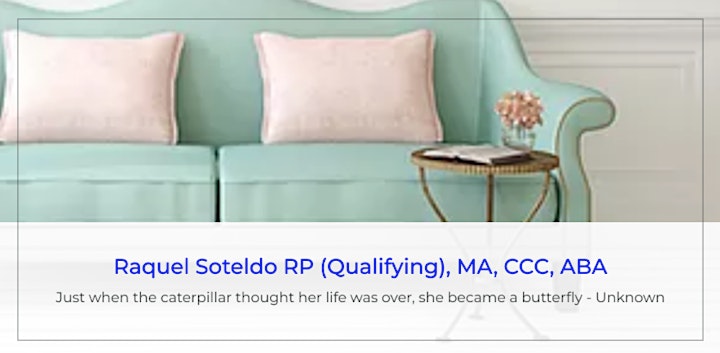 Date and time
Location
Refund policy
Refunds up to 7 days before event
Eventbrite's fee is nonrefundable.
Organizer of 5-hr Psychotherapists, social workers OPEN YOUR PRIVATE PRACTICE Workshop