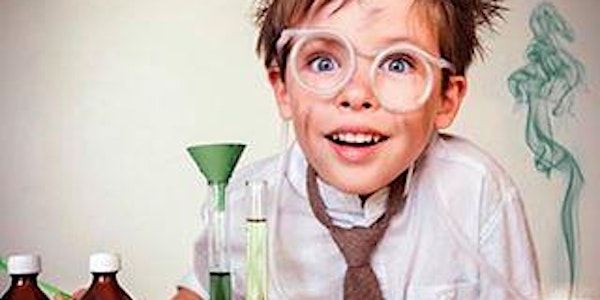 5. JR CHEMICAL ENGINEER: CRAZY CONCOCTIONS. Age 4 - 6 years. BONNIE DOON
When and where
Location
Bonnie Doon Community League 9240 93 Street Northwest Edmonton, AB T6C 3T6 Canada
Refund Policy
Refunds up to 1 day before event
Description
5. JUNIOR CHEMICAL ENGINEER - For ages 4 - 6 years
Wednesday January 9 - February 13, 2019. 6 sessions.
4:30 p.m. - 5:30 p.m.
$120

​​The Junior Chemical Engineering classes introduce our youngest engineers to fundamental concepts of solids, liquids, and solutions. Students investigate the properties of several crazy concoctions and make their own samples of bubbles, play dough, flub, and more.

Bubble Bliss– Students will explore properties of a liquid during this Bouncing Bubbles lesson. They will experiment concocting two different bubble solutions to determine which one produces stronger bubbles.

Foaming Fun – Foam can have properties of both a liquid and solid. During this lesson, students will create and investigate different solutions of foam and analyze their properties. Prepare to make a mess!

Presto-Chango Dough – Students will have the opportunity to make their own play dough using simple household materials. Students will learn how different materials react chemically and how they can change the physical properties of their Presto-Chango Dough!

Playful Polymers – In this activity, students will be able to manipulate the material properties of glue. By combing glue with different solutions, students can explore processes needed to create new materials. Can students turn glue into Play-Doh, slime, or bouncy balls?

Ice Cream Factory – During this activity students will explore the freezing processes of ice cream. After their first batch, students will manipulate the process to see if they can reduce freezing time. Students will have a multiple chances to improve the properties of the ice cream.

--------------------------------
Bonnie Doon Community League is partnering with "Engineering For Kids - Edmonton" to bring Science Technology, Engineering and Math (STEM) programming to Bonnie Doon Hall for 4 - 12 year olds this Fall.

Engineering For Kids' goal is to help kids have fun in an educational way, while expanding their horizons into the rewarding world of STEM. Young engineers will have the opportunity to design, build, test and refine their own creations in a safe and fun environment.

All classes will take place at Bonnie Doon Hall, 9240 - 93 Street, Edmonton, Alberta, T6C 3T6.
Please bring indoor shoes to change into so that we keep the floor clean for the yoga class later in the evening.