Location
6680-8181 Cambie Rd.
6680-8181 Cambie Road
Richmond, BC V6X 1J8
Canada
5 月份溫哥華佛光山共修法會預約 (現場) Vancouver Fo Guang Shan May Registration for Dharma Service (In Person)
About this event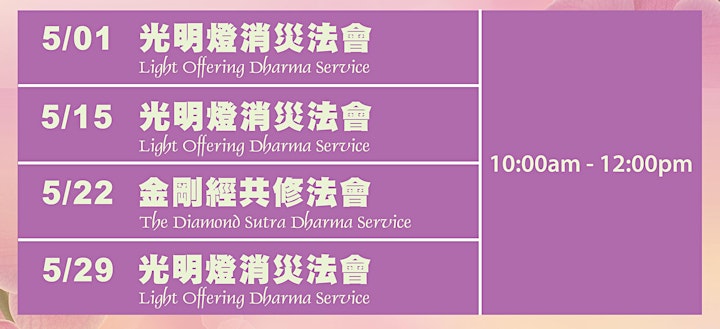 請閱讀以下說明後,點選右上方紅色標簽"Select A Date"進行預約。
Please first read the information below, then click on the red button "Select A Date" to register.
週日共修法會預約 教學影片
上網預約電子票注意事項:
您至少打過**兩劑疫苗**再上網預約。
電子票採用實名制,**一人一票**,限登記者使用。
預約時間在法會前一天中午12點截止,額滿不再受理。
重複登記者將被取消,恕不另行通知。
如果您幫他人登記,請用他們的名字及電郵登記。如果您用自己的電郵幫別人登記,請把電子票轉傳給他們。
來寺時請出示電子票,並請至少提前20分鐘出席。
如果您要取消預約,請事先聯繫我們,或者自行上網取消預約
其他事項:
若有發燒、咳嗽等症狀請暫時在家休息。
入寺前請將隨身物品放置客堂,並著海青搭縵衣進入大殿。
入寺請出示疫苗注射證明、戴口罩、測體溫、洗手,登記個人資料,方才進入。
**請全程戴口罩**。
五觀堂和圖書館暫時關閉。
週日下午不開放。
洽詢電話:604. 273. 0369
電郵:vanibpsbookings@gmail.com
謝謝您的合作!
溫哥華佛光山 謹啟
--------------------------------------------------------------------
In-Person Dharma Service Participation Ticket Registration:
You must have received at least 2 vaccination doses before you register.
Please register 1 ticket PER PERSON for each Dharma Service you want to participate in (Please view the image of the schedule and select the date you want to register for).
Registration for Dharma Services will end at 12PM the day before, once all tickets are gone, we will not accept any more registrations.
Please do not register for more than 1 ticket per person. Doubles will be canceled without notice.
If you are helping others register, please register under their name and their email, otherwise we will cancel your ticket. (In the case you are using your own email, please ensure the ticket goes to the other person in order for them to enter the temple).
Please actually use your ticket. If you do not show up you are keeping other people from participating in-person.
If you cannot make it to a Dharma Service you have registered for, please contact us at least one day before to cancel your ticket or cancel your ticket online.
On the day of, please have your ticket ready for check-in at least 20 minutes before the start of the Dharma Service, and follow the instructions of our staff upon arrival.
Please follow our Covid-19 Prevention Regulations:
If you have a fever, a cough, and other symptoms of Covid-19, DO NOT come to the temple.
When you arrive please provide proof of vaccination, wear your mask, check your temperature, use hand sanitizer, and sign-in.
Please leave your belongings and clothes in the Guest Room, and put on your chanting robes before entering the temple.
After you enter the temple, keep your mask on at all times. Eating and drinking is prohibited.
Please leave the temple after the Dharma Service ends.
Dining Hall is closed and lunch will not be provided.
Temple is closed on Sunday afternoons.
If you have any questions regarding how to register for a Dharma Service, please contact us at:
Contact Number: 604-273-0369
Email: vanibpsbookings@gmail.com
Thank you for your cooperation!
Sincerely,
Vancouver Fo Guang Shan