About this Event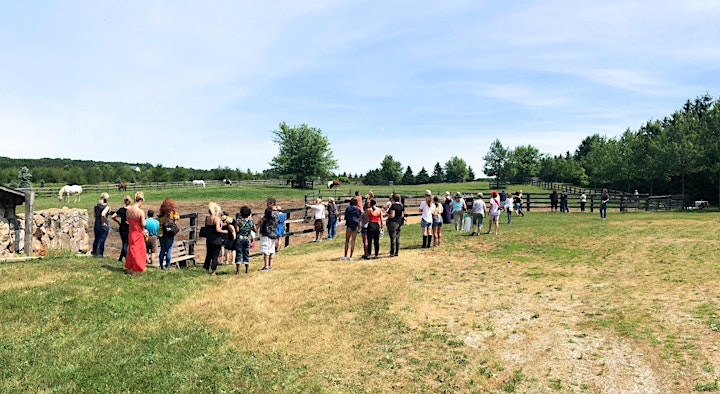 YOU'RE INVITED!
Join us as Liberty Lane celebrates our milestone 5-Year Anniversary!
The crisis we've all experienced in these last few months has been extremely challenging and stressful for everyone. If you're yearning for some peace, presence connection and FUN, we invite you to come out to unwind, breathe and enjoy an inspiring and magical afternoon in a serene environment. You'll have the opportunity to meet each of the 8 members of the Freedom Herd, including our newest addition, Havoc, who arrived on April 2.
WHO ARE WE AND WHAT DO WE DO?
My Dream Team and I join forces to help people understand and connect with who they really are - and what they are truly capable of. Most of these magnificent beings are former rescue horses and you'll learn about their challenging and traumatic stories (and some of mine), as well as their resiliency, strength and purpose. You'll also experience a taste of the profound power and magic of the life-changing work we do together.
Over the last 5 years, we have been continuously building a strong foundation as our bond, trust and connection has deepened and expanded through our challenges together (including 3 moves). The outcome of work is evident as clients experience relief in the form of results that are more immediate and more permanent than traditional therapy or coaching, which saves clients hundreds of hours, thousands of dollars, and immeasurable emotional suffering. As a result of working with us, our clients have quit uninspiring jobs to launch their dream businesses, released anti-depressants and addictions, left unhealthy relationships, and created lives of meaning and freedom.
Enjoy stories of how we have touched hearts and changed lives by offering clients a safe space, helping them to overcome fears, navigate through crises, experience massive perspective shifts, and access the clarity, courage and confidence to pursue their dreams.
Who knows - one of these majestic beings may even want to make sure that YOU receive a powerful message. If your soul has been craving some meaning, magic or rejuvenation, you won't want to miss this beautiful and celebratory gathering. We look forward to welcoming you and sharing a magical afternoon together as we celebrate this special milestone!
PAY IT FORWARD
This year, we are receiving contributions which are much appreciated. 100% of the proceeds will go towards the horses' care and well-being. PLUS, Mena will MATCH the contributions to subsidize those who are struggling and wish to work with us and do not have the means.
Suggested contribution is $20 per person...AND you have the option to pay whatever you want for your ticket, whether it's less or more. :)
IMPORTANT DETAILS
We will be outdoors and COVID protocols will be in place. In order to manage the numbers, one ticket per person is required (including children). Guests will be required to complete a health form once claiming their ticket.
1:30pm: Meet & Greet with the Freedom Herd.
A demonstration with Havoc as well as a demo with a guest may be offered if the opportunity presents itself. :)
Cake and light refreshments will be served; you are also welcome to bring your own snacks, water bottles, etc.
We will have 2 picnic tables available as well as a couple of benches under shade. You may wish to bring your own lawn chair or blanket.
YOU COULD WIN!
Every individual who acquires a ticket and opts in to the e-mail database will be entered into a draw for a chance to WIN a 1-hour private experience with Mena & the Freedom Herd. Draw will be held on Tuesday, August 11, 2020 and winner will be notified by e-mail.
QUESTIONS?
Call Mena at 416-999-REAL (7325) or e-mail mena@libertylaneretreats.com
For more information and to check out what clients are saying, visit https://www.facebook.com/344617275647855/photos/?tab=album&album_id=594459880663592