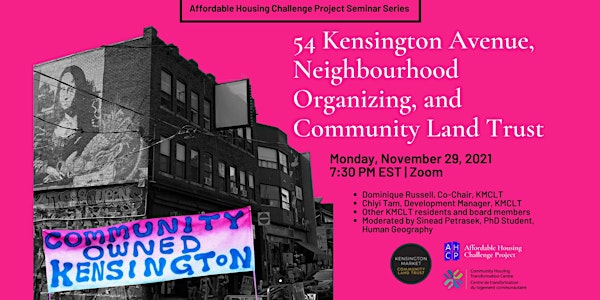 54 Kensington Market, Neighbourhood Organizing and Community Land Trust
An affordable housing seminar presented by the Kensington Market Community Land Trust with AHCP
By Affordable Housing Challenge Project
When and where
Date and time
Mon, Nov 29, 2021 4:30 PM - 6:00 PM PST
About this event
Details:
On June 1st 2021, a self-organized neighborhood group called the Kensington Market Community Land Trust (KMCLT) successfully bought their first building - 54 Kensington Avenue and took it off the private real estate market. For three years prior, the residents of the building, along with their neighbours and local political representatives protested and fought against the illegal eviction of 20+ tenants from this building. Now the building is owned by the community, through this democratically controlled community land trust. Come to our free online webinar to hear how Toronto's locals are fighting for affordable housing, despite seeing neighborhood changes rapidly displacing low-income tenants and those most marginalized. Hear the story of how this was possible, and bring your questions.
Speakers:
Dominique Russell - Co Chair of Kensington Market Community Land Trust (KMCLT)
Dominique Russell is a writer, activist, scholar and teacher. She founded Friends of Kensington Market in 2013, and is also one of the founders of the Kensington Market Land Trust. She is the author of Instructions for Dreamers (Swimmers Group); Kensington, I Remember (Russell Creek Press); Taking the Waking Slow (Balmer Press); and the editor of Rape in Art Cinema (Bloomsbury). Dominique holds a Ph.D. in Hispanic Studies from the University of Toronto and has taught at UBC, York, Western and Brock University.
Chiyi Tam - Development Manager, KMCLT
Chiyi Tam is an urban planner and community organizer raised in Vancouver, on unceded Coast Salish lands and waters, in the translation between places and culture. She is currently the development manager of Kensington Market Community Land Trust in Toronto. She also organizes with Friends of Chinatown Toronto, which is also exploring a community land trust as an anti-displacement strategy for racial & economic justice. She frequently consults with groups regarding social enterprise legislation, governance and cooperative strategies. She aims to reciprocate knowledge into community.
Other speakers from the KMCLT TBA
Moderated by Sinead Petrasek, PhD Candidate, Department of Geography and Planning, University of Toronto
About the organizer
Affordable housing has emerged as a significant issue in Canadian cities and cities globally, over the last decade. The costs of both home ownership and rental housing have increased, and the supply of available rental units in many cities has declined. What impacts is this having, socially, culturally, economically and politically? 
The School of Cities is bringing together scholars from across the University of Toronto, who are researching issues related to housing affordability from different disciplinary perspectives, with the objective of working together to research, discuss and debate the causes, processes, policies and consequences of declining housing affordability.

Scholarly discussion and work will be shared through our monthly Seminar Series and Paper Series to be published openly on the School of Cities website.