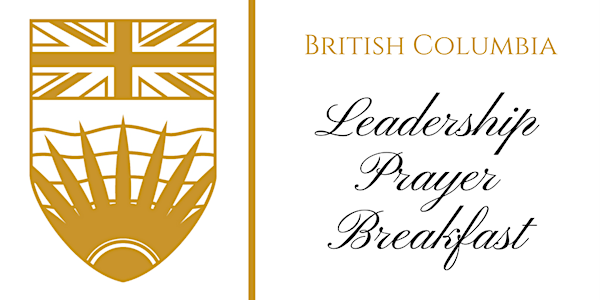 54th Annual BC Leadership Prayer Breakfast
When and where
Location
Hyatt Regency Vancouver 655 Burrard Street Vancouver, BC V6C 2R7 Canada
Refund Policy
Contact the organizer to request a refund.
Eventbrite's fee is nonrefundable.
Description
The 54th Annual British Columbia Leadership Prayer Breakfast
FRIDAY March 6, 2020 – Hyatt Regency Hotel
7:15am to 9:00am
Every spring the BC Leadership Prayer Breakfast attracts people from all walks of life, and together we offer support and prayer for those who serve in elected positions in our community at municipal, provincial, federal and international levels.

This year, we are very honoured to have as our guest speaker Jim Crescenzo, award-winning teacher, filmmaker, and social advocate.
Over the span of his 37 year career in education, Jim Crescenzo has provided many avenues for troubled youth to find their strengths, be it through Dream Big Productions, founded in 1997, his very successful Film and Theatre programs which are recognized among the finest in the country, or the East End Boys Club, with its proven record of keeping marginalized youth in school. Under Jim's guidance, student films and theatre productions have garnered over 700 regional, national, and international awards. The East End Boys Club evolved from Jim's passion to tackle one of contemporary Canada's most misunderstood, mismanaged, and underfunded social issues: mentor-less and misguided young men.
Most teachers welcome retirement after decades of service, but in Jim's case he moved seamlessly into the role of Founder and Director of the East End Boys Club, fueling that unstoppable, neverending force of helping to level the playing field for those less fortunate. Jim continues to deliver quality programs in theatre and film, fitness and nutrition, dance, indigenous culture, mentorship, educational and counselling support, job-entry, and scholarship opportunities under one common umbrella. Jim was able to assemble an impressive and highly professional group of people who work with youth in various capacities to build skill sets that will give them a better future. The extended community has recognized Jim's work and listed below are a few of the accolades his efforts have garnered.
2017 Motion Picture Production Industry Association Community Builder Award
2016 Prime Minister's Award for Teaching Excellence
2015 Peace Medallion from the YMCA of Greater Vancouver
2015 Award for Faith and Community, City in Focus
2014 Italian Canadian Man of the Year
2012 Queen's Diamond Jubilee Medal
2001 Vancouver School Board Recognition of Outstanding Contribution

Single Ticket $79. Table of ten $790.
BC Student Forum
In order to engage the next generation, we offer a special program for students to enjoy the Breakfast, the Provincial Leaders Dinner, and attend the post-breakfast Q&A discussion. This allows the students an opportunity to gather with local leaders who have vast experience in prayer and action, participating in God's work for the good in our city and around the world.
More information and tickets ($40 for Breakfast and $50 for Dinner) can be found here.


Provincial Leaders Dinner
Thursday March 5, 2020 – Hyatt Regency Hotel
6:00pm to 8:00pm
The Provincial Leaders Dinner is a special gathering of the faith community on the eve of the BC Leadership Prayer Breakfast. It is an occasion for people of faith and for those who support the Prayer Breakfast to come together in an intimate setting in order to share dinner and conversation.
We are honoured to have Peter Ash, CEO of Under The Same Sun, join us as our special guest and speaker for the evening.
Peter is a passionate Canadian philanthropist and entrepreneur, who also has albinism. He was successful in finance and real estate. As a result of his disability, Christian faith, and business background, Peter is motivated to do whatever he can to provide resources and assistance to people with albinism who have become victims of discrimination in Tanzania, throughout Africa, and worldwide. He is the founder and CEO of Under the Same Sun, a charity dedicated to helping people with albinism overcome often deadly discrimination through education and advocacy. After 10 years of working with the government, education, and media, 2018 was the first year in recorded history of Tanzania that no one with albinism was killed.
Under the Same Sun has grown from a struggling organization to one with global recognition for its advocacy work. Nearly 10 years on, Peter attended the Geneva Convention for Witchcraft and Human Rights Experts' Workshop last month to speak on a panel about witchcraft, an issue the United Nations has never tackled before, which brings awareness with it.
Locally he has a passion for the marginalized of society. After his mother died on the streets of Halifax, Peter and his brothers David and Paul built Vivian House in her name in East Van for Hard to House women.
Single Ticket - $100. Table of eight - $800. Tickets can be purchased here.