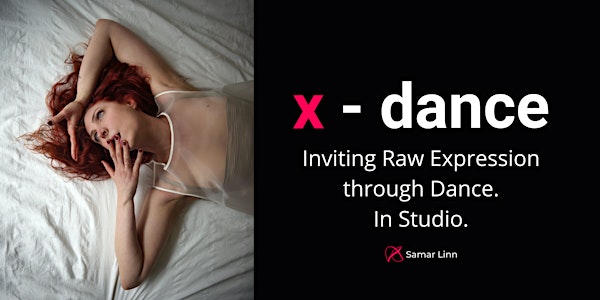 5Rhythms Dance in the Kulturbrauerei Berlin
x-dance is a dynamic practice that fuses dance, meditation and expression. The dance floor is your lab to explore freedom and aliveness.
When and where
Location
Center of Dance Studio A - Eingang Haus 12 Aufgang F - Enter via Courtyard next to Rewe Schönhauser Allee 36 10435 Berlin Germany
Refund Policy
Contact the organizer to request a refund.
About this event
💢 For you who loves music and who is called into a dance that carries us beyond our thinking minds and into the present moment.
👣 x-dance is a dynamic practice that fuses dance, expression and meditation in the same breath. Think of the dance floor as your lab to explore free, creative, spontaneous movements.
🎶 An eclectic mix of music seduces you into dance and into connection with yourself and others. Electronic or House. Drum'n'Bass or Funk. Hip Hop or Jazz.
🔥 Sweaty Dances. Awkward Dances. Dark Dances.
Graceful Dances. Sexy Dances. Playful Dances.
x-dance. Your dance.
🎧 As a certified 5Rhythms® teacher, I use the 5Rhythms map as gentle guide for the music I play. Each of these different rhythms has a special quality. Within each quality, there is a rich wealth of opportunity. We uncover a multitude of ways to express ourselves, to feel, to connect to ourselves and the group. All feelings, all expressions are welcome here.
🎭 When we explore expression through dance, we might learn to feel more at home in our skin. We might discover creativity or insights. We could meet anxiety-relief, happiness, liberation. Sometimes we might discover an unearthed feeling or a piece of ourself. We might leave a class full of energy and liberation. Or in deep inner peace and joy.
⚡️ Maybe you've danced 1000 times, or never before. Wherever, however, come as you are and be ready to dance and meet yourself in ways you might never have imagined.
Details for the Class / What to bring
Wear clothing that is comfortable to move (and sweat) in
Bring a water bottle
Foot wear is optional – indoor or dance shoes only –
most people dance barefoot
No-G, no covid-19 requirements
In light of the latest covid-19 requirement effective April 2 2022, there are no covid-19 regulations for this dance.
Detailed Location Information
Center of Dance - Schönhauser Allee 36, Berlin
Studio A - Eingang Haus 12 Aufgang F - Enter via Courtyard next to Rewe
https://www.centerofdance.net/eingang-entrance
A note on refunds and transferring tickets
Please note that tickets are non-refundable and non-transferable to a future date if you are unable to join. However, you may personally pass on your ticket to someone else. In this case, please let me know via an email the name of the person taking your spot. Thank you for understanding and helping to keep the dance alive!
Keep up with Samar Linn
Telegram - Dance Events Berlin by Samar Linn - https://t.me/dance_5_rhythms_samarlinn
Telegram - KIX - https://t.me/kix_5_rhythms_samarlinn
Instagram - @samarlinn - https://instagram.com/samarlinn?igshid=YmMyMTA2M2Y=
Facebook - https://www.facebook.com/samarlinn5rhythms/