x-dance is a dynamic practice that fuses dance, meditation and expression. The dance floor is your lab to explore freedom and aliveness.
About this event
💢 For you who loves music and who is called into a dance that carries us beyond our thinking minds and into the present moment.
👣 x-dance is a dynamic practice that fuses dance, expression and meditation in the same breath. Think of the dance floor as your lab to explore free, creative, spontaneous movements.
🎶 An eclectic mix of music seduces you into dance and into connection with yourself and others. Electronic or House. Drum'n'Bass or Funk. Hip Hop or Jazz.
🔥 Sweaty Dances. Awkward Dances. Dark Dances.
Graceful Dances. Sexy Dances. Playful Dances.
x-dance. Your dance.
🎧 As a certified 5Rhythms® teacher, I use the 5Rhythms map as gentle guide for the music I play. Each of these different rhythms has a special quality. Within each quality, there is a rich wealth of opportunity. We uncover a multitude of ways to express ourselves, to feel, to connect to ourselves and the group. All feelings, all expressions are welcome here.
🎭 When we explore expression through dance, we might learn to feel more at home in our skin. We might discover creativity or insights. We could meet anxiety-relief, happiness, liberation. Sometimes we might discover an unearthed feeling or a piece of ourself. We might leave a class full of energy and liberation. Or in deep inner peace and joy.
⚡️ Maybe you've danced 1000 times, or never before. Wherever, however, come as you are and be ready to dance and meet yourself in ways you might never have imagined.
Requests due to covid-19
In light of the latest covid-19 requirement effective November 24, all classes fall under the '2G-plus rule'. Please support our time and space together and bring both:
(1) Your Vaccine Card OR Recovery Certificate OR Medical Note [aka '2G' component]
AND
(2) A Negative covid-19 test which are now free at testing centers [aka 'Plus' component]
Additional Information on 2G – any one of the following apply:
Your vaccine card (digital or physical)- vaccine cards are 'applicable' after 14 days of your 2nd shot
Recovery certificate from covid-19 certificate- effective up to 180 days (6 months) from the date
Medical note stating why you cannot receive the covid-19 vaccine and a negative covid-19 test – self tests must be done at the venue
Additional Information on 'Plus' – any one of the following apply:
Schnelltest done at one of the Testing Centers – no more than 24 hours before class begins.
Schnelltests are now free again in Berlin
A self-test done at the location – you must arrive 15 minutes before class begins and take the test at the venue
Self-tests are also available at the venue at a cost of €5 (unfortunately the cost of self-tests have increased and can no longer be offered for free)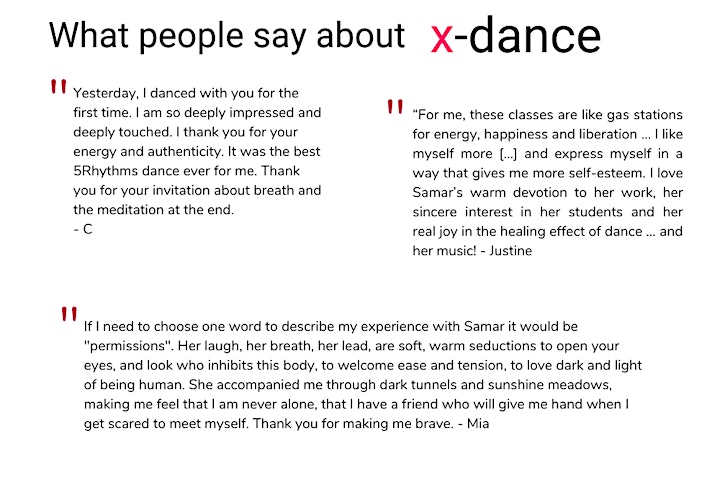 Organizer of 5Rhythms Dance in the Kulturbrauerei
Samar is a certified 5Rhythms® teacher who is also a trained transpersonal and bodywork counselor . She offers a mix of workshops, classes and mentorship programs. Her work encourages freedom of expression, openness towards the dark and light places within us, and how movement (dance) is an incredible resource to our own unique power, creativity and aliveness. Her raw attitude, vulnerability and fascination in the human experience provide an electric, creative and safe environment.
Samar also offers a special and specific regular class, KIX, that draws from her journey of transforming out of multiple addictions and her professional work in the space of addiction and recovery.
Nice Words: samarlinn.com/testimonials
Taste the Music: soundcloud.com/samarlinn