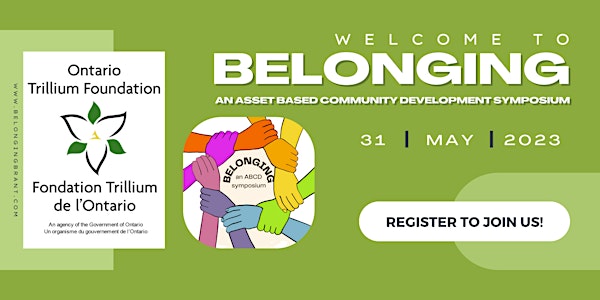 5th Annual ABCD Symposium - A Day of Belonging
We invite you to join the community on Wednesday, May 31st at Mohawk Park Pavilion to celebrate Brantford, Brant, and Six Nations!
Date and time
Wed, May 31, 2023 8:30 AM - 9:00 PM EDT
Location
Mohawk Park 51 Lynnwood Drive Brantford, ON N3S 6S5 Canada
Agenda
8:30 AM - 9:00 AM
Check-in & Breakfast
9:00 AM - 10:15 AM
Welcome!
---
Introductions and icebreakers, networking and connection, start of community art project.
10:15 AM - 10:45 AM
Activity & Snack Break
10:45 AM - 12:00 PM
Keynote Speaker
---
Jon Massimi will engage us on the theme of belonging with a question and answer period.
1:00 PM - 2:45 PM
Belonging Story Sharing
---
Community members share stories on belonging and the seven functions of community.
2:45 PM - 3:15 PM
Activity & Snack Break
3:15 PM - 5:00 PM
Writing Stories of Belonging
6:00 PM - 7:30 PM
ABCD Activities with Jon Massimi
7:45 PM - 9:00 PM
Closing & Prizes
About this event
The 5th annual Asset Based Community Development Symposium is a free, full-day celebration on the theme of belonging. There will be community art, networking, food, activities, and so much more! We're especially excited to welcome keynote speaker Jon Massimi, and we look forward to hearing your stories as well.
We encourage community members to gather and participate in this amazing event as we focus on both our individual and community gifts and assets. Together we can build a stronger community where all feel like they belong.
If you have any questions, please reach out to Belonging Brant by email at belongingbrant@gmail.com or give us a call at 519 758 5394 ext. 204.
Belonging Brant is funded by the Ontario Trillium Foundation.