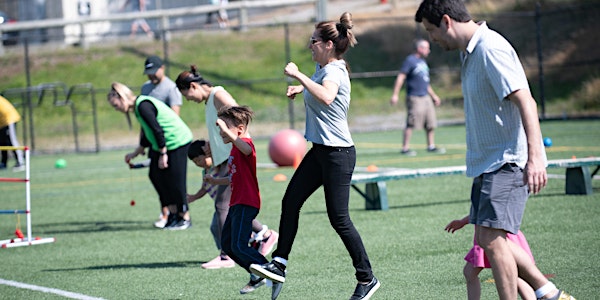 5th Annual Get Out And Play (GOAP) - Family Sports Day
Get Out And Play (GOAP) is a FREE activity and sports day in North Vancouver for families.
When and where
Location
Confederation Artificial Turf 2145 jones avenue North Vancouver, BC Canada
About this event
**When registering for the event, please get tickets for EACH person attending. So, if there are 4 people attending (2 parents and 2 kids), please get 4 tickets.
Get Out And Play (GOAP) is a FREE activity and sports day in North Vancouver for families. It is run by community members and is open for all to enjoy.
Mission: To promote social bonding, confidence and team-building skills for families through activities and sports in a fun and non-competitive environment.
GOAP is a family event and we encourage families to come out together and enjoy the event. All skill levels are welcome! This is most appropriate for parents and children between the ages of 2 and 15.
How GOAP works:
1. Volunteers will be running different activity and sports stations for all participants. These will be open to everyone despite their skill level.
Activities include:
- Soccer
- Bocce
- Frisbee
- Obstacle courses for kids
- 3-legged races for families
- Activity stations for kids and toddlers
- And much more...
2. Parents, teenagers and children will have the opportunity to play with each other or mix and mingle with others.
3. Participants have the opportunity to alternate stations as they wish.
4. Snacks, drinks and prizes will be awarded! 
Visit the website for more details: https://goapsportsday.com/
**Please note: to keep everyone safe, if you have any signs or symptoms of COVID-19/flu-like symptoms, have recently tested positive for COVID-19 or have been in close contact with anyone with a suspected case of COVID-19 or flu-like symptoms, PLEASE DO NOT ATTEND THE EVENT.
Come out and enjoy the event – we'd love to have you! 
How can I contact the organizer with any questions?
Email Reza Ghannadan at info@goapsportsday.com