Description
Hey Kids com on, cast-off at our 5th Annual Kids Fishing Derby!
Saturday May 25, 2019
8:00 am – 12:00 noon
Fishing followed by Prizes, Fish Fry & Shore Lunch at the Boathouse

Registration: 8:00am at Boathouse Fishing Derby starts at 9am along Five Rivers, White Point Beach Resort
For 15 years and under, and those 15 years and younger at heart (but you'll need a license!).
Registration is FREE!
Started to honour our roots as a hunting & fishing lodge, this event has grown to be a great family event! With the assitance of members from the Nova Scotia Guides Association and sponsors, we're ready for another great derby.
Hope you'll join us!
Make it a weekend getaway OR if you live in the area - come out and have fun.
Bring the family for a fun fishing weekend on Five Rivers, here at White Point.
To register, please reserve a ticket for each of the Children that will be fishing in the Derby. If you have any questions, please contact us at 1.800.565.5068 ext 1 or greatday@whitepoint.com For more information see all details online.
Big thank you to our Sponsors and Partners in creating and hosting this fun family event on Five Rivers here at White Point,
Nova Scotia Guides Association, especially Vinal Smith!
MacPhersons Fly and Tackle
Brady Home Hardware Building Centre
Liverpool Home Hardware & Furniture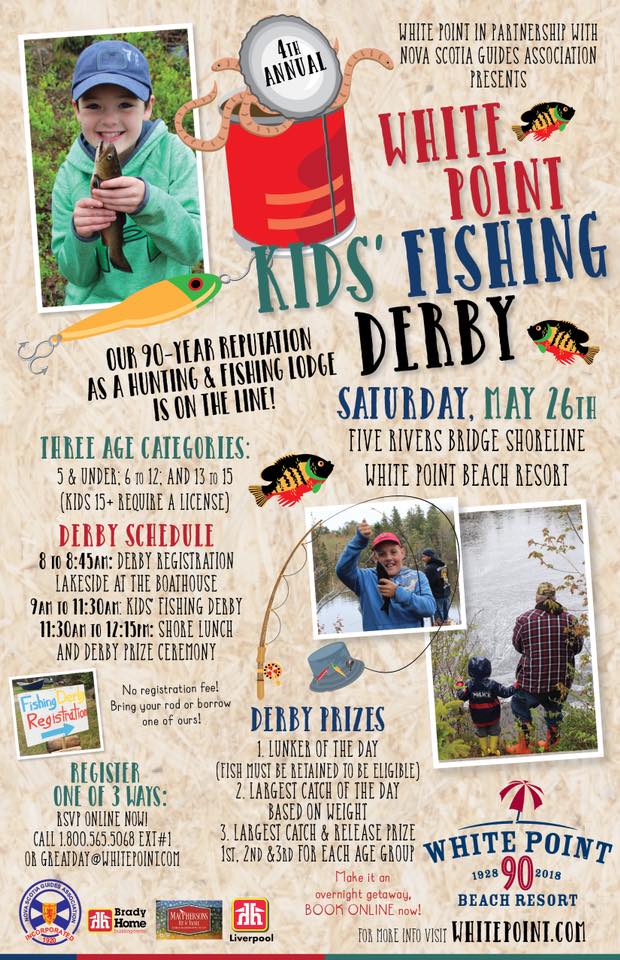 Organizer of 5th Annual Kids Fishing Derby at White Point Beach Resort!
White Point Beach Resort is Nova Scotia's most popular year-round oceanfront beach resort! Located just outside of Liverpool on the South Shore the Atlantic Ocean welcomes and soothes the soul. Join us for 'Rock Fest' in January, Lobster Crawl in February, March Break in March ... try winter surfing, go lobster fishing, we'll leave yoiu wanting s'more!