Description
University of Toronto PGME Residents, Fellows, Faculty and
4th Year Medical Students
are invited to register for the
5th Annual Postgraduate Medical Education Global Health Day
on "Activism"
Opening address by
Mrs. Setsuko Thurlow
Hiroshima survivor. Anti-nuclear weapons activist.
Jointly accepted the Nobel Peace Prize on ICAN's behalf
Thursday, May 31, 2018

12:30PM - 5PM. Lunch and Welcome 12:30PM-1PM.

Li Ka Shing Knowledge Institute at St. Michael's Hospital, 209 Victoria Street

Flexible schedule. Attend 1 or more Roundtable sessions.
Information from j.kopelow@utoronto.ca
Goals and Objectives
The 2018 Global Health Day is planned by a resident committee from across programs and specialties. This Global Health day will include passionate presenters who have established themselves as effective activists. The Global Health Day will showcase how activism contributes to enhanced, equitable and sustainable health for populations across the world.
The specific educational objectives for participants are:
To introduce themes and issues related to global health activism from a variety of perspectives
To develop a deeper understanding of motivations and processes for effective global health activism
To encourage participation and engagement in global health advocacy and activism
To create a forum for peer to peer discussion; to share global health concerns, education, and experience.
Opening Address
Setsuko Thurlow is a Japanese–Canadian nuclear disarmament campaigner who survived the atomic bombing of Hiroshima in 1945. She was approximately 1.8 kilometres from the hypocentre of the blast. Eight of her family members and 351 of her schoolmates and teachers died in the attack.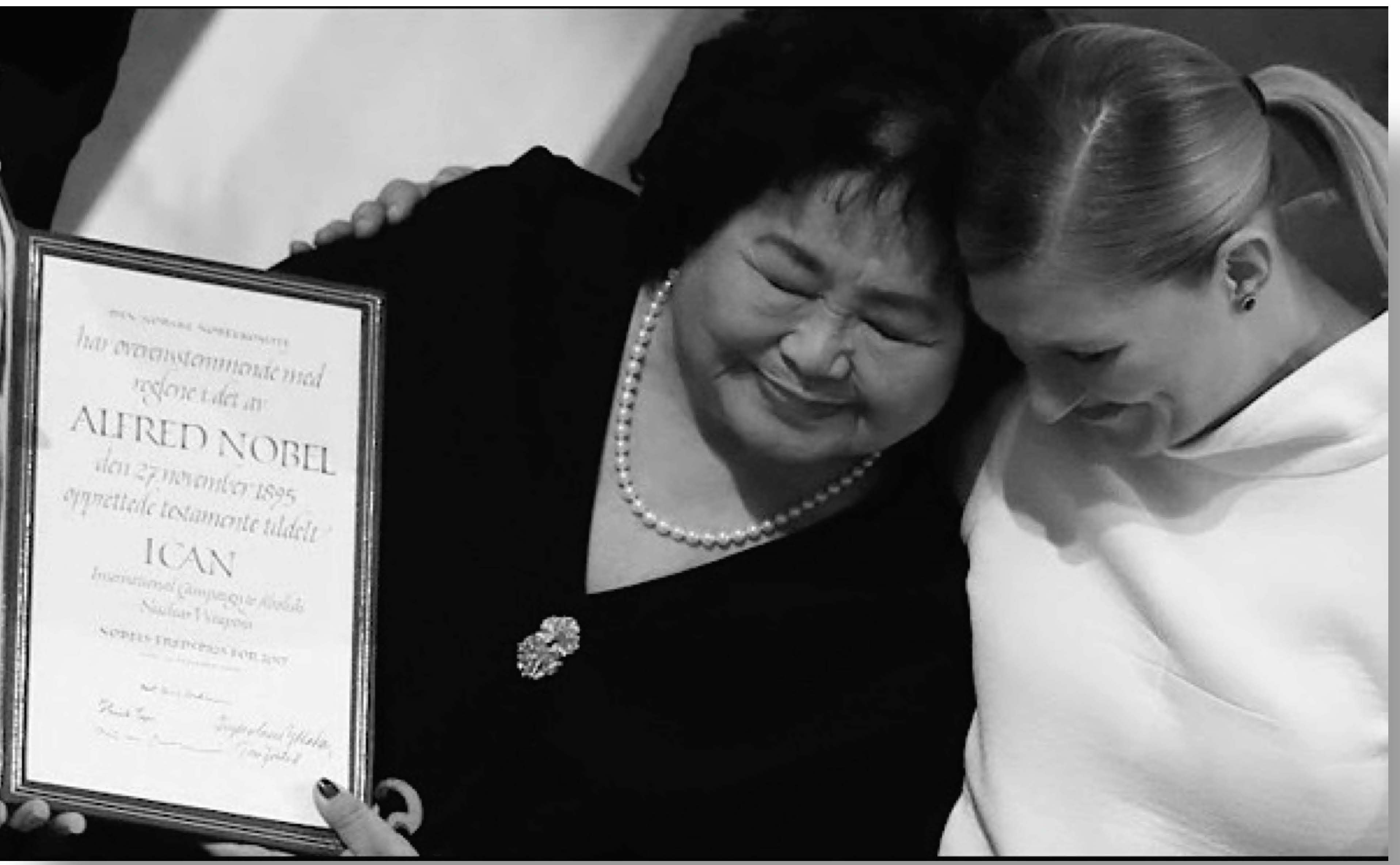 Photo credit: AFP Photo/Odd ANDERSEN

Thurlow is a leading figure in the International Campaign to Abolish Nuclear Weapons, which won the 2017 Nobel Peace Prize "for its work to draw attention to the catastrophic humanitarian consequences of any use of nuclear weapons and for its ground-breaking efforts to achieve a treaty-based prohibition of such weapons".
Thurlow accepted the prize on behalf of the campaign at a ceremony in Oslo on 10 December 2017, (seen in photo) together with Beatrice Fihn, the executive director of ICAN. Her anti-nuclear activism began in earnest in 1954, following the detonation of a hydrogen bomb code-named "Castle Bravo" at Bikini Atoll in the Marshall Islands, dispersing radioactive fallout far and wide. This US weapon was vastly more powerful than the one that had levelled her city a decade earlier. In 1974, deeply concerned that the public had started to forget about the devastating impact of the atomic bombings, Setsuko established the activist organization Hiroshima Nagasaki Relived. For more than 60 years she has worked with like-minded people – scholars, artists, lawyers and educators – to educate and mobilize civil society.
Roundtable Leads and Themes
Community Health Activism
Dr. Gary Bloch is a family physician with St. Michael's Hospital, and an Assistant Professor with the Department of Family and Community Medicine at the University of Toronto. Dr. Bloch is an advocate, educator and researcher on issues related to poverty and health, and on health provider-based interventions into poverty as a health issue. Dr. Bloch founded and chairs the Ontario College of Family Physicians' Committee on Poverty and Health. He is also a founding member of the advocacy group Health Providers Against Poverty. He was instrumental in the establishment of Inner City Health Associates, a group of over 60 physicians working with the homeless in Toronto.
Indigenous Health Activism
Chief Isadore Day is an Anishnabe with strong values and ideals about his heritage and has a strong ability to bridge contemporary mainstream ideals and traditional insights and teachings.His main focus at all tables with government is First Nation rights, health, social, economies, infrastructure, As the Ontario Regional Chief, Chief Isadore Day seeks to establish any available partnership that is consistent to placing the future of the Next Generation as a key priority and beneficiary to collective efforts and respect for treaties on which Canada was founded.
Advocating for the homeless
Dr. Naheed Dosani is a Palliative Care and Family Physician at William Osler Health System and the Inner City Health Associates (ICHA) with special interest in homelessness. Dr. Dosani is passionate about the social determinants of health, inner city health, global health equity and social media.
Building activism into practice with
Dr. Ford–Jones and Dr. Rai
Dr. Elizabeth Ford-Jones is an infectious disease specialist at The Hospital for Sick Children and Professor of Pediatrics at the University of Toronto. She leads Sickids' educational initiative in Social Pediatrics addressing disadvantaged children and youth, recognizing that conditions with social causes and social consequences require special consideration in prevention and management. In this role, she has developed a clinical elective in Social Pediatrics for Medical Students. She is the faculty winner of the 2017 Faculty of Medicine Sheppard Award for Health Equity, Social Justice
Dr. Nanky Rai is a 2017 Family medicine graduate, active in migrant and health justice social movements while living in Toronto, on the traditional Indigenous territory of the Wendat, the Anishinaabek, Haudenosaunee, and the Mississaugas of the New Credit. Her interests include building anti-oppressive medical education and clinical practice as well as health activism. She was the medical trainee recipient of University of Toronto's 2017 Robert Sheppard Award for Health Equity and Social Justice, and also the St. Michael's Hospital's Department of Family and Community Medicine Quality Improvement Impact Award and Resident Advocacy Award.
Physicians for global survival and against nuclear weapons
Dr. Vinay Jindal (TBC) is a family physician and current Board President of Physicians for Global Survival, Canada, He has worked with Doctors without Borders Canada in northern Myanmar (Burma) as a Medical Supervisor focusing on HIV/AIDS, TB and malaria.
Ensuring Emergency Humanitarian Response
Dr. Wendy Lai is a specialist in Emergency Medicine and works at Humber River Hospital, Toronto. She has travelled extensively throughout Australia, Hong Kong, Mexico, Europe and Morocco and worked as a medical student in Chile, Slovakia and along the Thai-Burmese border. Wendy has worked with Doctors without Borders Canada since 2006 and worked in DRC as a medical doctor, in Haiti as the medical team leader in a maternity hospital in Port-au-Prince, she returned to work again in Haiti post earthquake and most recently she worked in CAR as the medical team leader in a secondary health care project. Dr. Lai is President (2017-2020) of the Board of Directors, Doctors without Borders Canada. Always interested in social justice, assisting disadvantaged populations is for Wendy a natural extension of her passion for medicine.
Activism in defence of international human rights
Samer Muscati is current Director, International Human Rights Program at the Faculty of Law, University of Toronto. For over five years prior, Samer was a researcher Human Rights Watch (HRW). A lawyer, documentary photographer, and former journalist, Samer has conducted numerous fact-finding missions in Canada, Nigeria, South Sudan, Syria, Libya, Iraq, and UAE. Before joining HRW in 2009, Samer worked in Baghdad as an adviser supporting the Iraqi government, and as a legal officer in the UN's Serious Crimes Unit in East Timor. He also photographed and edited testimonials from survivors of sexual violence for a book commemorating the 15th anniversary of the Rwandan genocide. Apart from his work in conflict and post-conflict countries over the last decade, Samer was a corporate lawyer at Bingham McCutchen in Boston and articled in Ontario with Barbara Jackman, specializing in immigration, refugee and national security law. Samer holds a law degree from University of Toronto a Master of Laws in international human rights law from the London School of Economics and Political Science.
A Canadian response to the Rohingya crisis with
Mr. Rae and Dr. Islam
Bob Rae is a Canadian lawyer, negotiator and former politician. He was the Member of Parliament for Toronto Centre and was the interim leader of the Liberal Party of Canada from 2011 to 2013. He was previously leader of the Ontario New Democratic Party and the 21st Premier of Ontario, from 1990 until 1995. In early 2013 Rae joined the Liberal Party. On June 19, 2013, Rae resigned from parliament to become chief negotiator for James Bay area First Nations in their negotiations with the provincial government. Rae is a partner of Olthuis Kleer Townshend LLP, a law firm specializing in representing Aboriginal clients.Rae sits as an advisor to Canada's Ecofiscal Commission and was appointed by Prime Minister Justin Trudeau as Canada's special envoy to Myanmar in October 2017 to advise on the Rohingya crisis.
Dr. Nabiha Islam a 4th year Internal Medicine resident at University of Toronto. She is working to combat individual and collective experiences of Islamophobia and bigotry at UofT through her work on the Toronto Academic Health Science Network T(AHSN) Learner Environment Task Force, including implementation of a hijab policy for the OR. Throughout medical school and residency she has traveled to Bangladesh for both clinical and research work with the urban and rural poor, and has most recently worked with Rohingya refugees through the Hope Foundation for Women and Children of Bangladesh. She has also provided free healthcare to Syrian refugees on the Syrian-Jordanian border with the Islamic Medical Association of North America.
Activism in support of refugee health
Dr. Meb Rashid is the medical director of the Crossroads Clinic, a medical clinic that serves newly arrived refugees in Toronto. Dr. Rashid is also the co-founder of Canadian Doctors for Refugee Care, an organization that was founded to advocate for refugees' access to health insurance in Canada and that on 25 February 2013 joined the Canadian Association of Refugee Lawyers in a Charter challenge over federal government cuts to health care to refugee claimants in Canada. Dr. Rashid was on the steering committee of the Canadian Collaboration for Immigrant and Refugee Health, a group that developed evidence-based guidelines for the assessment of newly arrived immigrants and refugees. Dr. Rashid is on staff at Women's College Hospital in Toronto and is affiliated with the Department of Family and Community Medicine at the University of Toronto.
Local and global activism impacting policy, care and
civil society
Dr. Leslie Shanks is the current Medical Director of Inner City Health Associates. Her clinical work in Canada has included Aboriginal communities in northern Ontario and Nunavut, and federal penitentiaries in Kingston. From 2002-2004 she served as the Medical Director at the Sherbourne Health Centre in Toronto and she is also the former Medical Director of Médecins Sans Frontières (MSF) - Amsterdam. She completed her Master's Degree in Public Health at Johns Hopkins University in Baltimore. Her research interests include sexual violence, HIV and MDR-TB in resource-limited settings, evaluation of mental health interventions in humanitarian contexts and prevention of malnutrition.
Your 2018 PGME Global Health Day Resident Planning Committee:
Tehmina Ahmad, Internal Medicine
Lukasz Boba, Vascular Surgery
Shannon Chun, Emergency Medicine
Hourmazd Haghbayan, Internal Medicine
Farah Koda, Family Medicine
Helene Retrouvey, Plastic and Reconstructive Surgery
Amruta Shanbhag, Geriatrics
support from Barry Pakes, Judy Kopelow PGME