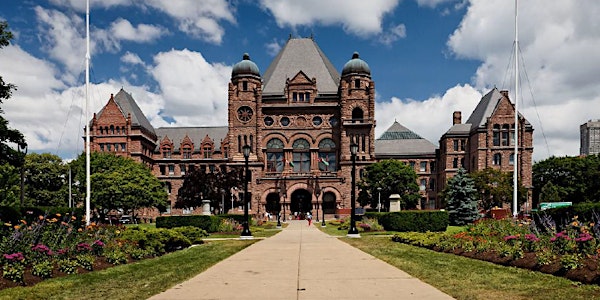 5th Annual Tech Day at Queen's Park
When and where
Location
Queen's Park 111 Wellesley St W, Toronto, ON Toronto, ON M5S Canada
Refund Policy
Refunds up to 30 days before event
Description
This is the 5th Annual Tech Day at Queen's Park. The day will include one on one meetings with MPPs, Staffers and other stakeholders from the Ontario tech community. There will be roundtable discussions as part of the program. Tech Day at Queen's Park will conclude with a reception. As part of Tech Day, North of 41 will be releasing its updated "Tech Talent Crisis in Ontario" discussion paper as well as the white paper "Cyber Challenges Facing Ontario". The focus of Tech Day is to bring solutions to the table in order to help solve some of the problems that the tech industry is facing in Ontario.
By being part of Tech Day at Queen's Park, your company has the unique opportunity to contribute towards the awareness and understanding of matters you face that are important to business growth and job creation.
Traditionally, there has been a large disconnect between the tech industry and law makers. Both groups have significant impact but their lines of communication are rarely open the way this day can enable. Tech Day will bridge that gap and facilitate both groups to educate each other about issues that affect each group regularly.

Themes for 2019 Tech Day at Queen's Park:
1) Tech Jobs Agenda (Skills Development and Training)
2) Cyber Security and Privacy Issues
3) Collaborating/Scaling Tech Business Within & Beyond Ontario
---

9:00 a.m. Registration – Location: (Rm 169, 1st Floor, East Wing)
9:30 a.m. Discussing the day's events, advocacy tips etc.

Note: (Meetings with MPPs and Staffers Throughout the Day)
Choice of Activities

1. 10:00 a.m. Question Period: Registration and Attendance
Location: 2nd Floor
2. 10:00 a.m. The Ontario GovTech Showcase (SME Tech Co. & Gov''t)
GovTech Pitch Competition:(Opportunities to Partner with Gov't)
Location: Rm 169, 1st Floor, East Wing
GovTech is defined as the technology infrastructure that government departments use to do their internal work or deliver services to citizens. Canada is quickly becoming a haven for tech companies – and governments are increasingly looking to procure innovative technologies.
Through our pitch series, discover some of the GovTech companies emerging from Ontario. Hear how they can work with Government to create efficiencies and deliver better services to the citizens of Ontario.
11:30 a.m. Lunch Break (Networking Amongst your Peers)
Choice of Activities
(Meetings: Continued with MPPs and Staffers)
1. Broader Public Sector & Non-Profit Innovative Partnerships in Healthcare
1:30 p.m. Roundtable Discussion: (Community Based Healthcare Partnerships)
Location: Rm 169, 1st Flr East Wing
Healthcare in Ontario is going through a significant shift. Broader Public Sector Organizations and non-profits are beginning to look at innovative solutions by coming together to serve the healthcare needs of their community. Whether it be socio-economic health, mental health or physical health, these partnerships are creating social enterprises for hospitals, which in turn has the potential to create alternative funding sources. This discussion is intended to bring stakeholders together to discuss how these organizations have the ability to create strong, effective partnerships to better the communities in which they serve.

Or
2. Reducing Red Tape for Ontario companies to promote economic and job growth

2:00 p.m. Roundtable Discussion: (Making Tech SMEs Prosper)
Location: (Boardroom – Legislative Dining Room)
Hosted together with Minister Sarkaria

In Ontario's tech sector, there is a need to reduce red tape in a multitude of areas; job creation, cyber threat intelligence, overall cost of doing business, etc . It is projected that in Ontario, there will be 88,000 positions that will go unfilled in the tech sector by 2021. As a result, there is a need to reduce red tape to promote reskilling/retraining of Ontario's workforce. Further operational issues to SME's in the area of cyber security are growing yearly and government has to play in a role in reducing red tape to mitigate this risk. Lastly, the overall cost of doing business has to be reduced if Ontario Tech SME's are to compete on a global scale.

3:00 p.m. 1) Break Time/Executive Time
2) Continued Meetings with M.P.P's/Staffers
4:45 p.m. Meetings Wrap-up

EVENING RECEPTION - (Committee Rm. 230)
5:30 pm Reception Opens
6:00 pm Opening Remarks
6:30 pm Networking
7:30 pm Program Ends

---
Supporters :