5th Annual Vintage Prom Toronto
Description

Toronto's biggest Vintage Dance Party, The Annual Vintage Prom Toronto, is back for our 5th year, with another jam-packed night of Vintage themed Music, Dance, Fashion and fun at Toronto's historic Vintage Venue, The Great Hall! This Years event has expanded, boasting TWO amazing event spaces within The Great Hall with exciting themed entertainment from the 1920s to 1970s.
-Discover "The Speakeasy", honouring the Golden Age of the 1920s, 30s and 40s with our (free)1920s Photobooth, Vintage Vendors, Live Bands, Jazz Vocalists and over the top upscale Burlesque (See More info below)
-Rock the Night away in "The Sands Ballroom", with a Las Vegas theme, this event space will transport you to the legendary mid century Ballroom and famous concert hall of The Sands Casino. Featuring Live Bands, DJ's and Singers who are keeping the 1950s, 60s and 70s alive. With non stop music, (free)Las Vegas Photo-booth and Casino style games, you are sure to create lasting memories at this years Vintage Prom! (See More info below)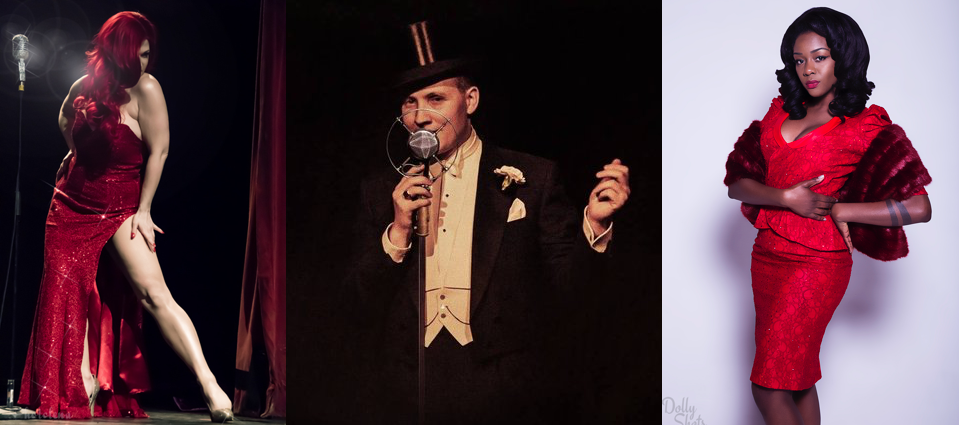 Move throughout both our events spaces all through the night for non stop entertainment, or find a quiet corner in our main hall balcony to cuddle with your prom date!
Whether you missed your prom, need an excuse to get dressed up, love to dance, have an appreciation for classic music and a nostalgia for all things vintage or you just want to live out that romantic dream night straight out of the movies, Vintage Prom Toronto has you covered!

Though we pride ourselves on being the best Date-Night event in the city, we love our singles and will have Heart Pins Available at the door for those who'd like to advertise their availability!
Our Event has no dress code, but we suggest you "Dress to Impress", no one is ever over-dressed at Vintage Prom, pick the era you love the most and go all-out! Check our Instagram to see some of the amazing fashion and entertainment from our past events @VintagePromToronto.
Big Prizes for Best Dressed and Prom King/Queen.
Our event includes guests of all ages from 19+. Whether you're in your 20s or 80s, Vintage Prom welcomes everyone who shares our love of the past. All guests will be ID'd as is the policy of our event space
Doors: 8pm Sharp (Enjoy a Classic Car Photo-Op outside The Great Hall 8pm-9pm with a 1951 Chevrolet Fleetline!)
Ticketing:
Online tickets are available exclusively through Eventbrite.
Retail Vendors for limited hard tickets will be announced in April.
Ticket Options:
-$40 General Admission Tickets, Includes Full Event Pass for Main Hall Stage "Sands Ballroom" ($25 portion) and "The Speakeasy" ($15 portion)
-$60 VIP
op 1(Date Night Package), Purchased in a pair of 2 ($120),
op 2 (Single VIP Party Table) 1 single ticket at Banquette party table $60
Both include Full Event pass for "Sands Ballroom" and "The Speakeasy"
VIP Extras: Romantic Table Seating in the Main Hall right off the dancefloor, Charcuterie (Cured Meats, cheeses, bread and jam) with Vegetarian option and Dessert. Plus access to the exclusive VIP Party Table in the speakeasy that includes performer interaction. (Alert us if both parties are vegetarian, vegan or have any food allergies so we may accommodate) Bottle Service available, inquire for Menu and booking. For VIP groups larger then 2 people, purchase your tickets together and we will seat you all in a table together, if purchased separate simply notify us for seating. Let us know of VIP Birthdays or special events so we can do our best to make it an unforgettable night!
-$50 Gen. Admission Door Tickets, Discounted Door entrance available after 12:30am ($20) for DJ Dance Party Only. Online ticketing will be live until 7pm on April 26th.
TICKETS ARE NON REFUNDABLE BUT FULLY TRANSFERABLE
Please Note the below show schedule may be adjusted as we add entertainment to our event, a full program schedule will be emailed to all ticket holders prior to the event. Though the Main Hall dance floor and balcony can accommodate the max capacity of our ticket holders, the back room speakeasy will have limited room. Please note the acts you want to see in this event space and we recommend you arrive at least 15min prior to ensure your access to the back room speakeasy. We have arranged our entertainment throughout the night in both rooms to make sure you experience a non stop celebration of Vintage Music, Dance, Fashion and Fun.
Main Hall Stage, Celebrating the 1950s, 60s, 70s
"The Sands Ballroom"
Be transported back to 1950s, 60s and 70s with our Las Vegas themed Main Hall Ballroom. Featuring our Las Vegas Sign Photo-booth, Casino-style games, and musical entertainment from Toronto's top Bands, DJ's and Vocalists that will keep us boppin', twistin' and jivin' all through the night!
-8pm-9pm DJ Black Dice, Featuring a dance performance by Black Cat Boogie Rock and Roll dance studio
-9pm-9:45pm: Opening Band TBA
-10:50pm-11pm: Our Host for the evening, Miss Tammy Darling, treats us to her unique and powerful vocal stylings that mix a classic 1950s pop sound with the precision and punch of musical theatre.
-11pm-12:15am: The Dreamboats, With a high energy stage show and a sound that is equal parts Chuck Berry and The Wonders, this quartet of handsome young Canadian boys is making sure that the punch is spiked and the dance floor is hoppin!
-12:15-12:45: Best Dressed Fashion Show/Competition and King and Queen Prizes hosted by Tammy Darling and Vintage Prom producer, Elle Rebel.
-1am to 2am DJ Swankenstein 60s/70s Dance Party
Conversation Room Stage, Celebrating the 1920s, 30s, 40s
"The Speakeasy"
Will Take you back in time as you enter a Prohibition era Upscale Dance Hall. The Speakeasy recreates a Great Gatsby ambiance, reminiscent of the lavish nights in historic Jazz age concert halls like The Cotton Club. Dress to impress, dance and mingle. Enjoy a 1920s themed photobooth, vendors and themed entertainment throughout the night celebrating the 1920s, 30s and 40s.
-8pm-9pm DJ Swankenstein with music from the 1920s, 30s and 40s

-9pm-9:30pm Vintage Vocalist Richard Herfeld and Jazz Pianist Ewen Farncombe transform our speakeasy into the Great Gatsby Ballroom, with the vintage melodies of the golden age they honor classic jazz standards with their authentic look and sound.
-10:00pm The Golden Legs of burlesque herself, Genie Emerald. With a scintillatingly sumptuous spectacle harkening back to the golden age of burlesque
-10:30pm The Sultry Sounds of Bianca Boom Boom. This songbird mixes Big Band and Bop Jazz, with the enchanting rhythm of old Broadway that will get your toes tappin' and hips swingin'
-11:30pm Introducing Jazz vocalist Lauren Boasman, this sonorous-voiced dame harkens back to the powerful female jazz vocalists of the 1940s with a seductive, jaw-dropping sound.
-12:15pm Willy Wonder, Sirlesque at it's best, will bring our crowd back to the Ritz.
-12:30 Charlie Quinn Featuring Willy Wonder and Dr Orifice bringing you a larger then life burlesque fuelled musical number from Bob Fosse's "Chicago".
-12:45-2am Electro Swing Dance Party, Enjoy cocktails, have fun in the photobooth, vintage vendors and dance the night away
For More Information Or to Inquire on Vending or Sponsoring as well as info on Media and Press passes, Please email: VintagePromToronto@Gmail.com
The Great Hall is wheelchair accessible, please notify us prior to the event if you need elevator assistance