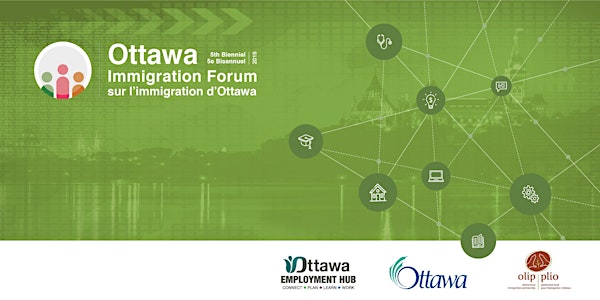 5th Biennial Ottawa Immigration Forum
Location
Jean Pigott Place, Ottawa City Hall / Place Jean-Pigott, Hôtel de ville d'Ottawa
110 Laurier Ave West/110, avenue Laurier Ouest
Ottawa, ON K2P 2H9
Canada
Forum Theme: Planning Together for Inclusive Prosperity
About this event
The Ottawa Local Immigration Partnership is pleased to invite you to join us at the 5th Biennial Ottawa Immigration Forum, hosted in collaboration with the Local Employment Planning Council (LEPC) and members of LASI (Local Agencies Serving Immigrants), and with the support of the City of Ottawa, Immigration Refugees and Citizenship Canada, and the Department of Canadian Heritage.
Date/Time: Monday, November 25, 2019 | 7:30 a.m. to 4:00 p.m.
Location: Jean Pigott Place, Ottawa City Hall
Theme: Planning Together for Inclusive Prosperity
Registration: Please register before 12:00 noon on Wednesday, November 20, 2019
Sign up today as space is limited!
FORUM TOPICS:
How the new federal mandate may affect immigration in Ottawa
The economic impact of immigration in Ottawa and how we can improve it
Good practices to tackle barriers impeding newcomers' optimal economic participation
Dialogues on how governments, business, educational institutions, settlement and other sectors can promote inclusive prosperity to benefit the Ottawa community.
PROGRAM HIGHLIGHTS:
Keynote Speech by Her Excellency Sabine Sparwasser, Ambassador of Germany, on Learning from Germany's Experience
Opening Remarks by Yasir Naqvi, CEO, Institute for Canadian Citizenship
Update from Fraser Valentine, Assistant Deputy Minister, Settlement & Integration Sector at IRCC
A Report from OLIP on Community-Wide Progress
Plenary Session on Optimizing Ottawa's Immigration & Talent Strategies
Matt de Vlieger , Director General, Immigration Branch, IRCC
Sandra Saric, Managing Partner, Inclusive Path, & Co-chair of OLIP's Economic Integration Sector Table
Pedro Antunes, Chief Economist at Conference Board of Canada
Natalie MacArthur, Director, Talent Attraction at Invest Ottawa
Plenary Session on Measuring Newcomers' Economic Integration
Umit Kiziltan, Director General, Research & Evaluation at IRCC
Andrew Griffith, Author & Commentator on Employment Equity, Citizenship, & Multiculturalism
Kareem Al-Essal, Director of Policy & Digital Strategy, Canada Visa
Bolanle Alake-Apata, Economist, Labour Market Information Council
Concurrent afternoon sessions that will address the following topics:
A1: Breaking Down Barriers
Moderated by Adrian Harewood, Co-host of CBC News Ottawa
Institutional biases and capacity gaps pose barriers to not only how we leverage the talents of immigrants, including second generation Canadians, but also how institutions plan and respond to evolving needs and challenges. Prominent speakers will share their experiences in countering such bias and their vision and plans for progress.
A2: Addressing the Unique Barriers Facing Francophone Immigrants
Moderated by Élise Edimo, Liaison Agent, Welcoming Francophone Community, Hawkesbury
The intersectionality of challenges—competing in an English language-dominated labour market and being racialized—places Francophone immigrants in a uniquely disadvantaged economic position. Even when they master the English language, access to economic opportunities is limited due to challenges including delayed credentials recognition, discrimination, and gaps in social connections. Session speakers will share their long-standing experience in facilitating access to employment for Francophone immigrant professionals.
A3: Empowering Immigrant Entrepreneurs
Moderated by Mark Sutcliffe, Ottawa Business Journal
Immigration is inherently entrepreneurial and many newcomers go on to start their own business in Canada. However, just like immigration, entrepreneurship can be challenging, and especially so if you are a newcomer. Speakers will share their efforts on how they support the success of newcomer entrepreneurs in Ottawa and explore what else can be done on this front.
A4: Levelling the Playing Field
Moderator: Heather Sheehy, Associate Assistant Deputy Minister, ESDC
Proactive strategies are being pursued to compensate for labour market failures and to address structural barriers to accessing good jobs and entrepreneurship opportunities. Speakers will discuss innovative and practical strategies to level the playing field for immigrants and other groups as they work to land jobs that are commensurate to their credentials.
A5: Good Practices & Promising Pathways to Employment
Moderated by Corinne Prince, Director General, Integration Policy, IRCC
Ottawa's robust settlement sector plays a major role in facilitating newcomer settlement and integration and is often tasked with finding ways to address newcomer challenges creatively. Building on the work of Settlement Sector partners, this session will bring attention to strategies that target four industries /sectors (construction, tourism & culture, high tech, and health) to lift up strategic insights for wider application.
For more Information on the 5th Biennial Ottawa Immigration Forum, please contact Denise Deby, OLIP Partner Relations Officer at denise@olip-plio.ca
BACKGROUND REGARDING THE OTTAWA IMMIGRATION FORUM
The Ottawa Immigration Forum (OIF) is a biennial gathering of OLIP partners and stakeholders to check-in together, at the end of the Partnership's two-year operational cycle. Introduced in 2012 as part of OLIP's governance, the Forum serves the Partnership as a platform to:
Communicate OLIP partners' collective progress and celebrate successes;
Strengthen shared understanding and collaborative leadership; and
Inspire informed planning and action through best practices, expertise, and dialogue.
--------------------------------------------------------------------------
ème : Planifions ensemble pour une prospérité inclusive
Le Partenariat local pour l'immigration d'Ottawa a le plaisir de vous inviter au 5e Forum bisannuel sur l'immigration d'Ottawa, organisé en collaboration avec le Conseil local de planification en matière d'emploi, et les membres de l'organisme LASI (Local Agencies Serving Immigrants); avec l'appui de la Ville d'Ottawa, Immigration, réfugiés et citoyenneté Canada, et Patrimoine canadien.
Date/heure : Lundi 25 novembre 2019 | 7h30 – 16h00
Lieu : Salle-Jean-Pigott, Hôtel de Ville d'Ottawa
Thème : Planifions ensemble pour une prospérité inclusive
Inscription : Veuillez vous inscrire avant le mercredi 20 novembre 2019 à midi
Inscrivez-vous dès aujourd'hui car les places sont limitées!
SUJETS DISCUTÉS AU FORUM
Comment le nouveau mandat fédéral pourrait affecter l'immigration à Ottawa
L'impact économique de l'immigration à Ottawa et comment pouvons-nous l'améliorer
Bonnes pratiques pour surmonter les barrières empêchant la participation économique optimale des nouveaux arrivants
Dialogues sur les manières selon lesquelles les gouvernements, les entreprises, les institutions éducatives, l'établissement et les autres secteurs peuvent promouvoir une prospérité inclusive pour le bénéfice de la communauté ottavienne.
FAITS SAILLANTS DU PROGRAMME
Discours de l'invitée d'honneur, Son Excellence Madame Sabine Sparwasser, Ambassadrice de la République fédérale d'Allemagne, sur Apprendre de l'expérience allemande
Allocution d'ouverture par Yasir Naqvi, PDG de l'Institut pour la citoyenneté canadienne
Mise à jour de Fraser Valentine, sous-ministre adjoint, secteur de l'immigration & établissement à IRCC
Un rapport du PLIO sur les progrès de toute la communauté
Séance plénière sur Optimiser les stratégies d'immigration et les talents d'Ottawa
Matt de Vlieger, Directeur général, IRCC
Sandra Saric, associé directeur, Inclusive Path, et co-présidente de la table sectorielle sur l'intégration économique du PLIO
Pedro Antunes, économiste en chef au Conference Board du Canada
Natalie MacArthur, directrice d'Attraction du Talent à Investir Ottawa
Séance plénière sur Mesurer l'intégration économique des nouveaux arrivants
Umit Kiziltan, directeur général, Recherche & Évaluation à IRCC
Andrew Griffith, auteur & commentateur sur l'équité en matière d'emploi, citoyenneté & multiculturalisme
Kareem Al-Essal, Directeur Policy & Digital Strategy, Canada Visa
Bolanle Alake-Apata, économiste, Conseil de l'information sur le marché du travail
Séances parallèles en après-midi sur les sujets suivants :
A1: Éliminer les barrières
Modérée par Adrian Harewood, co-présentateur de CBC News Ottawa
Les préjugés institutionnels et les fossés en matière de capacités ne représentent pas seulement des barrières quant aux façons dont nous maximisons le talent des immigrants, y compris les Canadiens de deuxième génération, mais aussi comme les institutions planifient et répondent aux besoins et défis en constante évolution. Des intervenants importants partageront leurs expériences pour lutter contre de tels préjugés et leurs visions et plans pour faire avancer les choses.
A2: Éliminer les obstacles uniques rencontrés par les immigrants francophones
Modérée par Élise Edimo, agente de liaison Communauté Francophone Accueillante (CFA) Hawkesbury
L'intersectionnalité des défis – compétitionner sur un marché du travail dominé par l'anglais et être racialisés – met les immigrants francophones dans une position désavantageuse exceptionnelle sur le marché du travail. Même s'ils maitrisent l'anglais, l'accès aux opportunités économiques est limité à cause de la discrimination vécue par les nouveaux arrivants francophones à Ottawa. Les intervenants sur ce panel partageront leur longue expérience d'appui à l'emploi pour les professionnels immigrants francophones.
A3: Encourager les entrepreneurs immigrants
Modérée par Mark Sutcliffe, Ottawa Business Journal
L'immigration est naturellement entrepreneuriale et de nombreux nouveaux arrivants démarrent leurs propres entreprises au Canada. Cependant, tout comme l'immigration, l'entreprenariat peut s'avérer un défi, et surtout si vous êtes un nouvel arrivant. Les intervenants discuteront des efforts qu'ils ont réalisés pour appuyer le succès des entrepreneurs immigrants à Ottawa et exploreront ce qui peut être fait de plus à ce sujet.
A4: Harmoniser les règles du jeu
Modérée par Heather Sheehy, sous-ministre adjointe associée, EDSC
Des stratégies proactives peuvent être entreprises pour compenser les manquements du marché du travail et s'attaquer aux barrières structurelles empêchant l'accès à de bons emplois et à des opportunités d'entreprenariat. Les intervenants discuteront de stratégies pratiques et innovatrices pour harmoniser les règles du jeu pour les immigrants et les autres groupes alors qu'ils travaillent pour obtenir des emplois qui correspondent à leurs compétences.
A5: Bonnes pratiques & voies prometteuses vers l'emploi
Modérée par Corinne Prince, directrice générale, politiques d'intégration, IRCC
Le secteur solide de l'établissement à Ottawa joue un rôle prépondérant pour faciliter l'établissement et l'intégration des nouveaux arrivants et se trouve souvent en position de devoir trouver les moyens de faire face aux défis rencontrés par les nouveaux arrivants de façon créative. En s'appuyant sur le travail des partenaires du secteur de l'établissement, cette séance attirera l'attention sur les stratégies qui ciblent quatre industries/secteurs (construction, tourisme & culture, hautes technologies et santé) pour discerner des renseignements stratégiques pour une application plus large.
Pour plus d'informations sur le 5e Forum bisannuel sur l'immigration d'Ottawa, veuillez s'il vous plait contacter Denise Deby, responsable des relations avec les partenaires du PLIO, à denise@olip-plio.ca
CONTEXTE DU FORUM SUR L'IMMIGRATION D'OTTAWA
Le Forum sur l'immigration d'Ottawa (FIO) est un rassemblement bisannuel des partenaires du PLIO et des intervenants pour faire le point ensemble à la fin du cycle opérationnel de deux ans du Partenariat. Organisé pour la première fois en 2012 dans le cadre de la gouvernance du PLIO, le Forum sert de plateforme au Partenariat pour :
Communiquer sur les progrès collectifs des partenaires du PLIO et célébrer nos succès
Renforcer notre compréhension commune et leadeurship collaboratif, et
Inspirer une planification et des actions éclairées grâce aux pratiques exemplaires, expertise et dialogue.