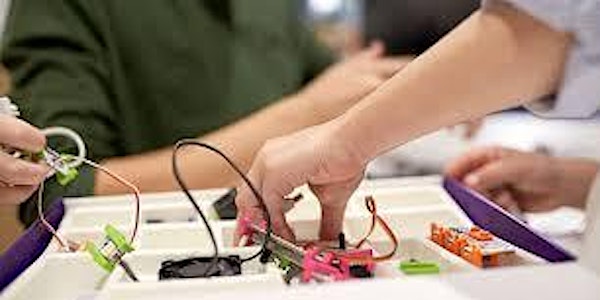 6. ELECTRICAL ENGINEERING - Age 7 - 12 years​. BONNIE DOON
When and where
Location
Bonnie Doon Community League 9240 93 Street Northwest Edmonton, AB T6C 3T6 Canada
Refund Policy
Contact the organizer to request a refund.
Description
6. ELECTRICAL ENGINEERING - For ages 7 - 12 years
Wednesday January 9 - February 13, 2019. 6 sessions.
5:30 p.m. - 7:00 p.m.
$160

The curriculum for the Electrical Engineering program is designed to introduce students to the concepts of circuit design, building, and maintenance through various hands-on activities. Students will walk away with an in-depth knowledge on basic circuits.

Conductor Finder – The Conductor Finder lesson will allow children to test a variety of materials to discover their electrical properties. During the lesson, students will begin to understand that many objects can have an electrical property even if it is not a conductor.

Variable Resistors – This activity will teach students how to build a rudimentary circuit. The students will then test different pieces of lead to observe the positive and negative effects of the different lengths.

Flashlight Builder – During this lesson, students will get to test their knowledge on circuit building. The students will be building flashlights out of a disposable water bottle. By the end of this lesson students will have a very firm understanding of how an electrical circuit works.

Levitrons – This lesson will focus on magnets and how they can be used to raise a vehicle above the ground. By raising a vehicle above the ground, students will discover the advantages that a levitating vehicle can have.

Electric Magnet – In this lesson, students will explore the concepts behind electric magnetism; they will build and test an electric magnet to see how it operates. Students will also test how much their electric magnet can hold.

Snap Circuits – The Snap Circuits lesson focuses on light emitting diodes and what they can be used for in a circuit. LED's have a specific property that makes them different from most light bulbs. The students will test different ways to install the LED's to discover their unique properties.
​
Wind Turbine -During this lesson, students will learn how to transform wind energy into electricity. They will be challenged to design the most efficient rotor blades for their wind turbine while taking into account size, weight, shape, and angle.
--------------------------------
Bonnie Doon Community League is partnering with "Engineering For Kids - Edmonton" to bring Science Technology, Engineering and Math (STEM) programming to Bonnie Doon Hall for 4 - 12 year olds this Fall.

Engineering For Kids' goal is to help kids have fun in an educational way, while expanding their horizons into the rewarding world of STEM. Young engineers will have the opportunity to design, build, test and refine their own creations in a safe and fun environment.

All classes will take place at Bonnie Doon Hall, 9240 - 93 Street, Edmonton, Alberta, T6C 3T6.