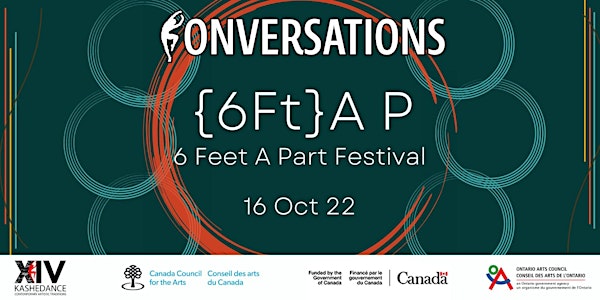 6 Feet A Part Festival
A celebration of resiliency, the arts, kommunity and the culmination of the KasheDance Digital Now Konversation Series.
When and where
Location
Citadel - Ross Centre for Dance 304 Parliament Street Toronto, ON M5A 3A4 Canada
Refund Policy
Contact the organizer to request a refund.
Eventbrite's fee is nonrefundable.
About this event
Join us in space as we animate the Citadel's Ross Centre for Dance along with Artists and Arts Organizations that have grounded KasheDance over the past three years.
This festival features elements from the KasheDance Konversations Digital Now Initiative, funded by Canada Council for the Arts, through which KasheDance has fortified kommunity connections and created art digitally.
You are invited to move, taste, create, witness, ask questions and share with us through a series of activities and performances.
Immerse yourself as we celebrate and honour the joy of bringing kommunity together in space, at last!
Experience and Explore
STUDIO: 40 minute workshops including a Movement Check In with Aisha Nicholson (The Movement Check In), Yemaya Dance Workshop with Dahlin Martinez (Shum de Salsa) and Kashedantek with Kevin A Ormsby (KasheDance).
THEATRE: Experience interactive displays featuring Caribbean Mas Culture, Indigenous Culture, and methods for Archiving Art. Come connect with leaders from across cultures and disciplines!
Celebration of Jamaica 60th Independence and Jamaican Canadian Artists
3:00pm - 4:00pm
The Jump for Jamaica dance opens the celebration; Jamaican creatives honoring their significant contributions to the Arts in Canada.
Under the patronage of the Jamaican Consul General, Lincoln G. Downer, KasheDance invites Jamaican Canadian artists to celebrate Jamaica's 60th year of independence and meet the Consul General. The meet and greet will celebrate the many ways in which Jamaican artists continue to shape Canadian culture locally including Artistic Director Kevin A. Ormsby (a Jamaica 60 Toronto Game Changer, which recognizes 60 of the most influential and impactful Next-Generation and Senior Leaders Of Jamaican Heritage in the Greater Toronto and Hamilton).
Kashe Kommunity Kreation - 'Woven Histories'
Weaving has been an intricate part of many cultures around the world. Particularly in African cultures, weaving is a part of all facets of life; from baskets, bags, fishing nets, kente fabric to hair, weaving brings together the stands of our lives.
For this piece Woven Histories, Kashe Dance company members will engage the wider public to create a woven rug art installation beginning at the The 6 Feet Apart Festival on October 16, 2022 and continuing into April 2024.
Participants, led by crafter Afi Browne, will be asked to contribute to this woven piece responding to the questions, "What is our shared connection, What binds us?"
Following an afternoon of activities, join us for an evening of performances filled with action, emotion and excitement! Together we will celebrate a full year of KasheDance's Digital Now Initiative: Konversations, and YOU - our kommunity.
Link to Performance EventBrite https://6FtAP-performances.eventbrite.ca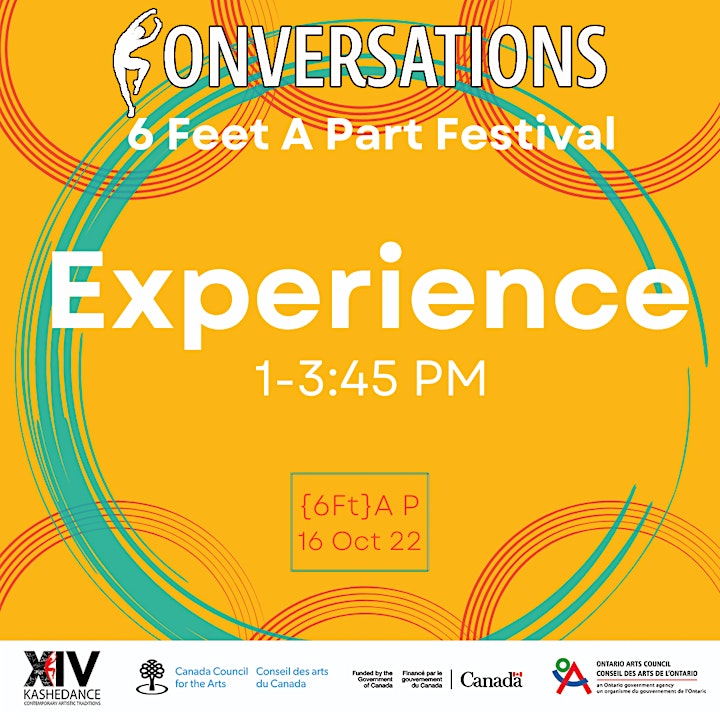 Experience
Often in workshops, we walk in, have a class and leave. We hope that with the activities in the Studio Space you can truly Experience the workshop and interact more casually with the instructor.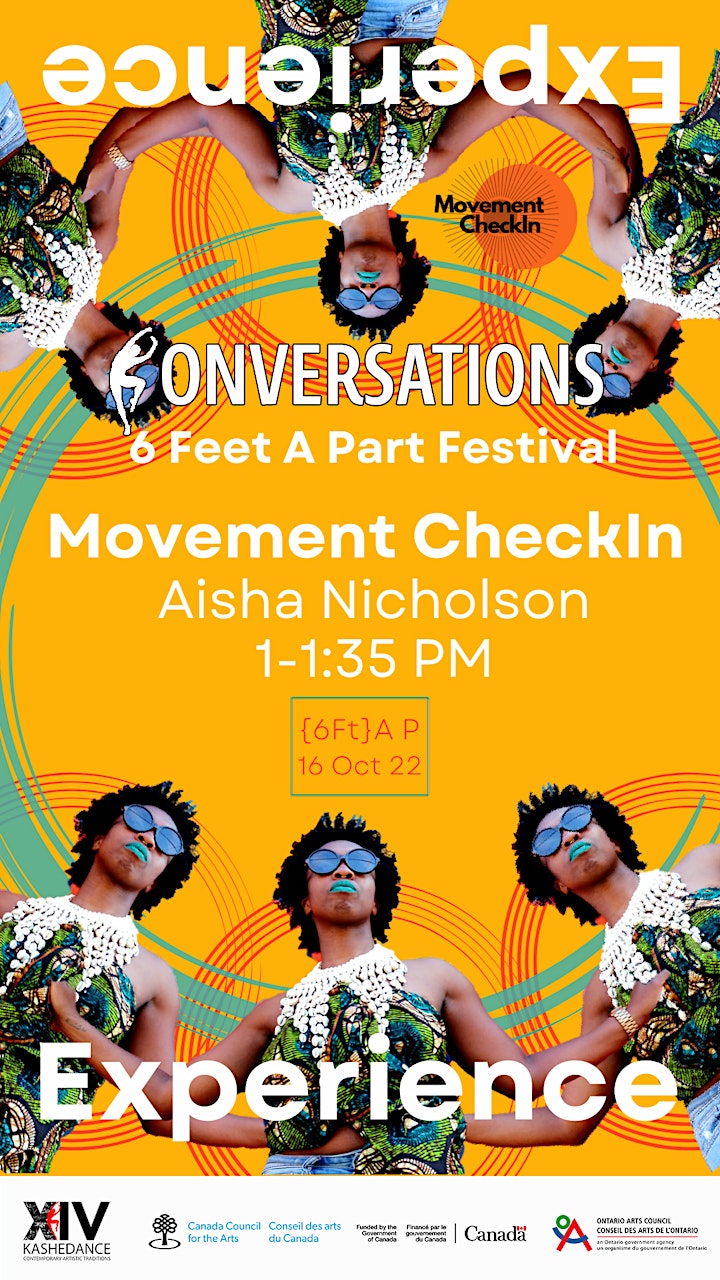 Experience
Movement CheckIn Led by Aisha Nicholson
1:00pm - 1:35pm
Movement CheckIn decreases isolation and improves mental health and well-being. The MCI project allows Black Indigenous and People of Colour (BIPOC) and non-BIPOC artists of diverse disciplines as well as persons working with artists to engage in non-judgmental, safe conversation and activity.
Aisha Nicholson hails from Toronto; creator of the Movement CheckIn a program that brings
artist together on Instagram live. Aisha has worked with choreographers and companies such as Arsenio Andrade, C.O.B.A (Collective Of Black Artist), Garth Fagan, Aria Evans and KasheDance to name a few. Aisha has performed in Obeah Opera for the Luminato festival, the Carifesta XIV festival in Trinidad and Tobago and in 2020 she Choreographed her first inaugural solo called Abandonment.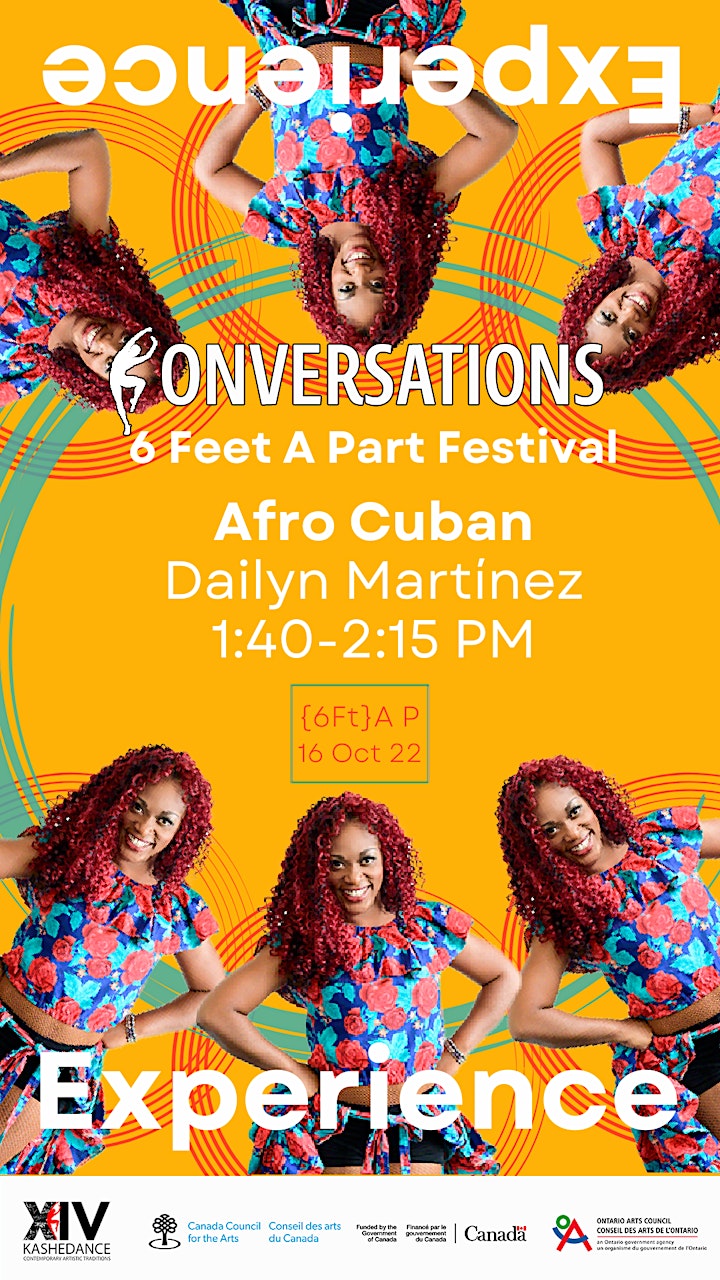 Experience
Yemaya Dance Workshop led by Dailyn Martinez of Shum De Salsa
Yemaya is the mother of all sources of water and all life, she is also associated with the moon and all feminine mysteries. Motherly and strong, profound and unknowable. She is often depicted as a mermaid.
In this workshop we will learn to identify the different rhythms and drum patterns for Yemaya as well as technique and emotion behind each step. Yemaya dance in sweeping circular motions, gathering up the folds of the dress and swaying like a tide, undulating her torso like a wave cresting a reef, and dipping like a duck diving.This workshop is design for any level of dancers, for beginners to learn the fundamentals while advance students can focus on technique and listening to the intrickets of the drumming.
Please bring a long skirt or big scarf (will represent the waves of the ocean)
Biography
Dailyn Martínez born in Havana, Cuba, graduated from the prestigious Escuela Nacional de Espectáculos Musicales, specializing in contemporary dance, musical theatre and cabaret. She performed and served as Choreographer in such prestigious dance companies as Teatro America and Havana Night Dance Company . In Toronto, Dailyn is the Co-Founder /Director of ShumdeSalsa Dance Company, she teaches Cuban Salsa, Son and Afro-Cuban dance to adults and youth at a variety of dance studios, including one of the best Art places in Toronto, Lula Lounge.
Her electrifying dance style seen in many venues in Toronto, leaves an indelible mark with anyone who has seen her on stage and who has learned Cuban techniques in her classes.
Starring in the Award winning "Sunlight Around the Corner, The Golden Sparrow" directed and produced by Alafiafilm company and regularly collaborating with JUNO Award Winner OKAN band and most recently starring with her dancers her own choreography created for the video release of "Hey Jude" featuring Alexis Martinez "singer/music writer"
Dailyn stands out amongst many. People she works with remain loyal and seek her out.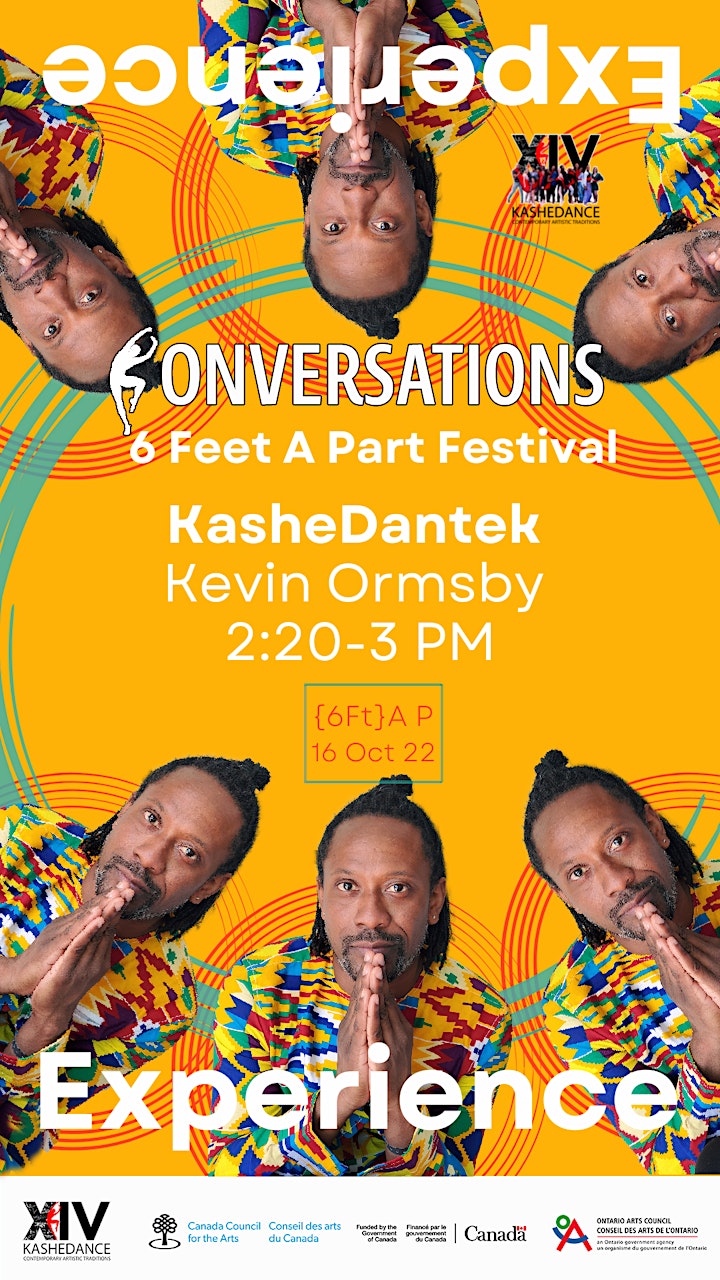 Experience
KasheDantek with Artistic Director Kevin A. Ormsby
Drawing from movement vocabulary from the African Diaspora the workshop will explore African / Caribbean riddims and music along with a brief warm up in KasheDantek (a technique being expanded as the company's movement approach for kreating and moving kollectively)
Biography
Artistic Director of KasheDance and Program Manager at Cultural Pluralism in the Arts Movement Ontario (CPAMO), Kevin A. Ormsby has performed with companies in Canada, USA, and the Caribbean. Recipient of the Canada Council for the Arts' Victor Martyn Lynch – Staunton Award and TAC Cultural Leaders Fellow, he has been a Guest Artist at the Philip Sherlock Centre for the Creative Arts - University of the West Indies (Mona), University of Wisconsin – Madison and Northwestern University. Kevin's research and creative practice through his company's technical approach to dance exists in a space of constant interrogation and navigation of Caribbean cultural nuances towards a methodology of understanding space in creation, research, and presentation. He is on the Boards of Dance Collection Danse and Toronto Alliance for the Performing Arts, and has served on the Boards of Canadian Dance Assembly, Prologue to the Performing Arts, and Nia Centre for the Arts.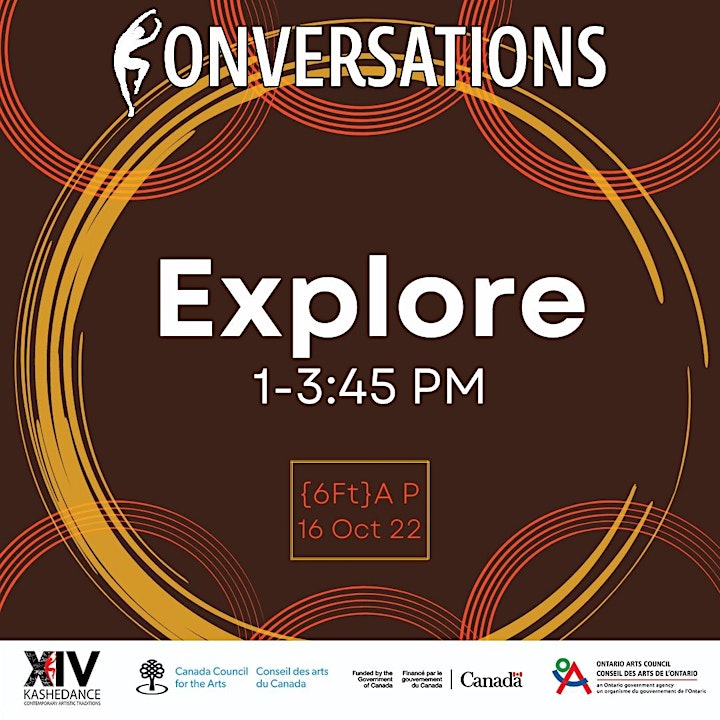 Explore
The theatre space invites you to get hands on in your exploration of the arts - beyond screens and glass; get close, examine, touch and ask questions directly related to what you truly desire to know!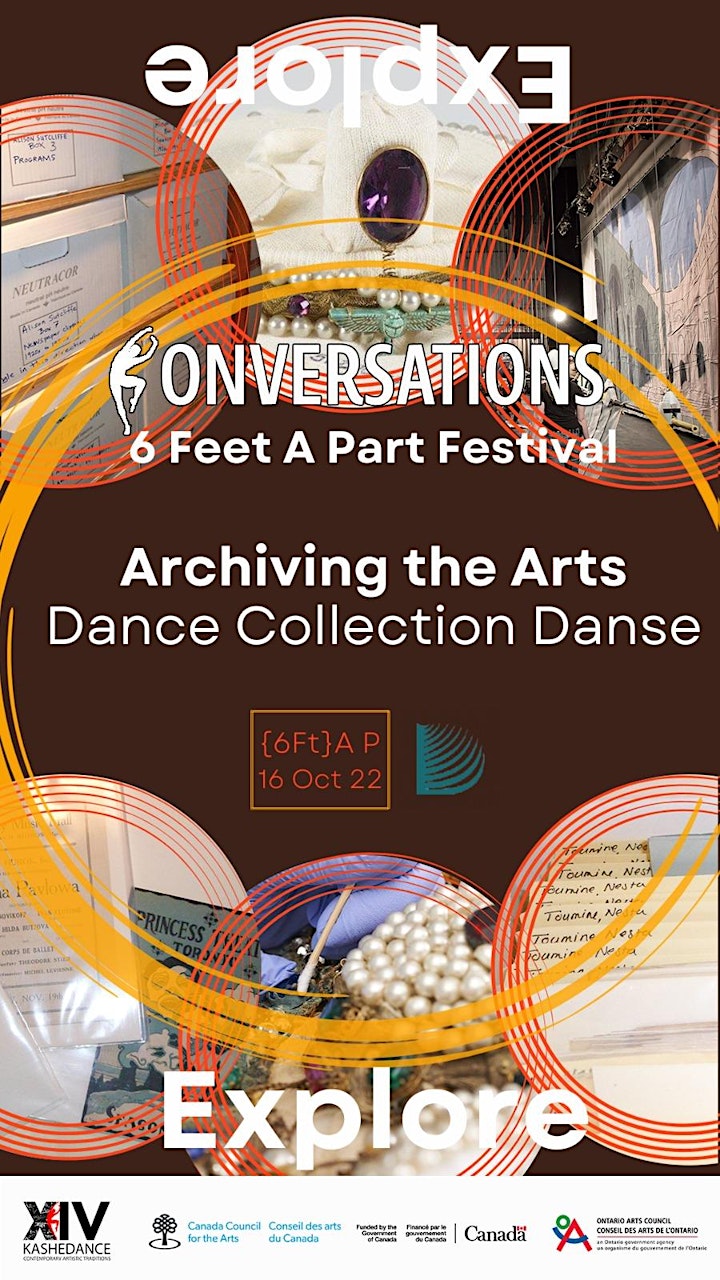 Explore
Archiving the Arts with Dance Collection Danse
See examples of archival supplies and also artifacts featured in special casings and more. Ask about how you can archive art physically and digitally.
Dance Collection Danse, founded in 1986 by Lawrence and Miriam Adams, is a national arts organization that safeguards Canada's dance archives and artifacts and disseminates this history through its varied programs. A unique organization straddling the performing arts, museum, and archival communities, DCD offers the opportunity to understand, investigate, and experience the legacies of dance in Canada. In addition to managing Canada's largest collection of dance materials, DCD shares dance heritage internationally through virtual and live exhibits, lectures, workshops, educational kits, publishing projects, and by supporting research. It has also developed the DCD Discover portal, which will ultimately lead to full online access to DCD's collection as well as dance materials from individuals, and arts and heritage organizations. DCD celebrates Canada's dance legacies annually through the Dance Collection Danse Hall of Fame, which includes a live event and online content.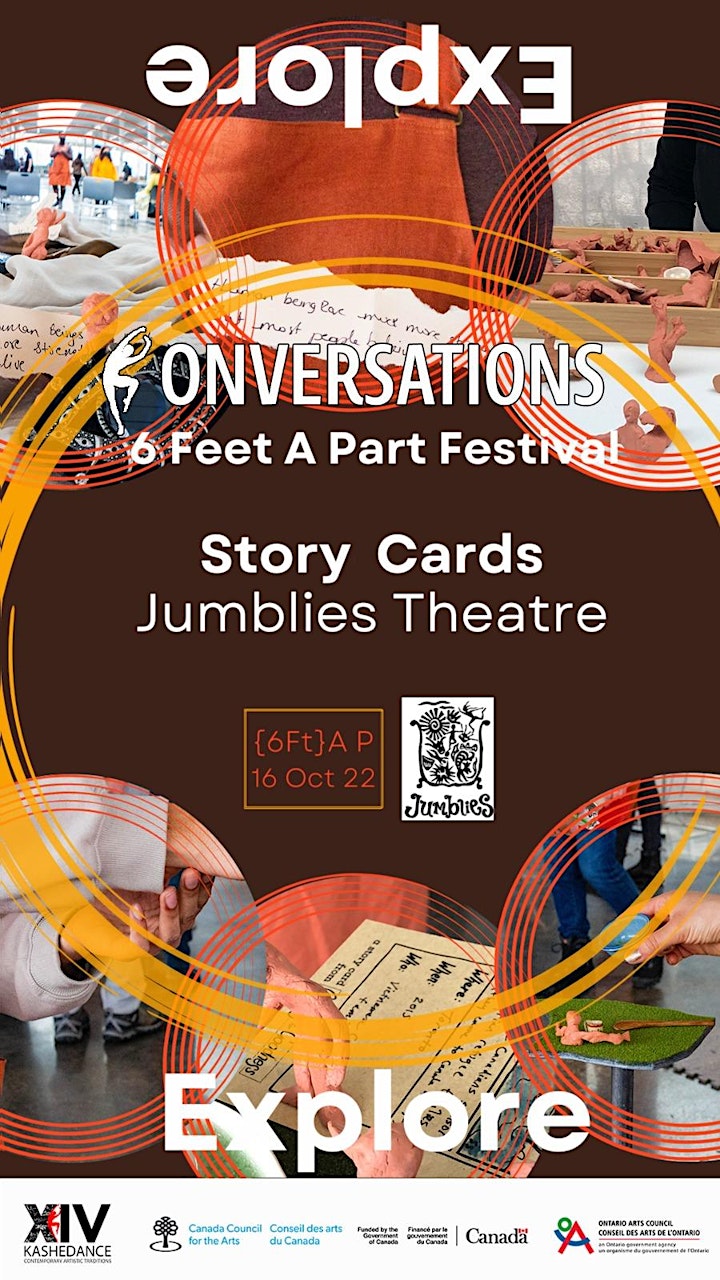 Explore
Story Cards with Jumblies Theatre
A core activity of Jumblies' Grounds for Goodness project are many Story Cards contributed by people across the city and country, sharing instances of "social goodness": personal and historical, epic and mundane. Explore a sampling of these cards and contribute your own.
'Grounds for Goodness' is a multi-year multi-faceted project on the theme of 'social goodness' - why and how people sometimes behave in good ways towards each other in times of crisis and difficulty, especially across group identities. This project grew through stages of research, artistic exploration, community engagement, touring, artistic creation and presentation, while navigating the pandemic. Its most recent large event partners took place in February 2022 at the Small Arms Inspection Building in Mississauga. This two-week event included a multi-media exhibition and installation, pop up performances, drop-in artmaking, daily of short films, storytelling and live-streamed tours, and premier performances of several new music and dance-based performance works, with many partners, including Continuum Contemporary Music and Kashe Dance.
Explore
PowWow with Nichole Leveck Family
Showcasing then explaining our styles of dance and sharing teachings about the drum.
Explore
Mas-Making with Caribbean Canadian Artistic Stars
Displaying elements of Mas (carnival costumes) and demonstration on creating it.
St. Lucian Native Uhanna Charles is a Co Founder/Community Director/Manager of Caribbean Canadian Artistic Stars Inc. (CCAS) a multi service charitable organization (art & sport) that offers programs in communities where she mentors youth in leadership, empowerment, and life skills through work of art & sport.
Uhanna has been involved in paralegal studies, immigration consultancy, leadership, advocacy, management, culture, sports, recreation and entertainment. She is currently President of the Saint Lucia Toronto Association. She has represented Saint Lucia and the SLTA in various capacities. She has been to St. Lucia on research and workshop to revitalize Canadian culture and has held Cultural workshops in Canada to teach and showcase our culture. Her group was honored to host the Governor General St. Lucia. She attains leadership recognition from the T.D.S.B Trustee, Ward 4, Tiffany Ford. Recognition from the Liberal Party 2015. Recognition from Hon. Judy Sgro, M.P York West and Mario Srgio, MPP York West. Lead a team of young youths for the Toronto 2015 Stomp Urban Dance Competition, "Champion Beginners Category".