Description
RIC Centre is hosting a "How to Sell a Product" seminar on "Boost Your B2B Sales" as part of our Expert Speaker Series.
In this seminar, you will learn how to develop and support a sales execution strategy and build a repeatable sales process.

Ready to focus on customer acquisition? This talk will provide you with 6 steps that help you develop and execute a sales plan and identify the resources required to support it. Steps include identifying activities and resources required to execute sales channel strategies, pricing options for higher close rates and how to develop a repeatable sales process.
Talk outline:
1. Re-verify customer validation
2. Positioning statement
3. Sales channel strategy, activities and resources required to implement
4. Pricing options
5. Sales process - Infrastructure and marketing support
6. Metrics
Date: Tuesday, October 17th, 2017
Time: 12:00PM - 1:30PM
Venue: Xerox Research Centre of Canada (Pake Auditorium)
Address: 2660 Speakman Drive, Mississauga, ON L5K 2L1
Moderator: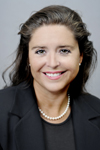 Colleen Cronin is the principal of InsightONE which has been providing business, marketing and sales strategies to the technology and healthcare sectors for the past 9 years. Aligning the execution of business goals, marketing, sales and customer experience at the varying growth stages of her clients is key to their strong business results. Prior to starting InsightONE, she held VP and management roles in marketing and sales for market research and media companies including Pollara Inc., Corus Entertainment and the Canadian Broadcasting Corporation (CBC). Colleen actively supports entrepreneurs as a business advisor for the City of Brampton's Entrepreneurs Connect program and regularly delivers marketing and market research workshops for entrepreneurs.

She is a graduate of Carleton University and Rotman School of Business, University of Toronto's MBA Essentials, Executive Program.
If you have any questions, please contact Robert Iaboni (rob.iaboni@riccentre.com)