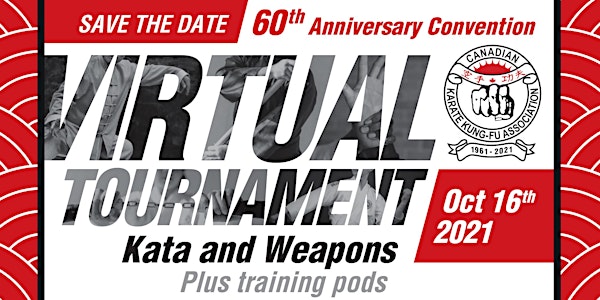 60th Anniversary Online Convention
60th Anniversary Online Convention for the Canadian Karate Kung-Fu Association - Saturday October 16th, 2021 from 1 to 5 PM EST through Zoom
Refund Policy
Contact the organizer to request a refund.
Eventbrite's fee is nonrefundable.
About this event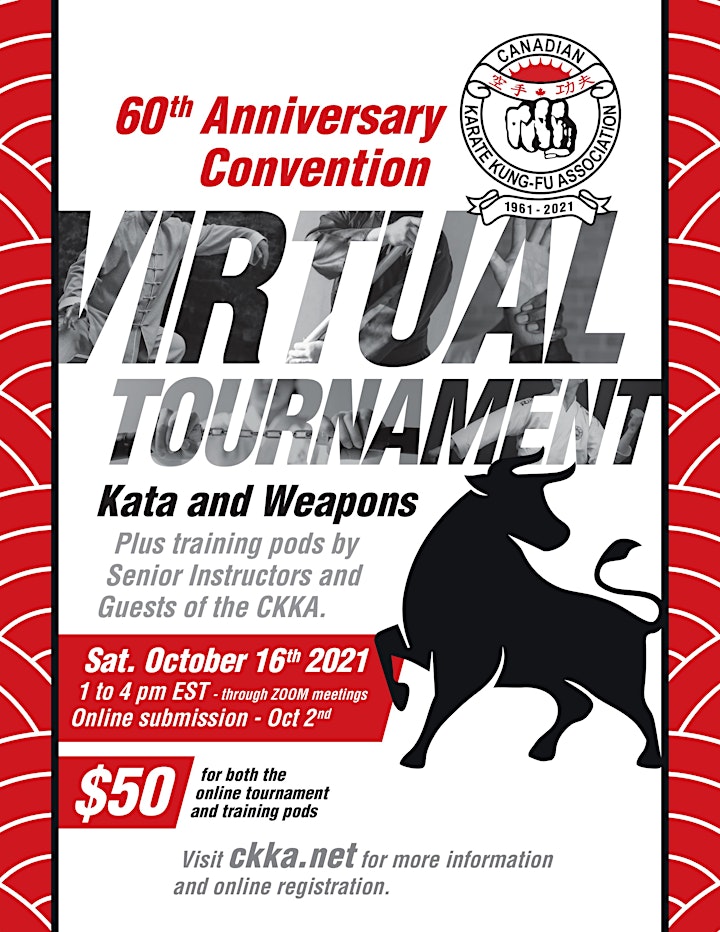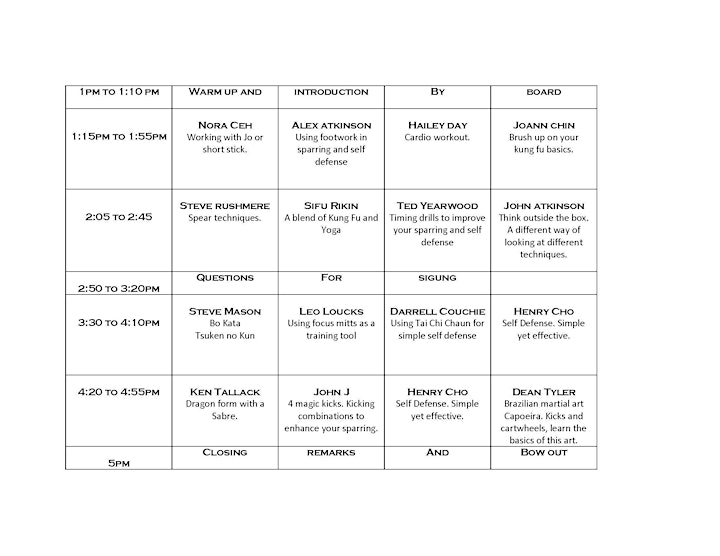 2021 CKKA 60th Anniversary Online Convention Update (October 13, 2021)
Hey everybody! I hope you are all doing well, please give this important event update a quick read below. There is ONLY 4 DAYS until the event! We are all so looking forward to seeing you this Saturday afternoon at 1 PM EST.
Although it will be different this year, we still hope everyone will enjoy the wealth of knowledge that is being shared through all of our wonderful seminars for the event.
Just as we would normally be connected in person from all across the country, we will be doing the same online across multiple computers and mobile devices in many cities, towns, and homes.
Please remember that our event is hosted from Kingston/Ottawa and will run from 1 to 5 PM EST. If you are attending from a different time zone, don't forget to adjust your time accordingly.
We had to make a slight change to the registration cutoff date. Registration now closes at 8 PM EST FRIDAY OCTOBER 15th, meaning there is only THREE days left to register! Anyone who hasn't signed up yet, don't miss your chance! As we can't add any others after the cutoff date. Be sure to share this information and let anyone know of the deadline to join the event.
Anyone who registers for the event will receive their zoom link in the final reminder sent out on Saturday.
ZOOM TIPS:
1. Download the ZOOM Meetings software – easily accessible at https://zoom.us/download this will ensure the program is already installed and working properly on your device before the event.
2. Make a ZOOM Meetings account – while not required, making a free ZOOM account will help reduce your sign-in time and allow you to ensure you make your screen name YOUR FIRST AND LAST NAME to help us sort you into the appropriate seminar rooms the day of the event. You can sign up for an account at https://explore.zoom.us/signup
a. PLEASE NOTE – if you don't make a zoom account, be sure to name yourself correctly when joining into the event on the day of to help sort you into the seminars. Otherwise, we cannot guarantee you will be moved into the correct seminar if "Frank's iPad" for example, is showing up instead.
3. Multiple people on screen at once – please note that if multiple people are sharing one device or screen, we will only be able to move the ONE DEVICE that is signed into the meeting. If there are multiple people in the same household that want to participate in different seminars, you will need to use and sign in with multiple devices with appropriate naming to be moved into your seminar choices.
4. View settings – for the best experience seeing your seminar instructor, use the Active Speaker view. This option can be found and clicked in the top right corner of your screen in ZOOM while the meeting is in progress. This should help give your seminar instructor the 'spotlight' and be the biggest viewable screen for you to see at that time.
5. Mute or turn off your microphone for the meeting – to avoid audio feedback or noise being picked up by nearby rooms or potential family members, please ensure you mute or turn off your microphone for the seminars. This will ensure you hear your seminar instructor and hopefully nothing else.
6. Make sure you have a strong wi-fi or mobile connection – since you will be sharing video with many other persons across the country, a good connection will ensure you aren't lost or dropped out of the seminar. The better the connection, the less potential lag or delay.
a. If for some reason you drop out of the meeting or lose connection, simply join back in using the original meeting link, and we will try to get you sorted back into the seminar as quickly as possible.
If you have any questions or concerns, please do not hesitate to ask us anytime leading up to the event. And if you can, be sure to share the event website and or registration link to anyone else you might think interested!
Don't forget that all of this information is available on our event website, and you must register for the event through our registration website. Please see the links below:
Event Website: https://www.ckka.net/2021-online-convention
This will probably be the last update until the event! So be well everyone, and we will see you all this Saturday at 1 PM EST!
Canadian Karate Kung-Fu Association
---
We have had so many of our great instructors offer to teach training pods, to give everyone more time for training and experience the event, we have added an additional hour for everyone for free!! Please see our latest event schedule below:
1PM to 1:10PM - Warmup, Bow-In, & Introduction
1:15PM to 1:55PM - Seminar Training Pods Round 1 - Norah Ceh (Jo Weaponry), Alex Atkinson (Sparring/Self-Defence), Hailey Day (Cardio Workout), and Joanne Chin (Kung-Fu Basics)
2:05PM to 2:45PM - Seminar Training Pods Round 2 - Steve Rushmere (Spear Weaponry), Sifu Rikin - (Kung-Fu & Yoga), Ted Yearwood (Sparring and Self-Defence), and John Atkinson (Martial Techniques Concepts)
2:50PM to 3:20PM - Ask The Masters Questions for Grand Master Si Tai Gung David Chong
3:30PM to 4:10PM - Seminar Training Pods Round 3 - Steve Mason (Bo Weaponry), Leo Loucks (Focus Mitt Training), Darrell Couchie (Tai Chi for Self Defence), and Henry Choo Chong (Self Defence)
4:20PM to 4:55PM - Seminar Training Pods Round 4 - Ken Tallack (Dragon Sabre Weaponry), John Johanis (The 4 Magic Kicks), Henry Choo Chong (Self Defence), and Dean Tyler (Capoeira Basics)
5PM - Closing Remarks and Bow-Out
---
Your board of directors is pleased to announce our 60th Anniversary Virtual Tournament and Training Pods, Saturday October 16th between 1:00 – 5:00 pm.
Registration for this event will go live on Friday, September 10, 2021. Students can register for open hand and weapons kata in either Karate (hard) or Kung Fu (soft) styles; as well as training pods to be presented online from our instructors. Kata/Forms submissions should be completed by Saturday, October 2nd for judging. Winners will be announced during the online event and medals will be mailed to those winners. Receive a special 60th Anniversary Patch with your registration.
$50 for the online tournament and training pods.
A special session "Ask the Master" will be included in this event. If you have ever had a question to ask Si Tai Gung David Chong or Alex Atkinson (senior member of the CKKA ) now is the time to ask. We requests your questions be submitted ahead of time as this session is only 40 minutes and will be pre-recorded.
Questions should be directed to canadiankka@gmail.com, or can be filled out on your event registration form online.
We would also like to include Student of the Year presentations during our online event. If you are an instructor or club owner, and have a student whom you would like to recognize please let us know. Awards will be mailed to the recipient.
Looking forward to a great event!
Regards,
Your CKKA Board of Directors – Peggy, Marc, John A, John J, Kyle, David and Eva
---
2021 Instructors:
Sifu Jo-Anne Chin -
Sifu Jo-Anne is a 2nd degree black sash in 5 Form Fist Kung Fu in the CKKA.  She has been training for over 20 years.  Jo-Anne started under GM Ron Day at Kitchener Kicks and later moved to Ottawa. She has been training and teaching at Eastwind Martial Arts ever since. She is a Kung fu instructor with Eastwind Martial arts and has been responsible for keeping the Eastwind Kung Fu program running since COVID.
Sifu Jo-Anne's Pod will be for a through lesson on our kung-fu style basics for all beginner or intermediate students to enjoy!
Sifu Hailey Day -
Sifu Hailey Day is a 2nd degree black belt from Kitchen Kicks and has been training continuously in the sport of Shaolin Kung Fu for roughly 16 years. Hailey is primarily a kid's kung fu instructor as well as an intermediate to advanced adult kickboxing and cardio instructor. She most enjoys leading and participating in fun and challenging classes for anyone within the martial arts community.
Sifu Hailey's Pod will be approximately an hour long and all ages and belt levels are welcome. The class will consist of a warmup, stretch, and a circuit style cardio workout covering the legs, arms and back, as well as the abs and core. This workout is best suited towards lower to medium belt levels and will be a good introduction to cardio style workouts.
Nora Ceh -
Nora Ceh began in the martial arts in the early 1990's with Wen-do, a self-defense-based system. Since then, she's had the opportunity to train with the Black Belt Institute. Currently, she's a student and instructor with 3 Fires Martial Arts Academy. She holds black level ranking in Kempo and Shotokan Karate, Kung Fu as well as Iaido and Kobudo.
The Jo, or short staff, is a practical weapon. Because of its medium to long range capability, it offers quick transitions between strikes, blocks, and counters. 
The techniques we'll cover with these drills will highlight how everyday items can be used as a substitute. A well-sanded dowel, that is cut to approximately sternum height can be used. Anything that has a straight handle that's approximately 4 ½ feet long will work as well.
Sifu Steve Rushmere -
Sifu Steve Rushmere is a 6th degree black belt from Kitchener Kicks Martial Arts. He has been training for 38 years in Karate and Kung Fu, the last 5 year he has continued his learning with a shaolin warrior monk from Toronto.
Spear and short stick moves – Poking, spinning, hand manipulation. For this pod you will need a spear or a stick to practice the moves.
Leo Loucks -
Professional kickboxing athlete from 1979-1988, Professional Kickboxing Association World Lightweight Champion 1986-1988. One of only two Canadians to have held world titles in professional kickboxing. In 1971 at age 13 took up sport of Karate, participating in over 400 fights. Fought 25 times as Kickboxer, winning world title on February 2, 1986 at CNE, defeating world champion who had held title for 6 years. Held title for 2 years, with 3 defenses. Held in high esteem by his peers for his work ethic and as a gentleman, both in and out of the ring. Retired at age 29 and joined City of Toronto police force. Has subsequently served with London Police and Ontario Provincial Police. Currently a training officer with the OPP.
Introduction to the use of focus mitts as a training tool for martial artists.
Sensei Steve Mason -
Steve began training in traditional Goju Ryu karate in 1991 in Kingston, Ontario.  In 1993 he started studying Okinawan Kobudo but found a wide and deep curriculum for this art was difficult to find.  After graduating and moving to Ottawa, he continued his training, studying under Kyoshi Mike and Kyoshi Laura Sywyk starting in 1998 and continuing to this day. In 2002, with Kyoshi Sywyk, Steve joined the Okinawan Kobudo Doushi Resei-kai (OKDR) organization, founded by Gakiya Yoshiaki Sensei and now headed by Kyoshi Neil Stolsmark, promoting traditional kobudo in the tradition of the Matayoshi family.  He has earned the rank of godan in kobudo with the OKDR, yondan in kobudo with the DNBK, and nidan in Jundokan karate.
Sensei Steve will teach the bo kata Tsuken no Kun. He will also be talking about some of the principles of kobudo and the history and origin of this kata.
Kyoshi John Johanis -
Kyoshi John Johanis is a 7th degree Black Belt in the style of Kempo Karate and is also the Vice-President of the Canadian Karate Kung-Fu Association. A Martial Arts Instructor for over 30 years, he has taught programs across Canada, the United States and the Caribbean.
In his Pod he will be teaching the "4 Magic Kicks", plus several kick combinations that will enhance your sparring game.
Professor Soquete -
Professor Soquete has been studying martial arts for 35 years, he started learning Capoeira 24 years ago and has dedicated the majority of his training to capoeira in that time. Soquete has taught and trained capoeira in Australia, Brazil, Canada, Indonesia and the U.S. He Came to Canada in 2010 and quickly established himself as a legitimate source of knowledge and experience in the Canadian capoeira community. He is the founder of the Kadara Capoeira Toronto Academy.
Capoeira is a martial art created by the African people in Brazil. it fuses Fight, dance, rhythm, acrobatics, movement and culture into a kind of game. Capoeira players use kicks and cartwheels, high flying tricks, fluid floor movements and takedowns in an exchange between players. This workshop will teach some of the basic concepts of capoeira fundamentals and explore some of its more martial perspectives.
Seminar Schedule, more instructors, and their training pod topics to be announced soon!