About this Event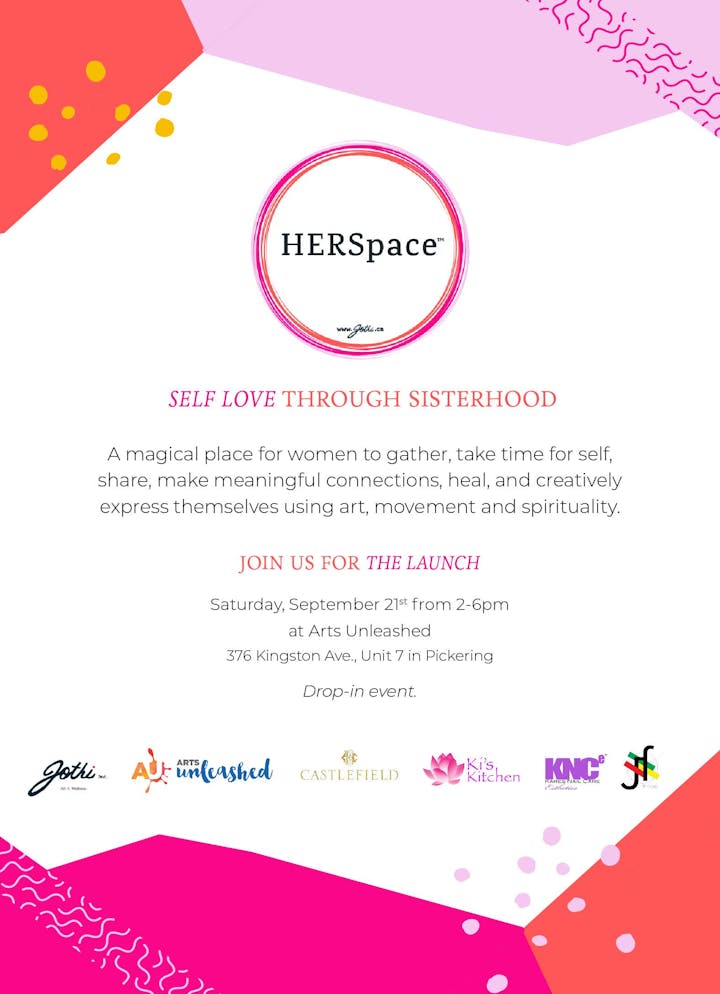 Mark you calendars!
Bring your people!
Be part of a sisterhood!
AND
Get a very special glimpse into what HERSpace is all about!
What is HERSpace
Every week for a month, a beautiful group of women will come together, share their stories, heal and grow while creatively expressing themselves using art, gentle movement, and spirituality.
ALL ABOUT THE LAUNCH!
Organizer
Come and share space with the heart behind HERSpace, Jothi of Jothi Creative Wellness Inc. and personally meet all of the amazing HERSpace facilitators who will be sharing their magical essence in the Fall programs.
Jothi is an Arts for Wellness Facilitator, Community Wellness Advocate, and Sacred Leader . It is Jothi's mission to support community engagement, healing, and growth using art and spirituality. Jothi is a survivor of childhood/youth adversity and believes that creative expression and movement was and still is key to her resilience, overall wellness, and growth.
Jothi birthed HERSpace out of the sheer yearning for space for herself to connect with other like-minded women and openly share, process, heal, and grow in a safe and non-judgemental space. Jothi was seeking spaces where women were creatively expressing themselves through art and gentle movement and could not find these spaces so she decided to create one!
Sponsors
o
Space
HERSpace is thrilled to call Arts Unleashed our home! Arts Unleashed gives creative control to young people and the results are incredible! We will showcase this bright and fun space while creating a zen, calm and serine spot for the HERSpace Launch Party and Programs!
o
Food
HERSpace is excited to introduce our official Launch and Program Chef, Kiran Bissoon of Ki's Kitchen! Enjoy healthy yummy treats that will delight your senses while also nourishing and healing your body.
Edible Bliss 11 is bringing the sweetness to the HERSpace Launch! Come and meet the magic behind the sweetness, Amanda Hamer and enjoy a special treat!
We have a Smoothy Bar! We are so thrilled that Latonya Bentley of LT Luvs Smoothies will be sharing her healthy and tasty smoothies for the launch. Come and meet the beauty behind the smoothy!
o
Design
Sophie Taylor is an award-winning graphic designer with a focus on luxury branding for businesses and events and 15 years of experience designing for clients in a wide variety of industries worldwide. With her brand Castlefield Design she creates eye-catching designs for print, web, social media, and products that take brands to the next level.
o
Photography & Videography
JF Images is a passionate team of creative visionaries who strive to create content with purpose. Our team consists of artists with over 6 years of experience in photography, videography, graphic design, art direction and set decorating. From promoting a business, capturing special moments to creating an overall visually appealing style, JF Images is the power house for creative solutions.
Self Love Swag Bags
Grab a wonderful self love tote bag at the HERSpace Launch. Totes are provided by Kares Nail Care + Esthetics, a place where you can release, relax, and unwind with exceptional care one nail at a time. HERSpace Programs will provide self love totes to each participant filled with goodies that will keep you honouring your body, mind, and soul long after each session!
The Launch!
You do not want to miss this amazing opportunity to meet powerful women from all over Durham Region, Markham, and Scarborough! HERSpace Facilitators will be onsite to share their magic and participants from our test cycle will share what their HERSpace experience was like. You will receive a beautiful Self Love Swag Bag filled with goodies made by local women entrepreneurs. You will also have the amazing opportunity to receive special one-time offers when you register for the HERSpace Fall Cycles.
HERSpace Programs go month-to-month, meeting every week beginning in October through to June with Mix 'N Mingles throughout the year and a special retreat planned for the Summer of 2020.
All participants are welcome to be part of a closed and private FB community where our sharing and the work to heal and build will continue to be supported through:
o Weekly FB lives with Jothi and our HERSpace facilitators
o Engaged group discussions, dialogue, and sharing
o Special exclusive HERSpace promotions and offerings for weekly intensive workshops, seasonal mix n mingles, retreats, and gatherings
o Resources and supports around health & wellness
o Continuous inspiration, accountability, support, and encouragement to be our best selves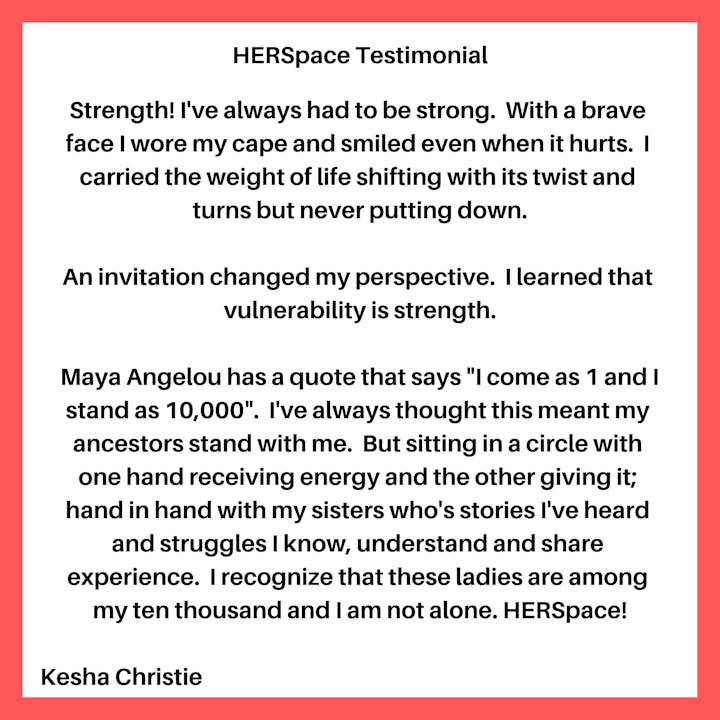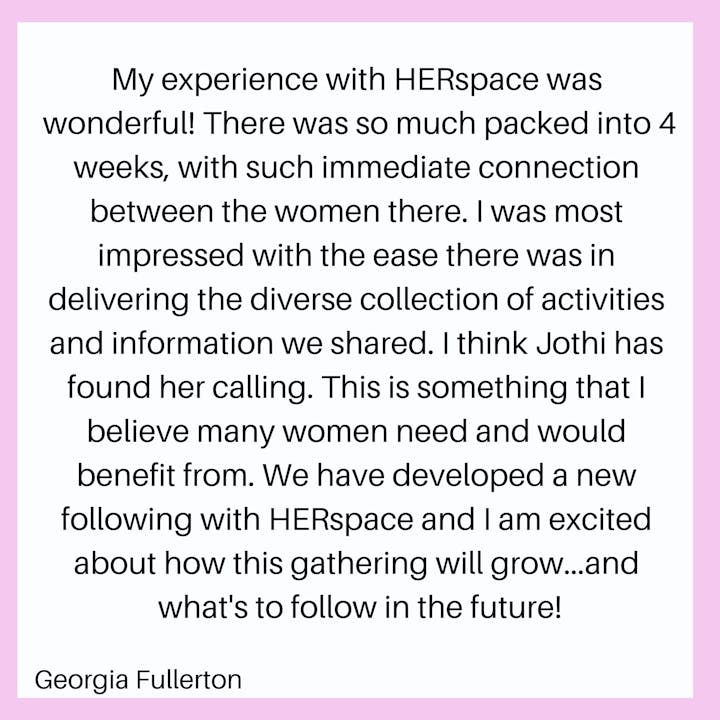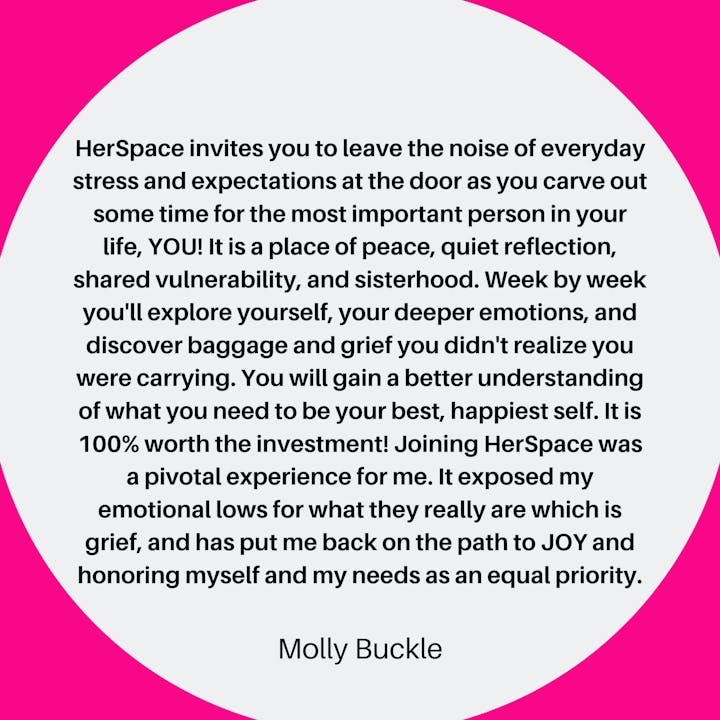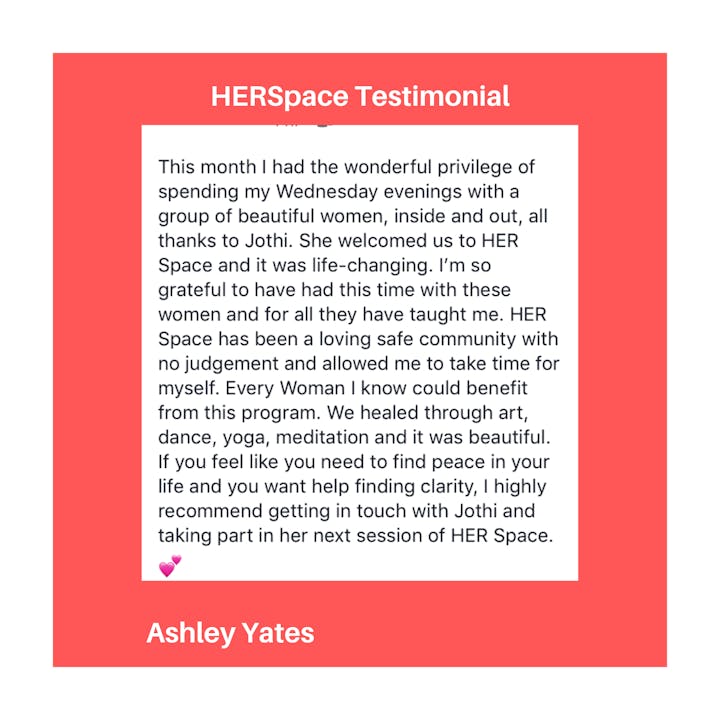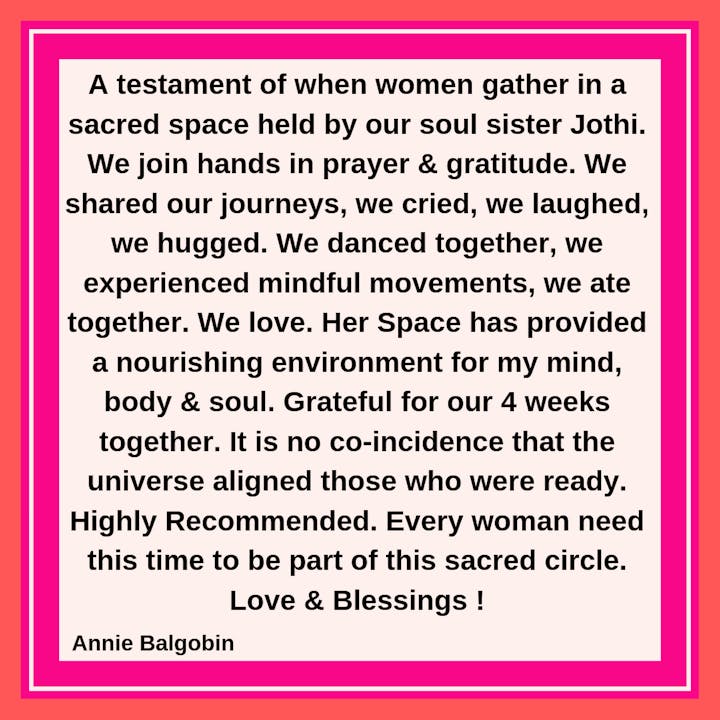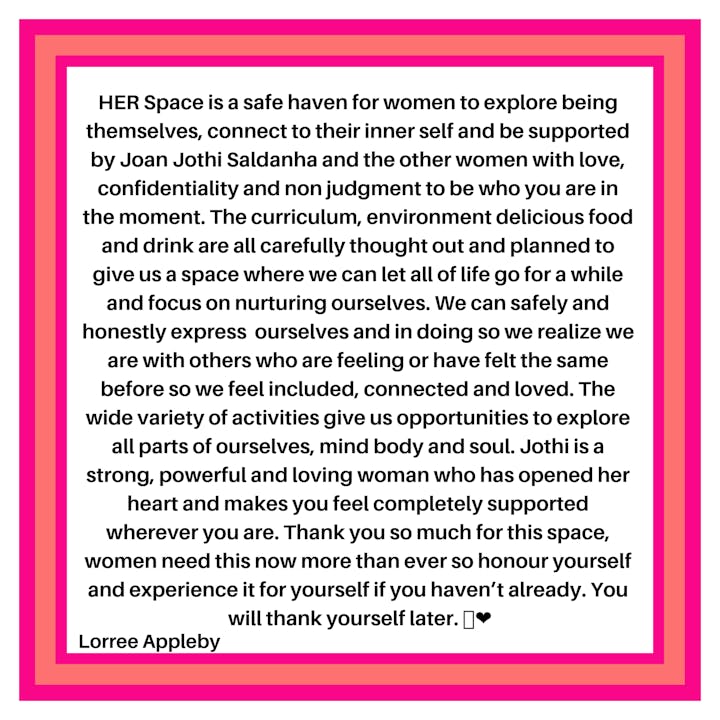 This is your chance to take time for yourself and experience the magic of creative expression, gentle movement, spirituality, and SISTERHOOD!