This event will provide a template for getting started with PR and media relations.
About this event
For the founder of a startup, finding the right voice and amplifying it is one of the most important and toughest tasks. Inviting veterans of the industry as the speakers, this event will provide a template for getting started with PR and media relations. It will describe specific strategies for generating interest from customers, partners or investors -- while leveraging social media, influencer management and digital marketing programs.
Event Topics:
When should I start PR?
How do I get media attention in a crowded market space?
How do I break into the US and Canadian media markets?
Develop an 8 week PR launch plan
Building a media outreach and content marketing platform
Integrating PR with social media
Press Release writing and distribution options
Who should attend:
Entrepreneurs, business development and marketing executives in charge of revenue, brand-building, or expanding your company's footprint in the U.S., Europe or Canada.
This event will be held online via Zoom.
Date and Time: Saturday, August 14, 2021. 2:00 PM - 3:00 PM EDT
Zoom: https://us02web.zoom.us/j/85093237886?pwd=ZFlwYnNuOThSQzhpa212V1hRbWxoUT09
Speaker:
David Finkelstein, President of The DFI Group, Digital Marketing & PR for emerging companies in tech, fintech and B2b technology. David has over two decades of tech PR, entrepreneurial and digital marketing experience, consulting with a range of tech, B2B and non profit companies. He was formerly senior account executive with Alexander Ogilvy PR in Silicon Valley, working with a number of venture-backed startups. He has consulted with dozens of early stage tech and b2b companies, building awareness and facilitating growth -with many going on to new funding rounds and subsequent acquisition.
James Malone, U.S. Media Partner of The DFI Group. James is a veteran marketing, public relations and social marketing influencer, with over 23 years experience. James is an expert in promoting clients to big business and tech media. Based in California, James is a former NBC producer in the Bay Area. He has a track record of managing media and story placements with top tier business, trade, broadcast and online press, while building awareness and driving engagement from client partners, customers and prospective investors.
About DFI Group
The DFI Group is headed by former Silicon Valley PR & Marketing professionals, with a track record of helping emerging tech companies jump-start awareness, accelerate sales cycles, while facilitating increases in valuations and acquisitions. To find out more: www.thedfigroup.net
About Startup4Chinese
Started in August 2017, our mission is to inspire, empower, and connect entrepreneurs not only among Chinese but beyond. We want to:
inspire your passionate entrepreneurship spirit
empower your brilliant startup idea, and
connect you with your future reliable partner
We value openness. We provide pragmatic topics. We want to help you succeed! Please feel free to subscribe our Youtube channel:
https://www.youtube.com/channel/UC5anEPSp8wwEMJFZjwsThHA
Our podcast:
https://anchor.fm/startup4chinese
特别感谢 OneHub 对于本次活动的大力支持!!
关于Startup4Chinese
Startup4Chinese,成立于加拿大多伦多,致力于联结华人创业者与各个族群中的聪明才智,弘扬华人创业者的创业激情,赋予华人创业者更大力量。Startup4Chinese 主张开放心态,锐意开拓进取,注重脚踏实地,让我们一起享受创新、创业的过程。
对活动有任何问题,请联系微信:bryanzk.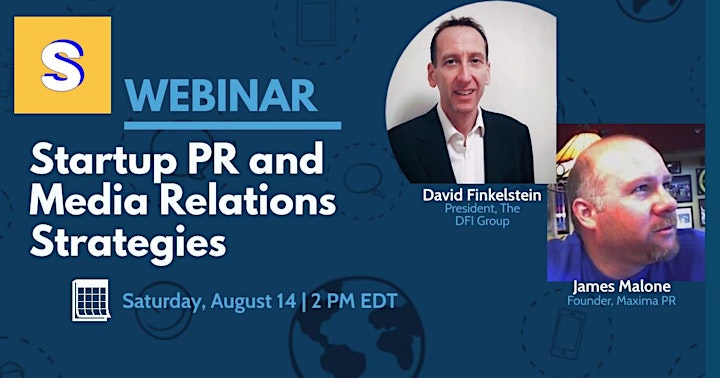 Organizer of #67:Startup PR and Media Relations Strategies - Principles and How-Tos