About this Event
Mud Hero is the most fun you'll ever have covered head-to-toe in mud. Take on the course of your choice and crank your adrenaline as you push yourself and your fellow Heroes (or maybe Villains ;) to cross the finish line, smiling every inch of the way. Celebrate your achievement with other mud-lovers and spectators at the on-site post-race Mud Bash, with a barbecue, bevies, DJ and more. If you're mad about mud – or just plain mad – this is the event for you! Take on the Mud Hero 6k Classic or the revamped Mud Villain 10k course in 2020. Will you be a Villain or a Hero?
EARLY BIRD FLASH SALE IN EFFECT FOR A LIMITED TIME!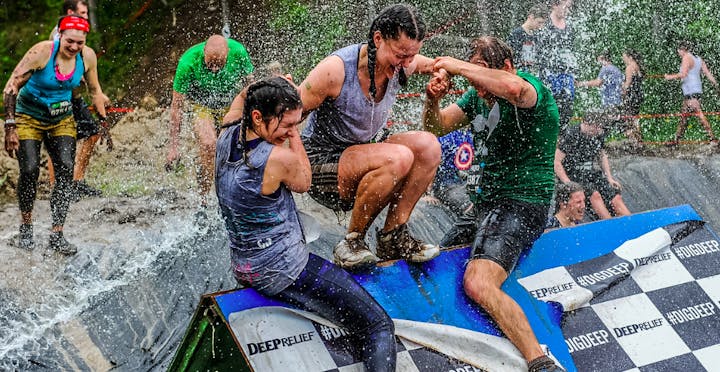 WHAT'S INCLUDED WITH YOUR TICKET?
A Mud Hero beach towel for 6k participants, 10k and kids course participants receive a t-shirt
Complimentary photos of yourself at Mud Hero
Runners bib and reusable bib buttons
Two water stations on course and one at the finish
One complimentary beverage for each paid participant
Mud Hero "finishers" medal
Free temporary Mud Hero tattoos
Access to our Mud Bash with amazing DJs & fun EmceesSpectators have free access to the festival area, vendors, and beer garden
WHICH COURSE WILL YOU TAKE ON?
MUD VILLAIN 10KM
Mud Hero Villain 10k = BIGGER. BADDER. MUDDIER and REVAMPED for 2020
Step out of your comfort zone and tackle the extra 4k and conquer more EPIC Obstacles
Ages 12 and up (Kids 12 & 13 must run alongside guardian)
This event is chip-timed
Includes performance t-shirt, event photos for download, one complimentary beverage, afterparty, temporary tattoo, finishers medal and the MOST. MUD. EVER
Mud Villain 10K is a qualifying event for the Obstacle Course Racing World Championships
Wave time: 8:30am and 9:00am. Limited spaces available.
MUD HERO 6KM
Mud Hero's 6k course has over 18 obstacles to get your adrenaline and blood pumping, while announcers, music and awesome obstacles make this course like no other
All obstacles are optional
Ages 12 and up (Kids 12 & 13 must run alongside guardian)
This event is not timed
Includes a full sized beach towel, event photos for download, one complimentary beverage, afterparty, temporary tattoo, finishers medal and the MOST. MUD. EVER
Wave times available from 9:30am-2:00pm on Saturday
MUDDY NINJA KIDS COURSE
Kids between the ages of 4 and 12 can experience the legendary Mud Hero fun with downsized versions of adult obstacles (Revamped for 2020 with a 1000 meter course and even more obstacles (depending on age kids will do multiple laps)
Adult supervision required
This event is not timed
Includes t-shirt, event photos for download, temporary tattoo, festival access, finishers medal and the MOST. FUN. EVER.
Wave times available from 10:00am-1:40pm on Saturday
RUNNING WITH A TEAM?
There are no limits to team size. Teammates can purchase separately, simply select the same wave time at purchase to start the course together on event day! If your team's wave is full please email us and we will sort you out so you can all crush the course together :)
MUD BASH AFTERPARTY
The spectacle of the Mud Bash Afterparty is like no other! With DJs, cash BBQ, sponsor giveaways, live demos, and alcohol/non-alcohol drinks, enjoy the festivities as you cheer your fellow Mud Heroes on to the finish!
SPECTATORS
Mud Hero encourages spectators by providing easy, no-charge access and great vistas to view the course.
PROUDLY SUPPORTING SPECIAL OLYMPICS CANADA
Through the transformative power of sport, Special Olympics gives individuals with intellectual disabilities the strength, determination and confidence to take on any challenge in sport and in life, giving them the courage to stare down any hurdle and respond: Challenge Accepted.
INTERESTED IN SPONSORING OR VENDING AT MUD HERO?
With 6000-8000 participants Mud Hero is the perfect place to sample, sell and interact with all our consumers.
For national sponsorship inquiries please contact sponsorship@365sports.ca
QUESTIONS?
Email us info@mudhero.com