Description
The 6th annual Durham region Bridal Soirée welcomes you, the bride and groom, and guests to gather in a more intimate and interactive bridal and wedding show experience that will cater specific products and services to meet your "wish list". At our show, we want you to take a step back, and breathe, and enjoy being a "bride to be" for one special day!
We bring to you bridal and more...
Featuring over 50 chosen Vendors in two spacious halls!

Celebirty Guest Host:
Joseph Spencer // Bridal Stylist // Say Yes To The Dress

Throughout the day there will be giveaways, door prizes, hors d'oeuvres, desserts and sparkling beverages to sample from the menu of our preferred supplier and partner Pelican Events & Catering

The show will be a glamorous bridal and wedding spectacle showcasing an array of vendors products and services that you can touch, feel, and experience health & beauty from skin products to lashes to nails, events & decor that meets your design choice and your budget, floral to match your colour scheme and to enhance the beauty around you, DJ & videography to deliver your guests the best music and memories that you will look back at, jewelry for that special gift or much needed accessory that will stand out, and more! let's not forget, the show has something special for the men too so bring them!
In the afternoon there will be a bridal couture fashion show displaying gowns that will get your attention and a fashion show that will have shape wear that delivers comfort and style for everyday and the honeymoon!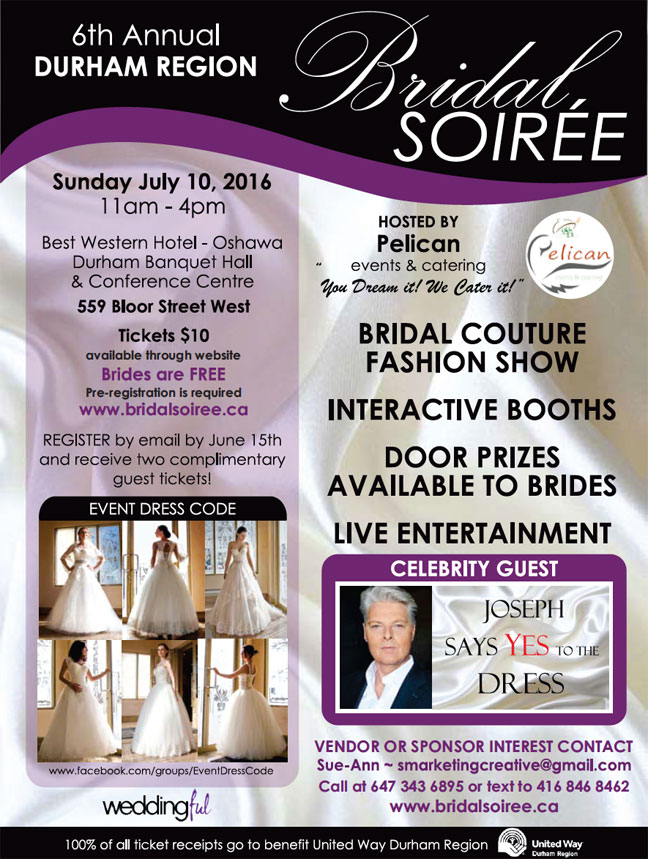 The 6th annual Durham region Bridal Soirée known by its participants and guests to be elegant, classy, friendly, and accommodating. The owner always takes time to deliver a personal touch by walking around and checking in with the vendors, bringing water and handling inquires on the spot. the Bridal Soirée is re-branding and growing fast and is sure to leave a lasting impression on people's minds and promises to deliver a new benchmark in showcasing a bridal and wedding show that delivers the best show experience not only to the brides but also to the vendors.
We are confident that we will help you with your check list and that you will leave saying "I'm glad I experienced this show"!