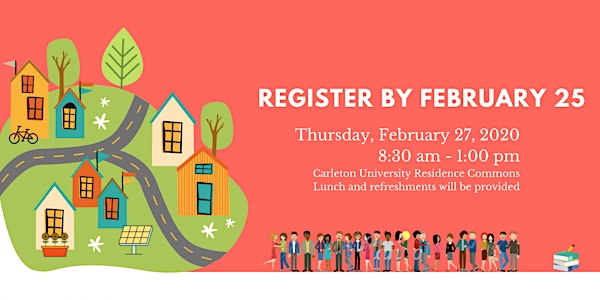 6th Annual Community Campus Connections event for community well-being
Looking to connect with community organizations or Carleton University for a partnership opportunity? Join us Feb. 27 to find out more!
When and where
Location
Carleton University Residence Commons 1125 Colonel By Drive Ottawa, ON K1S 5B6 Canada
About this event
Building connections for community well-being
Note: The registration asks for optional information, such as a headshot and bio for the event connections directory. If you wish, you may register by only filling out the mandatory fields.
Join us for the 6th Annual Community Campus Connections event on February 27, 2020. Continuing to expand community-campus partnerships, this event aims to connect members of the community with Carleton. By making connections, community-based organizations and Carleton are able to collaborate, providing meaningful outcomes that are tangible, relevant, and contribute to the community's well-being.
Join us for a morning of activities including:
- presentation by Provost Tomberlin
- tons of workshops to attend (see the list below)
- free networking lunch
- award announcement for the best student video featuring community-campus learning
- and more!
Hurry, register now! Tickets are limited. For information on speakers, the full agenda, and more, visit www.carleton.ca/communityengagement
Join one of our exciting workshops lead by knowledgeable members of the community and Carleton University!
Workshops A from 9:30am - 10:30am
A.1 Community Engaged Research to Improve Public Safety
Craig Bennell, Carleton University; Simon Baldwin, RCMP
A.2 Student & Community-led Health Promotion Activities
JC Caramillo, Carleton University; Nicole DiBiagio, Carleton Health and Counselling Services
A.3 Engaging Community in Addictions Research
Ariel Fuenzalida, Carleton University; Carol Wu, Amethyst Women's Addiction Centre
A.4 Using 4th Year Engineering Projects to Design Cross-Disciplinary Solutions to Community Problems
Cheryl Schramm, Carleton University; Gerhard Bruins, Species Inc.
A.5 The People's Official Plan for Ottawa's Climate Emergency: Seeking Grassroots Consensus on Climate Solutions and Mobilizing Informed Action on Municipal Decision-Making
Daniel Buckles, Carleton University; Emilie Frenier, Ecology Ottawa
A.6 Intervening in the Financialization of the Herongate Community
Josh Hawley, Herongate Tenant Coalition & Carleton University; Andy Crosby, Carleton University
A.7 Incubator session with the Sustainability Stakeholders Council of Ottawa
Jim Birtch, SSCO; Kevin Partridge, Carleton University; Deborah Conners, Carleton University
A.8 Student Team Projects with Community Partners
John Milton, Carleton University
A.9 Research Collaborations between Carleton University Researchers and the Native North American Travelling College (NNATC): Best Practices 
David Fadden and Sydney Jacobs, NNATC/Akwesasne; Kahente Horn Miller, Carleton University; Anna Hoefnagels, Carleton University
A.10 From Campus to Community
Dwaine Taylor, Carleton University
A.11 Finding Funding for Community Engaged Research
Jackie Kennelly, Carleton University; United Way Eastern Ontario
A.12 Hub for Good: Introducing Carleton's New Online Portal for Community Engagement
Laura McCaffrey, Carleton University; Leo Solano, Carleton University
A.13 It's All About Reciprocity: Using the Carnegie Classification to Assess Carleton's Partnership Work
Lorraine Dyke, Carleton University; Nicole Bedford, Bedford Films
A.14 Envisioning 2030: Building Carleton's Future with the Community
Cathy Malcolm Edwards, Najeeba Ahmed, Dawson Clark, Ruzbeh Irani, Carleton University
Concurrent Workshops B from 11am - 12pm
B.1 Carleton Connects on Accessibility
Adrian Chan, Carleton University; Boris Vukovic, Carleton University
B.2 Making Community Buildings in Ottawa More Energy and Water Efficient Through Student Research
Mary Hegan, Ottawa Eco-Talent Network; Lisa Meyer, Carleton University
B.3 Engaging Communities Around Human Rights Issues at the Ottawa Carleton Detention Centre
Aaron Doyle, Carleton University; Souheil Benslimane, Co-ordinator of CPEP's Jail Accountability and Information Line
B.4 Pragmatic Challenges Facing Small Community Organizations for Student Placements
John Milton, Carleton University; Ottawa River Keepers
B.5 Student & Community-led Food Safety / Food Security Activities
Veronic Bezaire, Carleton University
B.6 Getting Millennial Students to Visit and Think About Museums
Ian Wereley, Carleton University; Adjunct Curator of the History of Energy, Canada Science and Technology Museum
B.7 Initiating Sustainability Plans in Neighbourhoods
Jim Birtch, Ottawa Biosphere Eco-City
B.8 Dilemmas and dramas of Community Engaged Teaching and Learning
Melissa Frankel, Carleton University; David Hornsby, Carleton University
B.9 Better Practices in Student Placement Development and Delivery
Tom Scholberg, Ottawa Community Youth Diversion Program; Niamh O'Shea, Carleton University
B.10 Building and maintaining communities of practice for community-campus engagement
Magda Goemans, Campus Engage Canada; Jesse McClintock, Carleton University
B.11 Scaling It Up: Thinking About Community Engagement for Large 1st and 2nd Year Classes
Tonya Davidson, Carleton University; Nina Doré, Carleton University
B.12 Introducing Carleton's New Online Community-Based Research Toolkit
Zoey Feder, Carleton University
B.13 Carleton University Strategic Indigenous Initiatives Committee (CUISIC)
Benny Michaud, Carleton University
B.14 Student and Community Organizations: What are the Opportunities?
Karen Hidalgo, Carleton University; Ashleigh Hyland, Community Addictions Peer Support Association
B.15 Working with Children and Youth Through Volunteer Placements
Hiwot Abebe, Catholic Centre for Immigrants Sophia House; Monica Patterson, Carleton University; Sheila South, Carleton University
Who will your next connection be?