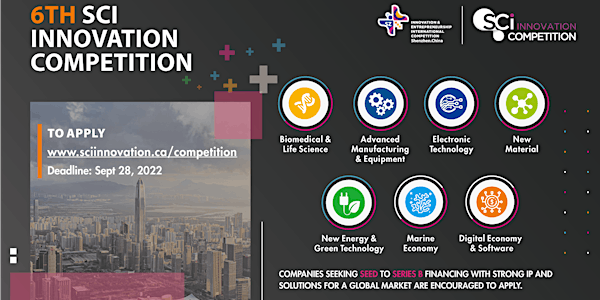 6th SCI INNOVATION COMPETITION INVITATION
6th Sci Innovation Competition is calling for application!
About this event
We sincerely invite you to participate in the 6th Sci Innovation Competition, at 7:30am to 12:00am EDT, Oct 24, 2022.
Sci Innovation Competition will invite 21 promising tech companies to an online roadshow and pitch to a panel of 7 judges on Oct 20, 2022 to choose 14 companies in October at Sci Innovation Competition's Global session, Shenzhen Innovation and Entrepreneurship Competition, which has been called The International Olympics of Entrepreneurship. Companies seeking Seed to Series B financing with strong IP and solutions for a global market are welcomed. The finalists will be awarded non-dilutive cash grants ranging from US$4500 to US$75K.
City of Toronto, Canada and Shenzhen Municipality, China have extended their friendship city partnership MOU In March, 2022. To fulfill the mandate under the partnership, Sci Innovation Centre will be hosting the Sci Innovation Competition for the 6th consecutive year. This pitch competition is supported by City of Toronto (Canada) and Shenzhen Municipality (China), with an aim to promote exchanges among investors, entrepreneurs, distributors and manufactures.
Eligibility -
Companies seeking Seed to Series B financing with strong IP and solutions for a global market in the following 7 sectors are encouraged to apply:
1. Biomedical and Life Science
2. New Material
3. New Energy and Green Technology
4. Electronic Technology
5. Advanced Manufacturing and Equipment
6. Marine Economy
7. Digital Economy and Software
Application -
Submit Company profile here, and we will be contacting you in 2 business days.
Deadline to enter the competition is Sept 28, 2022
If you would like to be part of the audience , please kindly register here
Deadline for audience registration is Oct 18, 2022
Media Exposure -
Please visit our LinkedIn pages for reviews of past events and success stories of some of the companies that entered the competition in the past, in an effort to share their success stories and inspire other fellow entrepreneurs.
https://www.linkedin.com/company/sciinnovation
https://www.sciinnovation.ca/competition